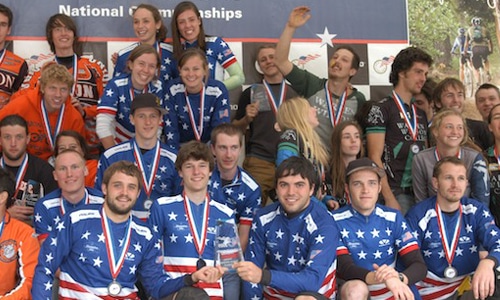 Brevard College has announced the selection of Jeff Wentworth (Cross Country/Track & Field) and the 2009 National Championship Cycling Team as the 2021 inductees into the Brevard College Athletics Hall of Fame. Wentworth and the '09 Cycling team become the 42nd and 43rd inductees into the college's Athletics Hall of Fame.
The 2021 class will be officially inducted into the Athletics Hall of Fame during Brevard College's Homecoming Weekend, scheduled for October 8-10.
"Jeff Wentworth and the 2009 BC Cycling team are both phenomenal choices for this year's Hall of Fame class," said Myranda Nash, Director of Athletics. "We thank the Athletics Hall of Fame committee for their diligence in this year's selections."
Jeff Wentworth '80 (Cross Country, Track & Field)
Wentworth, a 1980 graduate of Brevard College, will be inducted posthumously into the BC Athletics Hall of Fame as one of the most prolific distance runners in the school's decorated history. The Pensacola, Florida native was a five-time NJCAA All-American at Brevard College and an All-Conference performer in both cross country and track.
Wentworth competed at Brevard College under the guidance of Hall of Fame coach Norm Witek (inaugural class of 2004).
"Having coached over 60 All-Americans in my coaching career, Jeff had produced more All-American certificates (five) than any runner that I had coached," said Witek. "It was his strong commitment to running and his mental toughness that he was able to finish as the top American finisher in the 1979 national cross country championship."
Following his two seasons at Brevard College, Wentworth finished his collegiate career at NC State where he raced in both cross country and track before graduating with degrees in both Biochemistry and Microbiology. Following his collegiate careers at Brevard and NC State, he raced professionally for Team Adidas (1984-88), Brooks Racing Team (1989-91) and the Reebok Racing Team (1992-95). During his running career, Wentworth was an Olympic Trials qualifier four times in two different events – the marathon and the 3,000 meter steeplechase.
Beyond his own running career, Wentworth's experience as a coach and racing industry leader impacted a multitude of athletes across all levels. He served as Head Cross Country and Assistant Track & Field Coach at the University of South Carolina from 1983-88 where he led the Gamecocks to perennial top-25 national rankings. He later served as Florida's Executive Director for USA Track & Field and later held a post as Senior Event Manager for Disney Wide World of Sports. Along with his wife Marcia Mansur-Wentworth, currently the Director of Track & Field/Cross Country at Cal State University – Bakersfield, he founded Steeple Timing and Event Management, a company that helped organize, promote and operate over 300 events per year.
A Chemistry major while at Brevard College, Wentworth also became a senior research chemist at the University of Florida's College of Veterinary Medicine in addition to his work in the running industry.
Inducted into the Florida Track & Field Hall of Fame in 2013, Wentworth was named one of the top-25 greatest distance runners in the history of South Carolina by Strictly Running magazine.
Wentworth passed away in 2011. A track meet in Orlando, Florida – the Jeff Wentworth Relays – is named in his honor.
2009 BC Cycling Team – Mountain Bike National Champions
The 2009 Brevard College Cycling team will become the second team to be inducted into the Brevard College Athletics Hall of Fame, joining the 1996 BC Women's Soccer team. The 2009 squad were winners of the first team national championship for the Brevard College Cycling program that has gone on to win a total of ten team national titles.
The Tornados, under the direction of then-Head Coach and current BC Hall of Famer Thad Walker, won the 2009 USA Cycling Collegiate Division II Mountain Bike National Championship less than three years following the formation of the varsity program that quickly evolved into one of the nation's elite.
"It is truly an honor to see the 2009 Brevard College Mountain Bike National Championship Cycling Team inducted into the BC Hall of Fame," said Walker. "By winning the program's first national team title this team laid the foundation that has led to nine additional team titles since. Team titles are special as it takes everyone working together and represents the accomplishments of every team member. The 2009 national championship will always have a special place in the history of the program."
The Tornados captured the 2009 national title by a whopping 130 points (663 to 533) over second-place Union College to take the team omnium championship at the event held in Truckee, California. BC's Jo Tuttle won the Division II Women's Omnium and Four Cross individual titles at the event, while Julia Tellman and Tristan Cowie also produced multiple podium performances to help lead the charge for Brevard. Tuttle and Tellman finished 1-2 in the women's individual omnium to go along with a third-place finish by Cowie in the men's individual omnium.
The championship marked the first of back-to-back national championships for the Tornados who repeated with another USA Cycling Collegiate Division II Mountain Bike National Championship in 2010, also in Truckee, California. In the program's short history, Brevard has won a total of six mountain bike team national championships, ten overall team national titles across all disciplines, and dozens of individual national crowns to establish the program as one of the elite collegiate cycling programs in the nation.
2009 USA Cycling Mountain Bike National Championship Team
Thomas Bagnel
Park Baker
Danny Cesare
Tristan Cowie
Alexis DeCosimo
Sarah Duncan
Cory Rimmer
Jacob Roland
Matt St. Marie
Julia Tellman
Jo Tuttle
Matt Wells
Coach Thad Walker
To follow the latest news and updates surrounding Brevard College Athletics, follow the Tornados on Twitter and Instagram @bctornados, subscribe to 'Brevard College Tornados' on YouTube, follow 'Brevard College Tornados' on SoundCloud, and 'Brevard College Athletics' on Facebook. In addition, follow 'brevardcollege' on Flickr for photos from Brevard College events