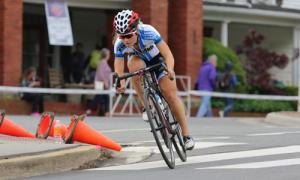 One year after her Division II criterium national championship, Janelle Cole rode to a second-place finish at USA Cycling Division I Collegiate Road Nationals in downtown Burnsville.
Cole trailed only Kathryn Buss of Virginia Tech and rode alone for much of the final third of the race as Buss extended her lead. Near the midway point, however, a two-rider breakaway materialized through Cole's strategy to separate herself and Buss from the next nine riders.
"I tried quite a few attacks," said Cole. "I was trying to soften up the field a little bit, and I was really hoping she would take advantage of it. From yesterday, I knew she was the strongest climber among us. She made the attack and came by me and was like, 'Let's go!' I said, 'All right, I'll work if you will!' "
"With about three laps to go I knew it was over," she continued. "She was riding through the corners very smoothly. And she's obviously a great climber. At that point I laid down the last little bit I had and it wasn't enough. But I'm very excited about my performance and am thrilled that the race took everything I had. It was a phenomenal race and I am absolutely in awe of Kate. She's incredible."
Cole crossed the line roughly half a lap behind Buss after the Hokie came within seconds of lapping the riders finishing in positions three through 11.
The course was laid out on a 0.9-mile closed loop through downtown Burnsville that roughly resembled a right triangle. Riders began just north of the town square, negotiated four turns in quick succession around the grassy square containing the town's Otway Burns statue, then began a steep descent before a hairpin left-hand turn. After a long straightaway and another tight corner, the riders ascended a hill as they approached the line to begin another lap.
"The course was similar to last year, but it was a little more of a true crit," said 10th-place finisher Allison Arensman, who made Brevard one of three schools to place two riders inside the top 10. "It was a little more gradual, except for the final descent into the uphill portion. I really enjoyed it. It played to my strengths because it's technical and then just a big power grind on the back side. I really like that."
Cole and Arensman worked together for much of the race, shooting to the front of the field in the opening laps to avoid potential crashes. The duo then began probing the field through periodic attacks, ascertaining which riders were strong enough to stay in the lead pack. When Arensman saw that Cole was ready to break free from the rest of the leaders, she took a wide angle through the hairpin turn to open the door for her teammate to begin building a gap.
"I was feeling awful so I needed to make something happen," Arensman explained. "We didn't need a team like Marian, who's got three or four girls in this pack, to lead out a sprint to the end or start counterattacking; we needed to hit them then when they were all tired and hit them again in the technical section. It worked really well as far as just getting Janelle off the front and helping out there, because otherwise it may have been very different coming down to a bigger field sprint."
"It's always a little bit of a cat-and-mouse tactics game," head coach Brad Perley stated, "and a lot of variables come in to play toward the end of the race when it is a one-on-one situation. But Kathryn Buss is certainly a monster. She rode a very, very good race, as did Janelle. Allison did a great job as well to maintain her position in that chase group. Just finishing toward the front of a race like that is quite the feat. To jump into a Division I competition and be that active and visible at the front of the race speaks volumes to the work that they've done and the preparation we've put in as a team for this weekend."
Perley was also complimentary of the effort Nicole Miranda showed to finish 34th in an exceptional field of 60 Division I riders. "Nicole had probably the best road race I've ever seen her have. She hung in there. Most of the race had already been pulled by one point and she was still hanging in there. That was her last collegiate race. So she finished off with a bang, for sure."
After finishing the team's first season in the Division I ranks, Perley stated that his goal is for the Tornados to contend for the team omnium title next season. Cole is confident that Brevard will continue improving as they adjust to the Division I level.
"Clearly, we have a pretty strong program. I think it's going to continue to produce really, really excellent results, especially in the coming seasons."