Mark your calendars for I heart bc day: December 1, 2020!
This year, #IHeartBCDay20 will be on December 1, #GivingTuesday, which is always the Tuesday after Thanksgiving. #GivingTuesday is a day set aside to encourage generosity to nonprofit organizations all around the world.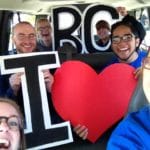 Join the Conversation!
Use #IHeartBCDay20 on your social media and let others see your love for Brevard College.
How can I make a gift? Where does my money go? Is my gift tax deductible? Get your questions answered HERE.
#GivingTuesday is a global day of giving fueled by the power of social media and collaboration.
Learn More