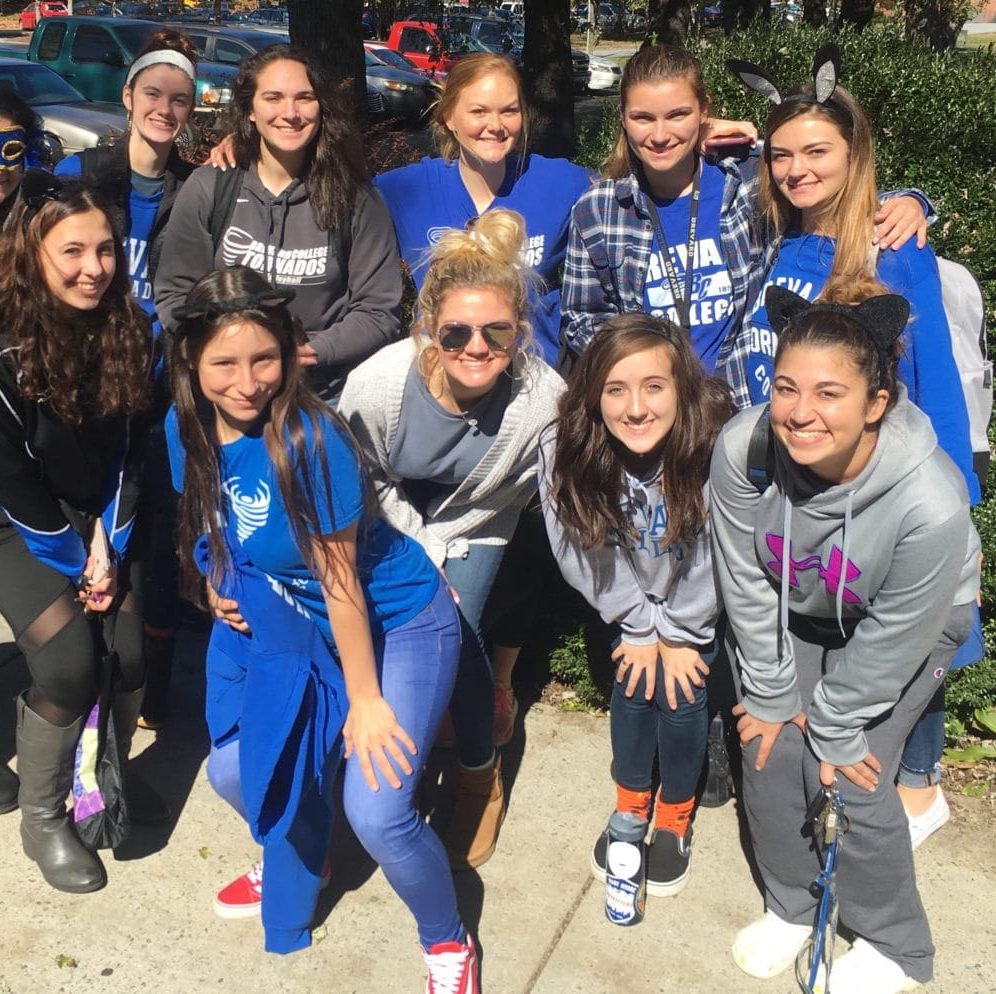 Brevard College student athletes are engaged in experiential activities and are living the mission of Brevard College. Brevard College student athletes "Trick or Treat" for those in need.
Student athletes collected 1,174 non-perishable items for the Bread of Life food bank and community kitchen, by "trick-or-treating" through the streets of Brevard, North Carolina. The "Trick or Treat for Cans" initiative, spearheaded by the Brevard College Student Athletes Advisory Committee (SAAC), is part of Brevard College Athletics' "Cans Across the Conference" campaign in conjunction with the USA South Conference.
The Brevard College Student-Athlete Advisory Committee is a group of representatives from each Brevard College team. The group meets monthly to participate in leadership development activities and to discuss current events going on in the community, on campus, as well as within their respective teams.
Over 300 Brevard College student athletes, representing all 21 of Brevard College's varsity sports, went "trick-or-treating" throughout the town of Brevard on Sunday, but with a twist. Instead of asking for candy, the Tornados collected donations of canned foods and other non-perishable items from local residents. The result was a record number of donations since Brevard College SAAC began the program a year ago.
The Football team was able to collect the most items, while the Brevard College Cheer and Dance team was able to secure the most items per capita based on the size of every team's roster.
The non-perishable items will be delivered in the coming days by Brevard College student athletes to the Bread of Life, a food bank and community kitchen which provides nutritious meals for those in need in Transylvania County.
Last fall, 18 USA South institutions collected 52,456 items, which is the second-highest total in competition history. Over the 14-year history of the program, USA South Conference institutions have donated 441,722 items to various organizations.
The mission of Brevard College's Student-Athlete Advisory Committee is to enable student-athletes to participate in developing leadership skills both on and off the field of competition, to protect student-athletes well-being, and to provide a vehicle through which athletic department administrators can discuss with student-athlete's regarding the management, operation, and rules that govern the athletics department and its sports' teams.
Brevard College Mission: Brevard College is committed to an experiential liberal arts education that encourages  personal growth and inspires artistic, intellectual, and social action.
Brevard College is consistently recognized as one of the best liberal arts colleges. The College's focus on experiential learning, small class sizes, and location the mountains of Western North Carolina near Asheville makes Brevard a top choice college for students around the world.