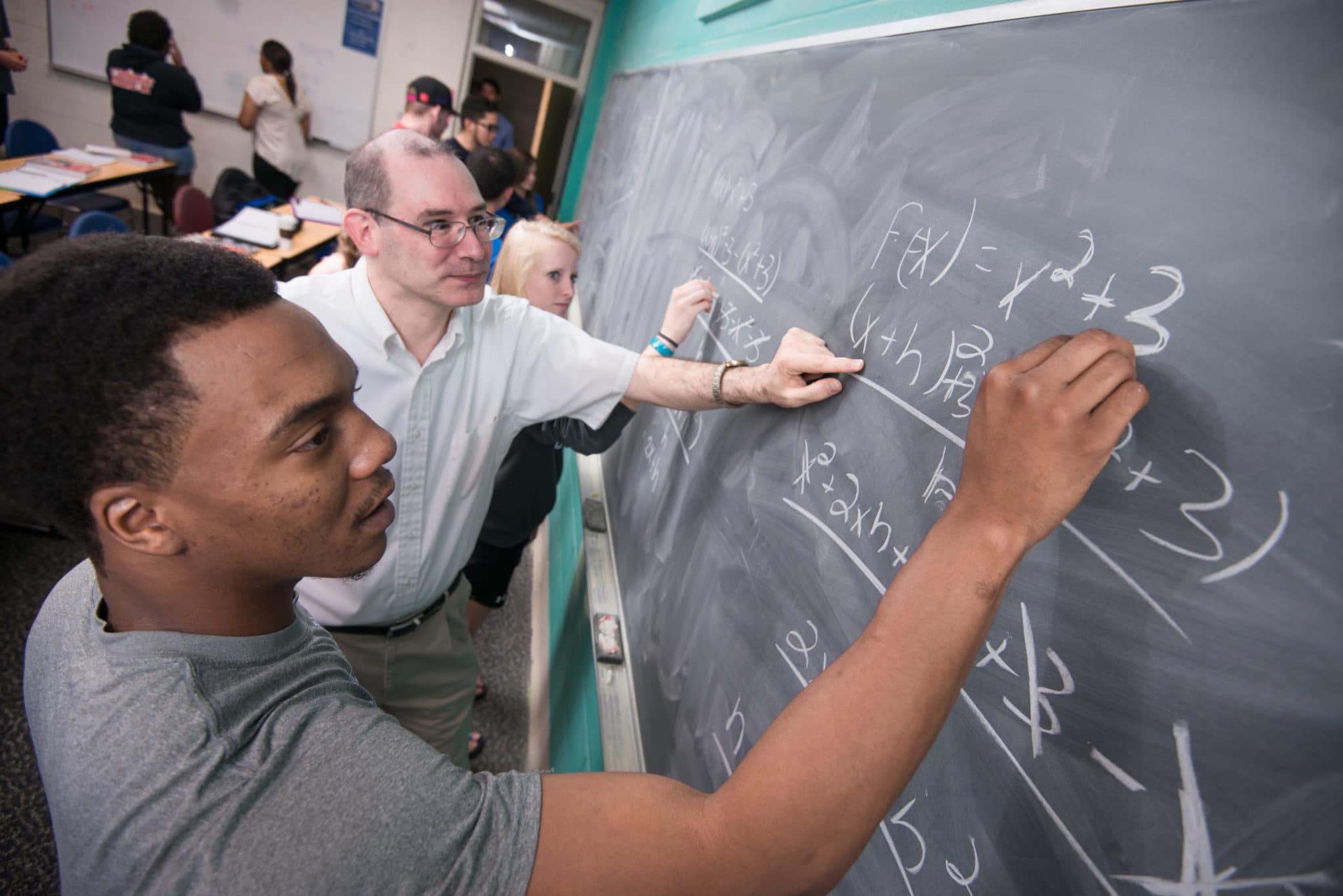 Learning to think in mathematical terms is more valuable than ever as science, technology, engineering, and mathematics lead the way in digital and technological advances.
Within the Division of Science and Mathematics at Brevard College lies a passionate group of mathematicians. Dr. Sam Eastridge, Dr. Kathryn Rasmussen, and Dr. Charles Wallis are tasked with teaching courses in math for students across all majors as well as instructing the wide variety of in-depth mathematics courses to students majoring in math.
When asked what makes the Math Department at Brevard College so great, the three professors smiled and pointed at one another. They genuinely enjoy working together and even more so, they enjoy teaching and building relationships with their students.
"To say that mathematics is about the study of numbers or computations is like saying that English is about the study of words or grammar," says Dr. Wallis. "Grammar is an important tool of English, but ultimately grammar is not what English is about. Mathematics is about problem-solving and looking for patterns, which is more involved than thinking about math as computations and formulas."
Dr. Sam Eastridge says he enjoys the "rigor of mathematics," which is not as much about the difficulty of the subject as it is about the strict and precise nature of mathematics. In the rigor of beautiful proofs, numbers represent ideas that support the rules of our natural world and connect mathematics to other disciplines such as philosophy and the sciences.
If a student's previous experience with advanced math entails memorizing and reciting uses for formulas, then perhaps the language, history, and philosophical need for math is a new concept to them.
The curriculum features coursework that fosters understanding through student engagement. In Math 111, an introductory class, students investigate problem-solving by simulating a game show and discovering the probability of winning based on different strategies. Many students become overwhelmed by formula-filled math textbooks, so Dr. Eastridge created a class that teaches students how to navigate and use a mathematics textbook. Math students not only assembled the college's 3-D printer, they also oversee its use campus-wide, and employ the printer in their own coursework.
Upper level courses have used motion detectors to create velocity-time and distance-time graphs, ROVERS to collect and analyze data, and the Nureva Boards to teach and collaborate on course projects. The Nureva Boards allow students to physically interact with an expansive touchscreen, equivalent in size to a traditional classroom whiteboard.
The Mathematics faculty want students to know how versatile a math major can be. Like many liberal arts majors, studying mathematics develops critical thinking skills and promotes understanding of the greater picture.
"There is something to be said for the liberal arts education as a whole," said Dr. Eastridge. "At Brevard College, students can study math without sacrificing in other areas of their education. They can leave Brevard College a more all-around educated person, and still gain the skills to pursue a job in mathematics or go on to graduate school."
Dr. Rasmussen said people are surprised to hear that math majors often become great lawyers. The rigor of mathematics helps them analyze, develop and solve complicated issues, even outside the realm of formulas and computations.
Brevard College's math department becomes an asset when combined with experiential learning because it opens doors for students and faculty to learn more about one another.
"Here, students can study mathematics in an intimate setting complemented by the liberal arts in the scenic mountains of North Carolina," said Dr. Wallis. "Our courses are small compared to the auditorium-size classes of larger schools. Even our Calculus I course, which is usually a larger class for us, had only 13 students last spring."
Dr. Eastridge believes the strong student-faculty relationships fostered through experiential learning are one of the greatest advantages of studying math at Brevard College.
"By the time a math major graduates from Brevard College, all of the math professors have personal relationships with the student. We care about what happens next for them and we try to prepare them for whatever that is as best we can."
The allure of mathematics as a course of study lies in the precision of the mathematical language, an appreciation for the art of a well-constructed argument, and ultimately about the search for truth in our world.
"For more than two-thousand years, math has been a part of the human search for understanding. The study of mathematics appeals to people who love ideas and want to know the truth," Dr. Wallis said. "Math is an exciting field, either on its own or paired with another discipline. Brevard College is a great institution. The two are a good match."
To learn more about the Math Program and meet Math faculty, schedule your campus visit today at www.brevard.edu.
Office of Public Information
One Brevard College Drive
Brevard, NC 28712
Christie.Cauble@brevard.edu