Keep a Sense of Adventure
Brevard is one of America's premier hubs for outdoor recreation. Nowhere else offers such an array of world-class adventure opportunities. Read on to explore the huge array of outdoor adventures waiting for you in Brevard, NC!
ACRES OF FOREST NEAR CAMPUS
Paddling & Whitewater: Land of The Waterfalls
Known as "the Land of Waterfalls," Transylvania County has the highest concentration of waterfalls in North America. Over 1000 miles of hiking trails meander through the surrounding Blue Ridge Mountains, from rhododendron-choked valleys to the 6000+ foot bald mountain tops of the Shining Rock Wilderness.
Whitewater enthusiasts can tackle dozens of creeks and rivers from class II float trips on the French Broad to the famous class V+ Green River narrows. Or they might just put on some waders and go fly fishing in their favorite secret spot hidden among the 500 miles of fishable trout streams.
Mountain Biking & Road Cycling: 1,000 Miles to Explore
Brevard is nationally recognized as one of the country's best locations for both road cycling and mountain biking. No one is totally sure, but some locals estimate there might be 1000 miles of single track around Brevard—a location that both National Geographic and Single Track Magazines have called "one of America's top ten biking towns."  
Popular Trails & Tracks for Cyclists
Hiking & Backpacking: The Mountains Await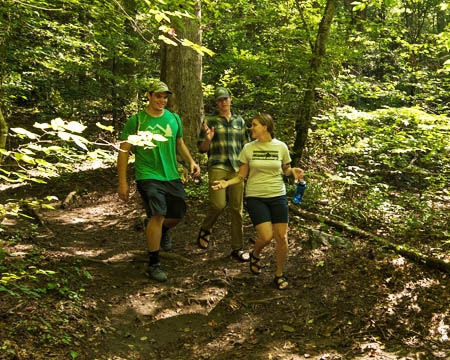 Brevard is home to an unusually high concentration of diverse, challenging, and extraordinary hiking and running trails. Transylvania County, offers over 1000 miles of mountain trails, and is a hiker's paradise. These trails allow everything from an expert backpacking journey to a quick an easy afternoon hike (perfect for your post-campus tour plans!). So pick a trail and explore the rainforest in Pisgah, hike to a waterfall or two, or experience first-hand the region's unique plant and animal life. You never know what you'll discover in these woods!
Rock Climbing: Get in Touch With the Mountains
Rock climbers are just a few minutes' drive from Looking Glass Rock, a towering 600' granite monolith with a lifetime of climbing routes of all levels of difficulties. Drive just a little further to take on the East Coast's biggest walls—Laurel Knob and Whitesides Mountain—or go bouldering at Rumbling Bald. Brevard's natural formations offer challenging slopes and incredible scenery to everyone from the novice to the seasoned climber.
Fly Fishing: Streams full of life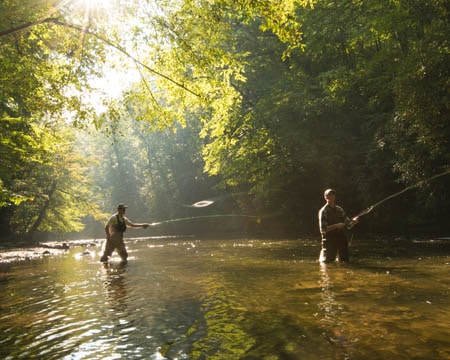 Brevard is hailed as a fishing enthusiast's paradise.
On your visit, you'll be eager to get a crack at Brevard and Transylvania County's 500 miles of prime fishable trout stream, pristine waterways, and incredible mountain views.
Whether you're an expert or just starting out, Brevard's streams, lakes, and rivers can offer any fly fisher the perfect setting to unwind, relax, and enjoy the region's natural beauty.