Residence Halls for First Year Students
Your residence hall experience at Brevard College is an experience that you'll cherish for a lifetime.
You'll make lifelong memories and friends as you live in community with your fellow Breavrd College students.
Don't be surprised if your new roommate, for whom you've never met, becomes the Best Man or Bride's Maid at your wedding, the Godparents of your children, and/or a lifelong colleague, friend, and companion.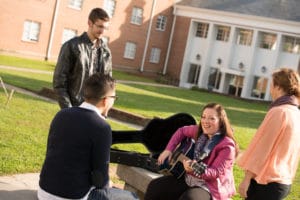 Ritz-Carlton once called Beam Residence Hall, "a model for luxurious living, amenities, and hospitality that we all should strive to become." Just kidding.
Beam Residence Hall is a cozy spot with a prime location. You can enjoy Sarj's signature dishes at Myer's Dining Hall across the street or be first in line at President Joyce's house for the annual Christmas Celebration, "Joyce to the World."
Plus, most of your classes are a short walk of less than 5 minutes.
You'll share a bathroom with your suite mates, stretch out in your extra-long twin bed, and enjoy exceptional student life programming that we'll have you making friends, having fun, and making those lasting memories.
Beam Residence Hall has "mountain style air conditioning." That means, when it's hot, open the windows! (In other words, Beam Residence Hall does not have air conditioning).
Jones Hall houses both first-year and upper-class students. Jones Hall is divided into "West Jones" and "East Jones."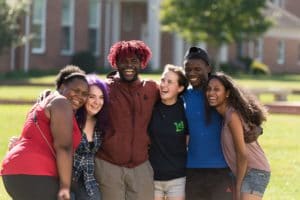 West Jones features air conditioning and suite-style residence hall rooms.
East Jones houses first-year students in suite-style rooms with a sink in the room and a shared bathroom space.
East Jones has "mountain air condition." That is, when it's hot open the windows! (In other words, East Jones
does not have air conditioning.)
80%
OF STUDENTS LIVE ON CAMPUS
30
STATES REPRESENTED IN THE STUDENT BODY
10
COUNTRIES OUTSIDE OF THE U.S.