Living at Brevard College is comfortable and convenient in residence halls just a short walk from the academic buildings, library, and dining hall.
During your time in a residence hall, you will become a contributing part of a living and learning community of peers and staff.
As you work, study, play, and grow with these other students, you'll learn valuable lessons in communication and responsibility – and make lifelong friends along the way.
Beam Residence Hall is home to most of Brevard's first-year students. It features suite-style living for 4 in which 2 students share each room and are connected by a bathroom.
Beam Residence Hall fills quickly! If you're interested in Brevard College, apply for admission today!
Beam Residence Hall has "mountain style air conditioning." That means, when it's hot, open the windows! (In other words, Beam Residence Hall does not have air conditioning).
Jones Hall houses both first-year and upper-class men and women. Jones Hall is divided into "West Jones" and "East Jones."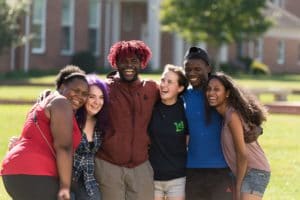 West Jones features air conditioning and suite-style residence hall rooms. Brevard College houses upperclassmen men and women.
East Jones houses first-year students in suite-style rooms with a sink in the room and a shared bathroom space.
East Jones has "mountain air condition." That is, when it's hot open the windows! (In other words, East Jones
does not have air conditioning.)
North and South villages are designed to be "living and learning communities" for 12-15 upper-class students. These apartment-style buildings can house over 200 upper-class
men and women. North Village has a kitchen in each unit, while South Village features private bathrooms.
North Village Room Dimensions: 14' x 14'
South Village Room Dimensions: 13' x 14'
*Both room and window dimensions vary greatly in the villages.
75%
OF STUDENTS LIVE ON CAMPUS
13
COUNTRIES OUTSIDE OF THE US
Brevard College is consistently recognized as one of the best liberal arts colleges. The College's focus on experiential learning, small class sizes, and location the mountains of Western North Carolina near Asheville makes Brevard a top choice college for students around the world.
Brevard College, One Brevard College Drive, Brevard, NC 28712 | 1-828-884-8332
This institution is an equal opportunity provider.