Beam Residence Hall (First Year Students)
Ritz-Carlton once called Beam Residence Hall, "a model for luxurious living, amenities, and hospitality that we all should strive to become." Just kidding.
Beam Residence Hall is a cozy spot with a prime location. You can enjoy Sarj's signature dishes at Myer's Dining Hall across the street or be first in line at President Joyce's house for the annual Christmas Celebration, "Joyce to the World."
Plus, most of your classes are a short walk of less than 5 minutes.
You'll share a bathroom with your suite mates, stretch out in your extra-long twin bed, and enjoy exceptional student life programming that will have you making friends, having fun, and making those lasting memories.
Jones Hall houses both first-year and upper-class students. Jones Hall is divided into "West Jones" and "East Jones." Jones features suite-style residence hall rooms, and offers some of the best views on campus!
Stanback Hall offers second, third, and fourth year students suite style rooms, traditional hall bathrooms, study rooms, a shared kitchen, and the some of the best views on campus!
The recently renovated Villages, including a brand new village unit, offer second, third, and fourth year students apartment and town-home style living arrangements.
Students enjoy the shared community of the Villages and the feel of an off-campus apartment that's conveniently located on campus. They also features several inviting, outdoor community spaces connecting the residents from The Village's
existing residence halls.
President Joyce once called Green Hall, "sturdy."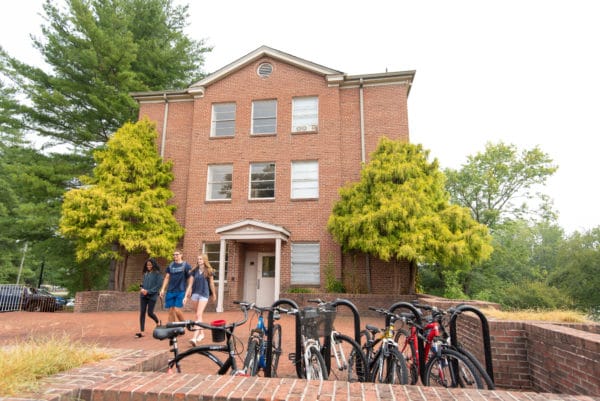 Modeled after George Vanderbilt's French Renaissance chateau in Asheville, Green Hall offers adventurous second, third, and fourth year students a private room, hall bathroom, and parking that's close by.
Air-conditioning is provided by opening up the windows and allowing that mountain breeze to flow in. (There's no A/C in Green Hall.)
80%
OF STUDENTS LIVE ON CAMPUS
30
STATES REPRESENTED IN THE STUDENT BODY
10
COUNTRIES OUTSIDE OF THE U.S.