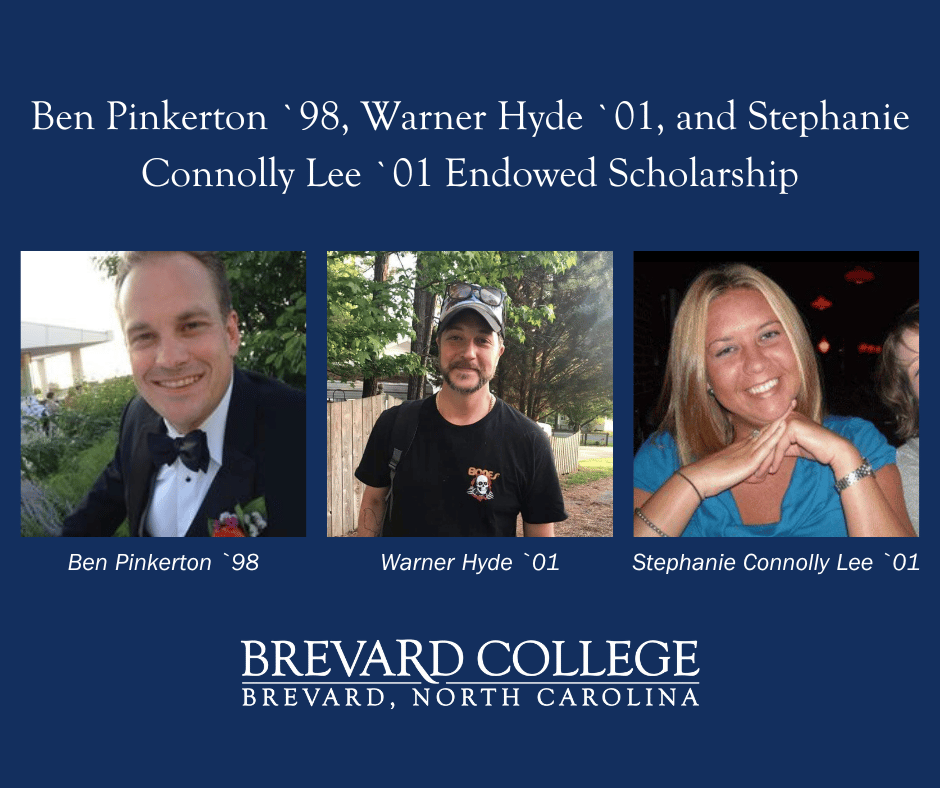 One thing most Brevard College alumni have in common is the countless lifelong relationships they have made during their time at BC. With Homecoming quickly approaching for the institution (October 7-9), several are reconnecting with old friends, some are remembering friends that have passed, and many are doing both. Ben Pinkerton '98, Warner Hyde '01, and Stephanie Connolly Lee '01 are three being recognized by Will Crowder '02 and classmates through an endowed fund created in their honor supporting student scholarships at BC. Crowder asked three classmates to reflect on their relationships with Ben Pinkerton '98, Warner Hyde '01, and Stephanie Connolly Lee '01.
Stuart Brown `00, Ben Pinkerton's `98 roommate and teammate, gives tribute to Ben and remembers their time at BC.
"On the eve of the 7th anniversary (April 22, 2015) of Ben "Pink" Pinkerton passing from this Earth, I go through what seems to be an annual ritual reflecting on my college roommate, teammate (goalkeeper), colleague, and my closest friend. I think of our time together not as typical college friends but more on our friendship post-college, our professional careers, and our futures with our families that were taken too soon.
From the minute Ben and I walked onto campus together that hot preseason day in August of 1996 in the beautiful Blue Ridge Mountains, I will never forget the immediate bond and brotherhood we formed living in the basement of Green Residence Hall. We immediately understood one another on the field as competitors but certainly off the field as we lived away from home, trying to navigate life in this beautiful college town nestled in the mountains of NC. Ben was more accustomed to mountain life, being from Blacksburg, VA, and I was the city boy from Charlotte and Washington, DC. Together, we took the challenge of college life by storm, experiencing all it had to offer; Ben dared me to think small, community, and living in the moment, and I would dare him to think big and force him constantly to be on the go. Ben and Stu did it together! From success on the field as co-captains to eventual graduates and many more memories after.
Many of these memories resonate well with our Green Residence Hall "hall-mate" and good friend, Will Crowder, who established this scholarship, and the many other classmates and friends who made our time at Brevard so special. Whether it was late afternoon support at baseball games, college shenanigans in the residence halls, taking in the Blue Ridge nature, hanging with friends off campus, or countless other adventures. There was always a constant Ben Pinkerton love for people, love for life, his smile, authenticity, and friendship.
Ben would be honored to support a scholarship in the name of a classmate that passed too soon, so it's uplifting and fitting to have one to honor Ben "Pink" Pinkerton. Ben will always remain my closest friend, a friend to all, a lover of nature, and a proud family man. It's my greatest hope that lifelong friendships and bonds are formed through this beautiful scholarship and by the power of Brevard College."
Travis Wolf, Warner Hyde's '01 close friend, explained how Warner loved his alma mater and his passion for teaching.
"Warner was in his element when he could combine nature and art. As an avid outdoorsman and a ceramics professor, he loved teaching about nature, its effects on art, and how to combine the two. Brevard College was where the two came together for him, and he began his journey of educating people on the two things he loved the most. As his professional career took off, he returned to Brevard often to get inspired for an upcoming project or to visit with professors he had while attending Brevard. He loved telling people about his Brevard College experiences and the interesting people he had met in the area. One of his favorite things to say was that you had to be able to go from 'coat tails to coveralls and still be yourself.'"
Nancy Noonan '02 also took a moment to reflect on the endowed scholarship and her best friend, Stephanie Connolly Lee '01.
"I met Stephanie during my first year at Brevard College. We became friends instantly. She once told me, 'you meet your real friends in college' that statement couldn't be any truer. I like calling it the Brevard bond. This scholarship is an amazing tribute to our Brevard College friends who left us too soon. The Pinkerton/Hyde/Connolly Lee Scholarship is a true example of the strong friendships that were created at Brevard College."
Crowder created this scholarship to honor the lives of Ben Pinkerton '98, Warner Hyde '01, and Stephanie Connolly Lee '01. All three individuals made such an impact on their class. Crowder hopes this scholarship will help future students experience the life-changing effects of a Brevard College education. To make a gift to The Ben Pinkerton '98, Warner Hyde '01, and Stephanie Connolly Lee '01 Scholarship, visit brevard.edu/give or call the Alumni Affairs and Development Office at (828) 641-0100.