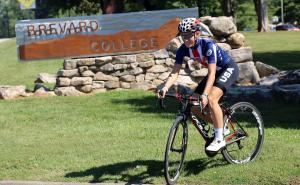 Five hundred meters. The final distance to the finish line at the 2016 Amateur Road Nationals Time Trial is seared into Hannah Arensman's memory.
"At that moment, you're thinking, you're going to remember this moment for the rest of your life," says the two-time time trial national champion – a freshman at Brevard College. "So I just buried it."
Arensman crossed the line 1.6 seconds faster than her opponent and landed a hard-earned spot representing Team USA at the 2016 UCI Road World Championships in Doha, Qatar.
"I don't like to get emotional or cry, but…" Arensman says, her eyes wide and glassy. "I started getting emotional. It's just such a wonderful feeling. I worked for this for so long."
The 18-year-old, younger sister to collegiate and national champion cyclist Allison Arensman – a senior at BC – was pulled into the sport at age 11 as a triathlete following the footsteps of her father and older brother. Later she joined her sister in the cyclocross race scene, and by 14, she was racing on the road.
When asked why she is drawn to road, the younger Arensman's answer may surprise you.
"Honestly, it was more of a faith-based decision," she says, and pauses, as if preparing herself for her candor. "I feel like God wants me to go this way. I really like the atmosphere, and I love training with my sister."
Once Arensman brings up her faith, the floodgates open. If before she was on the brink of shy, soft spoken, this subject lights her up while at once humbling her.
"A lot of people can race results and such. It gets depressing," she says. "This way, it's not really about the results anymore. It's more about honoring God with these results. At the end of the day, He's giving me these gifts: my coach, my parents, financial support, a great team."
She explains fervently that racing is her platform for God, not the other way around.
"I'm not defining my identity in cycling; my identity is in Him. It makes racing more fun," she says. "For some people, this (cycling) is their God. And what happens when I fail? Races don't go well, school doesn't go well. What happens then? The whole world comes crashing down."
And so far that attitude has held true for Arensman, who is learning the ropes of college life while balancing a rigorous training schedule.
She says she's looking into majoring in exercise science but hasn't quite figured out a minor.
"I have three different choices," she says. "I don't know what I want to do – they are all great!"
The College's experiential mission attracted Arensman to the school, as well as a chance to spend more time with her sister.
"I'm a very hands-on person," she says. "If I can learn in an environment doing stuff rather than sitting in the classroom all the time, it's awesome."
The College's small size and opportunity to build relationships with faculty rather than "just be a number" were other draws. As well as, of course, the nearby trails of Pisgah and Dupont.
"I really wanted to learn how to mountain bike!" Arensman says.
She hasn't been disappointed. Once she returns from Worlds, she'll have just a few days to prepare to join her BC team at the USAC Collegiate Mountain Bike National Championships in Showshoe, West Virginia, Oct. 21-23.
While the team was busy hitting cyclocross races and training for mountain bike Nationals, Arensman had to keep her main focus on the road but remain fit for the rest of the collegiate season.
"It's kind of like training for three disciplines at once – running for cyclocross, cross skills, time-trial intervals. And then race mountain bikes here and there," she says.
Her biggest concern heading into Road Worlds last week was the desert heat. High temperatures in Qatar last week caused many riders to battle heatstroke and severe dehydration. To prepare for these conditions, Arensman added layers to her clothing during her training rides in Brevard in order to get used to the heat and increased sweating.
"It's a different climate when I get there," she said during a photoshoot last week. "I don't want my body to be exhausted trying to adapt."
Arensman said she was looking forward to her time off the bike in the Middle East.
"I love seeing different cultures," she said. "Cycling has taken me all over the place in the past year – more places than I ever thought I would go."
She said that her time in Qatar riding for Team USA would be a great opportunity to work with other talented athletes and share her knowledge and experience with the BC team.
On Monday, Oct. 10, Arensman proved she belonged among the most elite road cycling athletes in the world when she rode to a fifth-place finish in the junior women's individual time trial.
Her Top Five performance, she said after the race, has been a dream since her freshman year in high school. Still, on top of the world, Arensman didn't let her pride get the best of her. She said it was amazing to see the payoff for the work that she, her coach, Sonni Dyer, her family and her team have put in.
"It is to them I owe any result I get here in Doha, Qatar!" she said in an email to BC coach Brad Perley.
But first and foremost, Arensman credited her faith.
"One Corinthians 9:25-27 sums up well what this race was all about for me," she said. "It is God first and foremost that has given me the gift of racing my bike, and when I use that gift for Him I feel His pleasure!"
Hannah Arensman Career Highlights
2013

USA

Cycling Amateur

&

Para Road Nationals: 1st Place, Road Race Women Junior 15-16
2014

USA

Cycling Amateur

&

Para Road Nationals: 1st Place, Road Race Women Junior 15-16
2014

USA

Cycling Amateur

&

Para Road Nationals: 1st Place, Time Trial Women Junior 15-16
2016

USA

Cycling Amateur Road Nationals: 1st Place, Time Trial Women Junior 17-18
2016

USA

Cycling Cyclo-Cross Nationals, 1st Place, Women Junior 17-18
2016

UCI

Road World Championships, 5th Place, Women Juniors Individual Time Trial