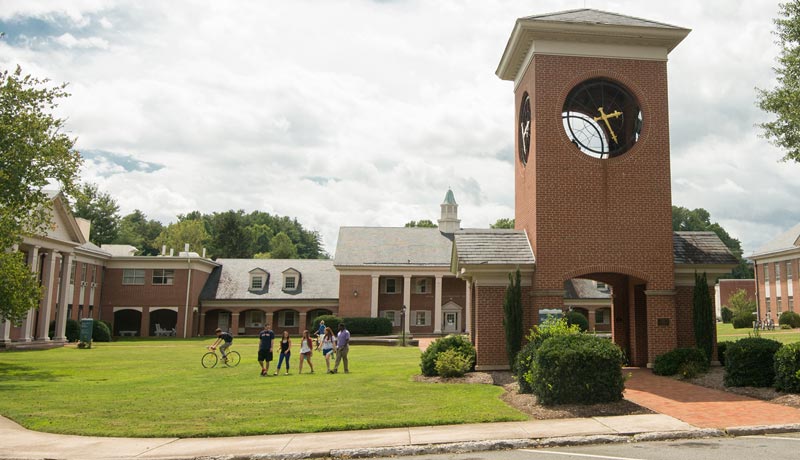 A touching feature story chronicling the individual paths that led four close-knit Brevard High School soccer players to continue their athletic careers at Brevard College received high honors in a recent writing contest organized by the College Sports Information Directors of America (CoSIDA).
"Four Brevard High products joining BC soccer roster" by Randall Stewart, BC's Athletic Media Relations Director, edged out a win in the District 3 Blog category over entries from big-name schools in Florida, Georgia, North Carolina, South Carolina and Virginia.
"Randall is a compelling writer, and I am always amazed at the thoroughness and creativity he dedicates to his writing game after game," said Juan Mascaro, BC Athletic Director. "It's nice to see him get the recognition he truly deserves."
The annual Fred Stabley, Sr. Writing Contest is open to CoSIDA members at all levels of college athletics, according to CoSIDA's website. The contest recognizes excellence in feature writing, historical features, administrator/coach profiles and event coverage writing. Entries are judged on overall writing style, correct use of English, inventiveness, written presentation and the ease with which the reader acquires the information. Entries are not categorized by budget, athletic competition, division or size of staff.
This year's contest received 363 total entries for seven categories with 45 Sports Information Directors receiving recognition for at least one story. Stewart was one of 11 SID's with multiple stories honored.
Over the course of three weeks, Stewart spent hours with the soccer recruits, whose story of friendship and teamwork he found to be genuine and unexpected.
"I knew it was a pretty good story, so when I heard about the contest I knew I wanted to submit this one," Stewart said. "I really didn't think it would win but I submitted it because I'm more proud of this one than anything else I've done at Brevard."
In addition to Stewart's soccer feature, a piece he penned as a Sports Information Graduate Assistant with King University in Bristol, Tennessee, tied for the win in the Athlete Profile category with Jenna Marina of Central Florida. This was no small feat, as Marina won National Story of the Year in the 2014 contest. "Men's volleyball team springs into action to help man having seizure" is a sweet profile recounting a King volleyball player's integral role in saving a man's life while having dinner at an International House of Pancakes.
Stewart said he is extremely honored and humbled by the awards.
"I take great pride in my writing and could not imagine a more fulfilling award," he said. "I've been blessed with incredible student-athletes and coaches whose stories I have the privilege to tell both at King and Brevard and can't wait to tell more in the years to come."