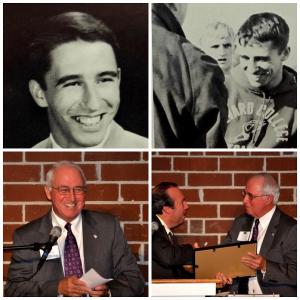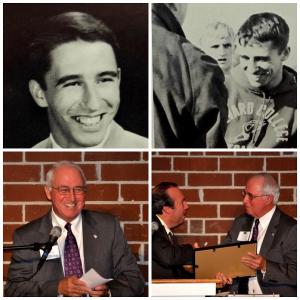 Tommy Hodge, a decorated Brevard College track and cross-country athlete in 1967 and current member of the Alumni Association Advisory Board, recently showed his appreciation to his alma mater with the creation of a new scholarship.
Hodge attended the College for two years, quickly becoming one of the best track and cross-country athletes Brevard had ever seen. As a freshman, he was "Most Valuable" runner and became Team Captain as a sophomore. In 1967, he was selected "Most Outstanding Junior College Athlete" at the News Piedmont Relays and won the mile at the National Junior College Track and Field Championships, gaining All-American honors that same year.
In 2010, Hodge was inducted into the Brevard College Athletic Hall of Fame in recognition of his athletic accomplishments and leadership as a student-athlete.
"Tommy could be relentless during practices and meets. I have known few people who worked as hard as Tommy to better himself and the team," said Bob Julian '68 during Hodge's induction into the BC Hall of Fame.
Susan Cothern, executive director of development, said Hodge demonstrates the same level of commitment to excellence as an Alumni Board member.
"He asks thoughtfully critical questions about the College's operations and plans, and is a tremendous advocate for his alma mater and the success of our current students," Cothern said.
Hodge grew up in Pacolet Mills, South Carolina, and attended two years at Brevard before he was awarded a track and cross-country scholarship at the University of Mississippi. During his years with the Ole Miss Rebels, Hodge was All-Southeastern Conference selection and Team Captain. He returned to South Carolina after college to work for Milliken and Company.
Showing his customary work ethic and leadership, Hodge rose through the company ranks to become Vice President of Human Resources. He retired from Milliken after 38 years, and now provides service back to Brevard College through his service on the Alumni Board.
Rebecca Cox Gill '05 was Director of Alumni Affairs when Hodge was recruited to serve on the board. She said she is delighted to see the scholarship established in Hodge's name so that current students – future alumni – will understand the impact an alumnus can have on the College following graduation.
"Tommy's devotion to Brevard College as proven through his leadership on the Alumni Advisory Board is admirable and greatly appreciated," Gill said.
Scholarships provide vital funding for students seeking a high-quality, engaging and experiential education at Brevard. Ninety nine percent of students atBC receive scholarships to help fund their education, and the College plans to continue this legacy of support through partnerships with alumni like Hodge.