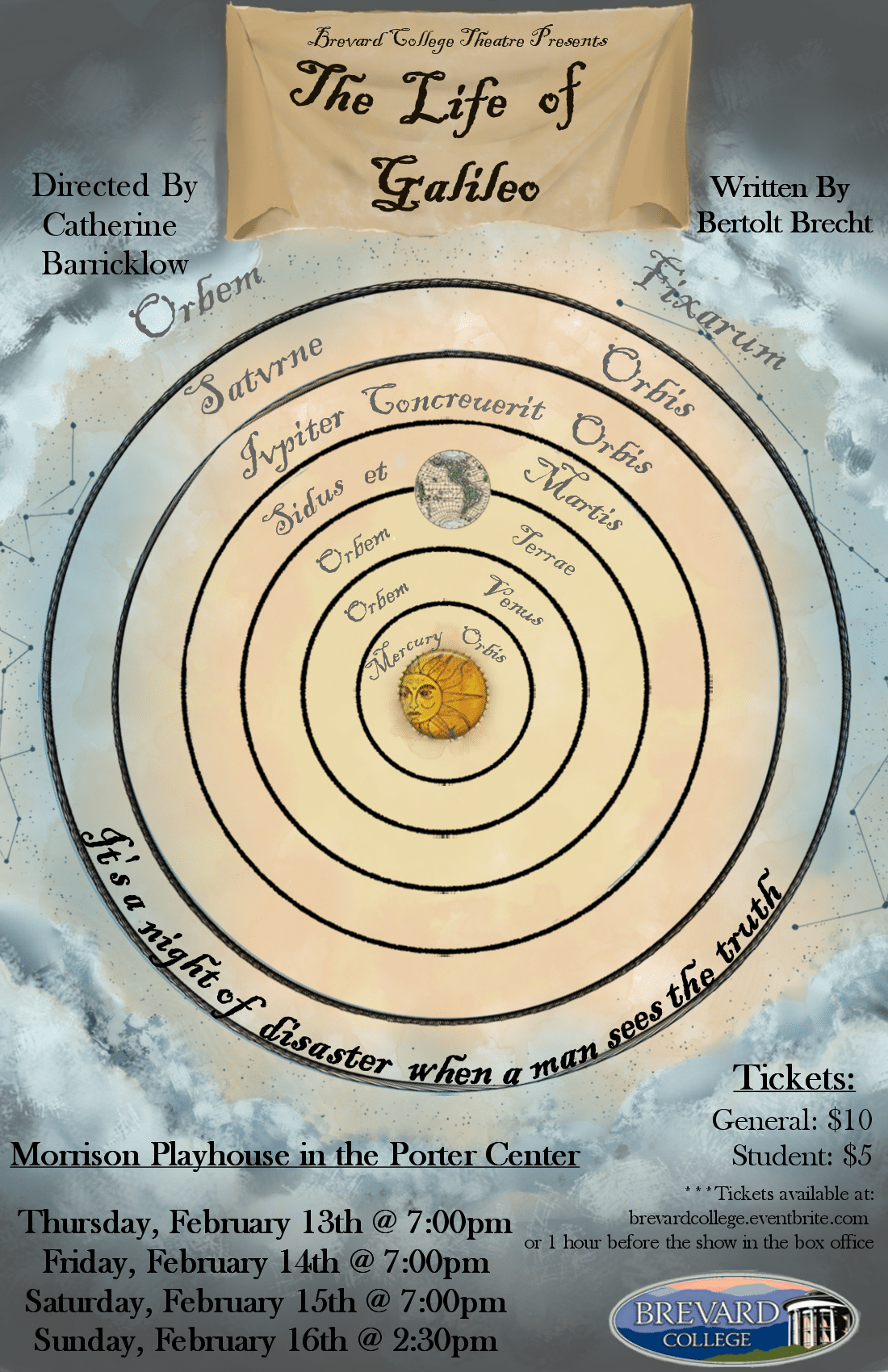 On Thursday, February 13th, at 7:00 p.m., Brevard College Theatre will open the third production of the 2019-2020 season with The Life of Galileo directed by guest director and former faculty adjunct, Catherine Barricklow. The show will run in The Porter Center for Performing Arts' black box theatre, the Morrison Playhouse. Additional performances will be on February 14th and 15th at 7:00 p.m., as well as a matinee on February 16th at 2:30 p.m. Adult tickets are $10 and student tickets are $5. Tickets are available for purchase online at brevardcollege.eventbrite.com and at the box office an hour before each performance.
Written by the German playwright Bertold Brecht while in exile during WWII, this play is about Galileo Galilei, the revolutionary physicist whose discoveries approximately 400 years ago changed the world. The play examines the irresistible drive of Galileo's curiosity and illuminates the power of inquiry, as well as the revolutionary nature of truth when it challenges power. The play exposes the mechanics of the religious and political power structure, the methods of suppressing dangerous ideas, resonating with the times we are living in today. The Life of Galileo speaks to the challenges of being a scientist at a moment in history where there are scientific facts, yet believing in climate change is something we have to "opt into".
The cast includes Anthony Zuniga ('20), Sydney Windham ('21), Claudia Dalhman ('21), Kristian Michaels ('22), K'nique Eichelber ('21), Sallie Watson ('23), Gabriel Bernhard ('23), Sarah Hajkowski ('23), Lisa Arrona ('21), Emma Harris ('22).
Production support includes Amber Blanton ('20) and Claire Wylie ('21) as Rehearsal Stage Managers, Coordinator of Theatre Andrea Boccanfuso as the Scenic and Lighting Designer, Adjunct Professor of Theatre Ida Bostian as Costume Designer, Talley Sugg ('22) as Assistant Costume Designer, Gavin Martin ('22) as Sound Designer, Mabry Taylor ('22) as Hair and Makeup Designer, Claire Wylie ('21) as Props Master, and Chris Strassner as the Brevard College Theatre Technical Director.
To learn more about Brevard College visit us at brevard.edu.
Brevard College is consistently recognized as one of the best liberal arts colleges. The College's focus on experiential learning, small class sizes, and location in the mountains of Western North Carolina near Asheville make Brevard a top choice college for students around the world.