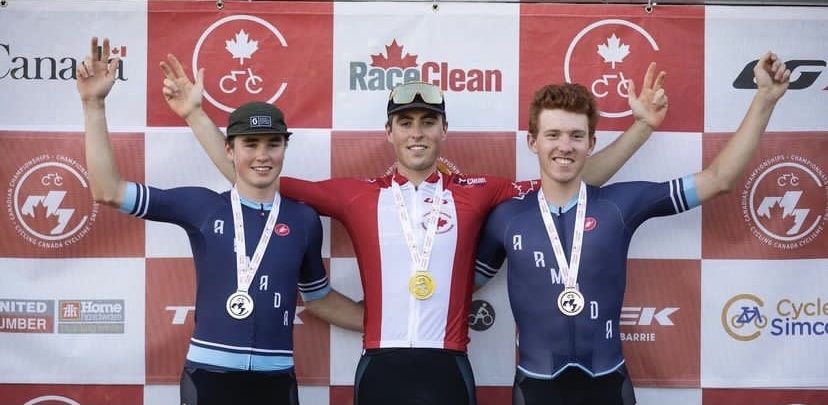 For the fifth straight year, Brevard College Cycling student-athletes are representing their home nations at the UCI Mountain Bike World Championships. BC student-athletes Owen Clark and Cole Punchard will both race for Canada at the 2022 world championships held this weekend in Les Gets, France.
Clark and Punchard will both compete for Team Canada in the U23 Men's Olympic Cross Country race on Sunday, August 28 at 3:15 p.m. local time (10:15 a.m. ET). It marks the second straight season that Clark and Punchard are competing at the world championships while part of the Brevard College Cycling program. Last season, the duo raced in the Junior Men's Cross Country category at the 2021 UCI World Championships in Val di Sole, Italy.
Moreover, Clark and Punchard's participation continues a streak of five consecutive years that Tornado cyclists have raced in the world championships. Last season, a program-record six BC student-athletes competed in the worlds as Clark and Punchard joined recent BC alumni Tyler Clark, Tyler Orschel and Rachel Pageau on the Canadian national team while Mazie Hayden raced for USA Cycling. In 2020, Hayden (USA) and Orschel (Canada) raced in the World Championships held in Leogang, Austria. Orschel and Pageau represented the host nation at the 2019 world championships in Mont-Sainte-Anne, Canada. In 2018, Brevard College's Carson Beckett (USA), Tyler Clark (Canada) and Nathan St. Clair (USA) competed at the 2018 UCI Mountain Bike World Championships in Lenzerheide, Switzerland.
Clark and Punchard are both sophomores on this year's Brevard College Cycling team. Clark, who finished third in the Individual Omnium (best overall rider) at last year's USA Cycling Collegiate Mountain Bike National Championships, is a native of King City, Ontario, while Punchard hails from Huntsville, Ontario. Earlier this summer leading up to the world championships, the two Brevard teammates shared a podium with Punchard finishing second and Clark third at the Canadian National Championships held in Ontario.
"We are incredibly proud to have Brevard College representation at the mountain bike world championships again," said BC Head Cycling Coach Brad Perley. "Cole and Owen are proof that it's possible to be successful college students while competing at the highest international level. I know they'll make us proud."
Following the world championships, the Brevard College Cycling team will open its collegiate season at an event hosted by Auburn University, September 3-4 in Auburn, Alabama. The Mountain Bike season will once again culminate with the USA Cycling Collegiate National Championships, October 13-16 in Durango, Colorado.
To follow the latest news and updates surrounding Brevard College Athletics, follow the Tornados on Twitter and Instagram @bctornados, subscribe to 'Brevard College Tornados' on YouTube, follow 'Brevard College Tornados' on SoundCloud, and 'Brevard College Athletics' on Facebook. In addition, follow 'brevardcollege' on Flickr for photos from Brevard College events.