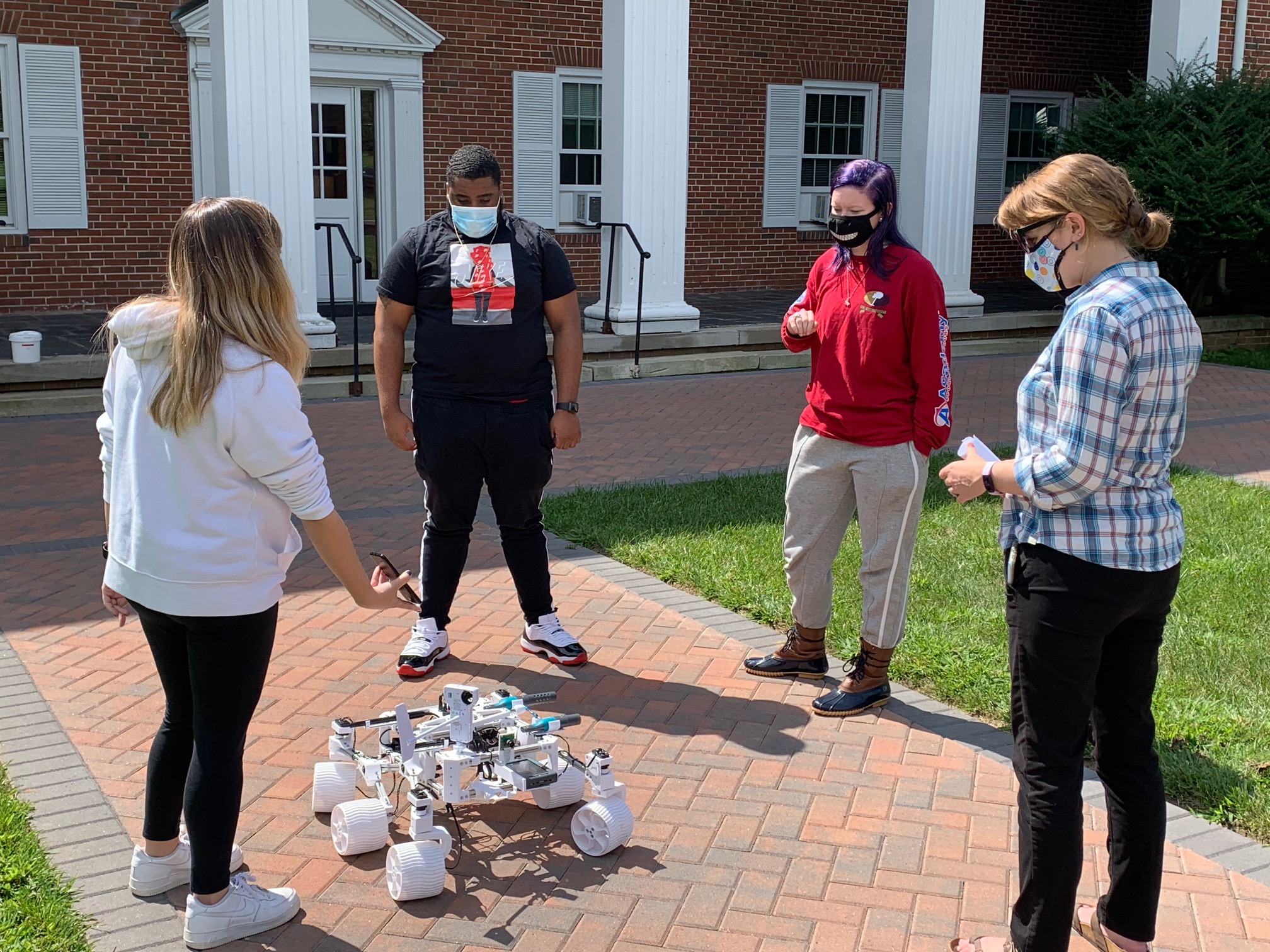 In the midst of a global pandemic creating unprecedented challenges for higher education, Brevard College successfully completed its Fall 2020 semester and is now looking ahead to the 2021 spring semester.
"This fall, we were presented with an unprecedented challenge to provide in-person, experiential education to our students while keeping health and safety of our campus community as the top priority," said Dr. David C. Joyce, President of Brevard College. "I am extremely proud of how our campus responded to this challenge and successfully completed the semester."
Following a spring semester that was transitioned to online learning in March, students returned to the Brevard College campus in August with a comprehensive set of COVID-19 protocols to keep the campus community safe.
The safety protocols and guidelines were established by the Brevard College COVID-19 Safety Task Force chaired by Vice President for Student Success and Dean of Students, Dr. Debbie D'Anna. Throughout the entire process, the task force worked closely with local and state authorities including the Center for Disease Control, the Transylvania County Health Department and the Mountain Area Health Education Center (MAHEC) to establish a comprehensive safety plan.
Blue Ridge Health, located next door to Brevard College, partnered with the college to provide COVID-19 testing and a wide range of additional health care services. Moreover, the Brevard Music Center provided further testing resources and additional housing for BC students as part of the college's cohort housing plan.
Testing for the virus was made readily available on the BC campus. In total, over 1,800 tests were administered on campus with a 0.72% positivity rate. A total of 16 positive student cases and four positive staff cases were identified followed by isolation, quarantine and contact tracing procedures to contain any potential spread.
The semester was completed safely and successfully with the final day of classes on November 20 followed by final exams ending November 25. The students are scheduled to return to campus in the New Year with the first day of Spring Semester classes set for January 19, 2021.
"We had a plan when the semester began, yet we were in unknown territory," stated Dr. D'Anna. "The partnerships with the Transylvania County Health Department, Blue Ridge Health, MAHEC, and Brevard Music Center were essential to our success over the fall. We completed over 1,800 COVID tests on campus with a .72% positivity rate which was one factor that helped us toward a successful semester. The other factor was our campus community who showed their determination to remain in-person by following the Three W's (Wear a Mask, Wait Six Feet Apart, Wash Hands) and holding each other accountable."
Brevard College, ranked number one by US News and World Report for Best Undergraduate Teaching among Regional Colleges in the South, was able to carry out the college's experiential mission because of the creativity and resiliency of the college's faculty as well as the flexibility and commitment of the student body. Nearly 90% of all classes in the fall were safely taught in-person in classrooms designed for appropriate social distancing or, when appropriate and possible, outdoors.
"It took a herculean effort on the part of the faculty and supporting staff to carry out our experiential educational mission this past semester," said Dr. Scott Sheffield, Vice President for Academic Affairs and Dean of the Faculty. "The fact that we were able to do so much for our students in the pandemic environment just underscores why Brevard College is considered one of the best undergraduate teaching institutions in the country."
The drive-in theater performance of "The Little Shop of Horrors" at the Brevard Music Center and the successful completion of the Wilderness Leadership and Experiential Education Immersion Semester were just two examples of how faculty adapted the experiential education model to the pandemic environment. The faculty also consistently and compassionately accommodated those students in isolation or quarantine due to COVID-19, giving alternate assignments if possible and using new technology in the classrooms for students to virtually join the class whenever possible.
Throughout 2020, Brevard College continued to produce robust, record-breaking admissions and enrollment figures. BC enrolled a record number of 767 students for the Fall 2020 semester, the largest enrollment since Brevard College became a four-year institution in 1996.
The Brevard College Admissions Office expects more record-setting enrollments for the Spring 2021 and Fall 2021 semesters. For this spring's new-student class, paid enrollment fees are up 60% compared to this same time last year. For the Fall 2021 new-student class, enrollment fees paid are up 40% compared to this time last year. This success in the area of admissions has come despite several adjustments necessitated by the COVID-19 pandemic.
"The COVID-19 pandemic has created significant challenges for prospective students and their families, particularly when it comes to choosing a college," said Dr. R. Chad Holt, Vice President of Admissions and Financial Aid. "Brevard College's COVID-19 response has helped assure prospective students and their families that we take the pandemic seriously. We are committed to keeping our campus community healthy and safe – a commitment that extends to prospective students and their families. I am pleased to report that campus visits and other important admissions indicators are on par with previous years with several indicators at record levels."
Other highlights from the fall semester include BC completing its ten-year accreditation reaffirmation virtual on-site visit with the Southern Association of Colleges and Schools Commission on Colleges (SACSCOC) and launching its next Quality Enhancement Plan (QEP). Over the next five years, the QEP will transform the student experience at the College by developing and expanding on "Collaborative Learning" inside and outside the classroom, enhancing the experiential educational experience already in place at Brevard College. As a result of the QEP, Brevard College students will be better prepared to live and work in a 21st century world that will require them to work collaboratively with others for the benefit of all.
Expansion of facilities on campus are continuing as well with construction currently underway on a state-of-the-art, 57-bed residence hall to be located in The Villages on the college's campus. Other recent enhancements to the student experience at Brevard College include extensive renovations to the existing residence halls, the new improved Wilderness Leadership and Experiential Education space, a new Athletics Field House, an expansion of Ives-Lemel Family turf field to accommodate several sports including football, and the beautification of campus grounds.
Brevard College is consistently recognized as one of the best liberal arts colleges. The College's focus on experiential learning, small class sizes, and location in the mountains of Western North Carolina near Asheville make Brevard a top choice college for students around the world.