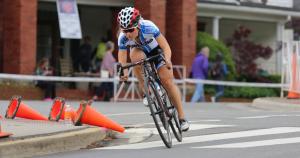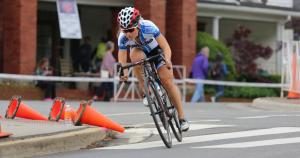 Fresh off her individual omnium win at USA Cycling Collegiate Road Nationals, Janelle Cole was selected to compete as a member of the Medica Collegiate All-Star team at the North Star Bicycle Festival Grand Prix in Minnesota June 15-19.
"This is a very prestigious, difficult, well-known stage race," Cole said after learning of her selection. "There will be a lot of really talented professional teams there. Since this is an invitational, it truly is the best of the best that will be competing."
The Grand Prix, which is part of the North Star Bicycle Festival, includes six stages over a five-day period. Two stages occur on Wednesday, June 15, with a time trial and a 28-lap downtown criterium scheduled to take place in St. Paul. An 85-mile road race beginning in the town of Cannon Falls awaits on Thursday.
The competition's second criterium is scheduled for Friday evening on a 0.55-mile course in downtown Minneapolis. Saturday's road race in North Mankato is scheduled for 78 miles and includes arguably the most challenge element of any race: a mile-long hill that riders will have to traverse multiple times. The Grand Prix's signature event comes on Sunday with a 14-lap criterium in Stillwater, which has earned a reputation as the hardest criterium in North America.
"I think I'm most looking forward to the Saturday road race in North Mankato," she said. "It's a 20-mile circuit on a very cool course with a challenging hill, then a finishing circuit within the actual city."
Cole's Collegiate All-Star team, sponsored by healthcare conglomerate Medica, is comprised of a veritable "who's who" of collegiate road cyclists and was selected following Collegiate Road Nationals through a partnership with the Grand Prix and USACycling. Joining Cole on the six-member squad will be Kate Buss of Virginia Tech, who bested Cole in the Division I criterium event at this year's Collegiate Road Nationals, and Division I road champion Monica Volk from Penn State.
Division II riders on the all-star team include road race champion Jennifer Caicedo of King, criterium winner Katherine Shields of Wake Forest, and third-place individual omnium finisher Amy Benner of Cal State-Channel Islands.
Cole is impressed with both the team's caliber and its prospects to finish at the front of the field. "This is a great team," she remarked, "and I'm excited to be racing with such a high quality group. I think top-fives and top-10s aren't out of reach if we're able to work together and put forth our best effort for each other. Those types of results are what I'd like to see from myself as well."
The team members will be afforded an opportunity to build team chemistry and practice together during a training camp in Wisconsin prior to the Grand Prix. "I'm impressed with the commitment USA Cycling is showing to this team," Cole said. "They truly want to take these amazing collegiate women and turn us into pros."