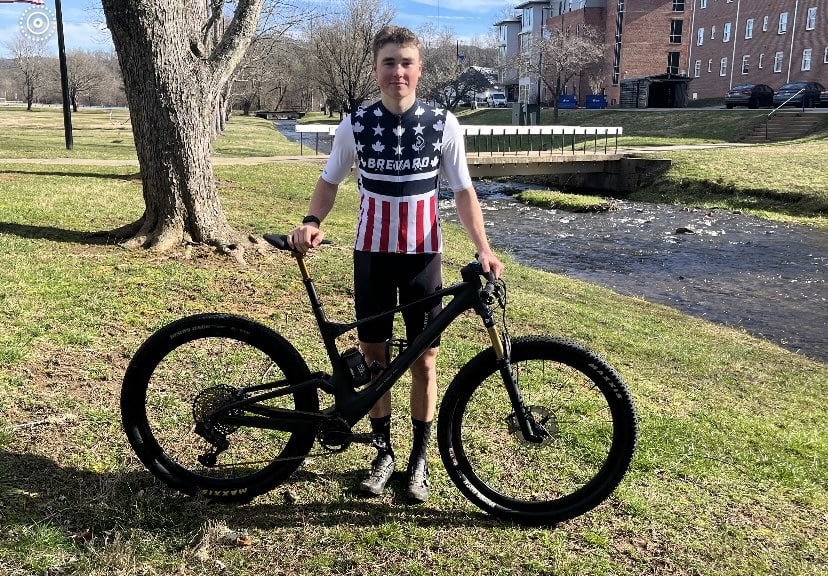 Brevard College Cycling student-athlete Cole Punchard was honored with a special presentation of a custom national championship racing jersey to commemorate the sophomore's USA Cycling individual mountain bike national title.
Punchard, who hails from Huntsville, Ontario, Canada, was presented with a unique, custom jersey that combined the USA stars and stripes with the Canadian maple leaf. The jersey, sponsored by the Brevard College Tornado Club, also adorned the logos of current BC Cycling sponsors LDC Landscape Design Company Co. and Ride Kanuga. The jersey was presented to Punchard by Head Cycling Coach Brad Perley on the campus of Brevard College.
"We are extremely proud of Cole," said Coach Perley. "It's extra sweet for the program to be able to take the men's individual omnium national title back to Brevard following Tyler Orschel's win last year. This title is a culmination of all racing across four days so it demands consistency. Moreover, Cole having teammate Owen Clark join him on the podium made it even sweeter."
Punchard won the Men's Varsity Individual Omnium national title given to the best overall rider at the 2022 USA Cycling Collegiate Mountain Bike National Championships held this past October in Durango, Colorado. To win the title, Punchard accumulated 196 points across four individual race disciplines. Racing in his first collegiate national championship, Punchard placed third in Short Track Cross Country, ninth in Cross Country, sixth in Dual Slalom, and tenth in Downhill en route to the title. Punchard and his teammate Owen Clark (3rd Place), who both raced for Team Canada at the 2022 UCI Mountain Bike World Championships, gave BC two spots on the Men's Varsity Individual Omnium podium at the collegiate championships.
The omnium title marked the third straight Men's Varsity Individual Omnium national championship for a Brevard College racer with Punchard joining BC alumni Tyler Orschel and Tyler Clark on the top step of the podium.
As a team, the Tornados earned a third-place overall finish to make BC once again the highest finishing collegiate program in the eastern half of the United States. It marked the third straight mountain bike national championship that the Tornados have finished in third place in the nation.
The ten-time national champion Brevard College Cycling program features varsity programs in the disciplines of Mountain Bike, Cyclocross, and Gravel Racing. For the latest news and updates surrounding Brevard College Cycling, follow @brevardcycling on Instagram and 'Brevard College Cycling' on Facebook.
To follow the latest news and updates surrounding Brevard College Athletics, follow the Tornados on Twitter and Instagram @bctornados, subscribe to 'Brevard College Tornados' on YouTube, follow 'Brevard College Tornados' on SoundCloud, and 'Brevard College Athletics' on Facebook. In addition, follow 'brevardcollege' on Flickr for photos from Brevard College events.