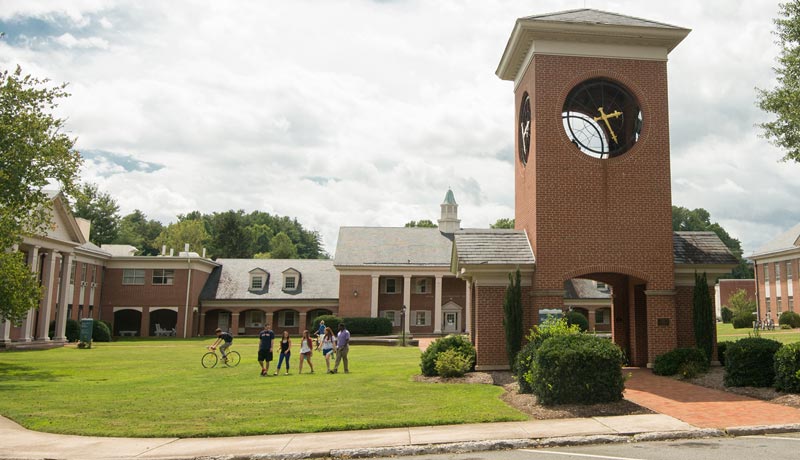 The Brevard College Athletic Department recently made a joint decision with USA Cycling to reclassify the Tornados' cycling program to Division I status effective in the Fall 2015 semester.
"I'm extremely excited about the move to Division I," said head coach Brad Perley. "I have the utmost confidence in all 35 of our student-athletes to continue their hard work, be motivated, and build on the success we've gained since the program started. I think this is a tremendous next step for our program and is what all of our students have been working toward."
"This is an exciting time for our cycling team," added Athletic Director Juan Mascaro. "I'm proud of all that they've accomplished under the leadership of Coaches [Brian] Sheedy and Perley. This is a large milestone for the cycling program."
The Tornados have been arguably the most successful collegiate cycling program in the nation for over half a decade. Since winning its first national championship in 2009, Brevard has captured a total of eight team national titles at the Division II level of USA Cycling. The Tornados won their third straight mountain bike championship last fall, giving Brevard five of the last six mountain bike crowns. The team also won the cyclocross championship in each of the last three seasons and has two consecutive runner-up finishes in road racing following a third-place result in 2013.
"The cycling team is a very young team at the college, having only been in existence for around a decade," said Allison Arensman, who won two individual national titles and was part of the winning relay team at last year's Mountain Bike Nationals. "To progress so quickly from a club team to a varsity sport that has the potential to win the title against the best teams in the nation is honestly pretty astounding. It's an amazing program to be a part of."
Despite competing for national championships against different institutions, the Tornados' schedule will not change. Brevard will be one of two Division I programs competing in the Southeastern Collegiate Cycling Conference, along with Lees-McRae, but will attend the same races and face the same opponents prior to the national championship event. When Brevard travels to Snowshoe, West Virginia, in October for USA Cycling Collegiate Mountain Bike Nationals, however, the Tornados will solely compete against other Division I institutions for the first time.
"We're fortunate to already compete in one of the strongest conferences in the entire country," said Perley. "We're going to continue to face a lot of really strong talent from our local schools week in and week out. Looking ahead to nationals, it's an entirely different ballgame competing against an entirely different field. All of the competitions across the board are going to have 20 to 30 percent more entries and we'll be competing against much deeper and more established programs."
Janelle Cole, who used a last-lap pass to win the criterium national title in May, is confident in the team's ability to compete with Division I programs. "Our times compared to Division I teams at both Cyclocross and Road Nationals last season proved our readiness to compete with them. We just need to put our amazing individual strengths to the best use possible in a well-oiled team strategy in each event."
Cycling is not sanctioned by the NCAA and therefore is not subjected to the same rules governing sports within the NCAA structure. Sport-specific national governing bodies typically take responsibility for regulating these sports, which include cycling, women's wrestling, and equestrian, among others.
USA Cycling is the national governing body that sanctions races around the nation and oversees the Team USA cycling program. USA Cycling operates two divisions of collegiate competition and holds mountain bike, cyclocross, and road racing national championships annually.
A school's cycling classification is based on several factors, such as enrollment, competitive success, and varsity sport status, and is not related to its NCAA classification. The cycling structure includes teams like Lees-McRae and Lindenwood that compete in Division II in NCAA sports but are classified as Division I by USA Cycling. Conversely, schools like Furman (NCAA Division I), Ripon (NCAA Division III), and Milligan (NAIA) are classified by USA Cycling as Division II.
"We can be successful at the Division I level if we continue to race in the same way as we all have in past years," said Cypress Gorry, whose results were identical to Arensman's at last year's Mountain Bike Nationals and who turned in the fastest relay laps of any competitor regardless of division. "I believe the team will be very successful competing in Division I. My goals are still to win both endurance events at nationals this year."
Making a parallel move to Division I with the Tornados will be Colorado Mesa University. Several institutions in the area sponsor Division I cycling programs, such as Lees-McRae, Appalachian State, Clemson, NC State, UNC Chapel Hill, UNC Greensboro, the University of South Carolina, and Virginia Tech.
"This transition means a ton to me with this being my final year at Brevard," said Spencer Lowden, a versatile senior who has several top-ten individual finishes at national championship events. "The opportunity and privilege to race at the Division I level will be once in a lifetime for me. It means the hard work has paid off and now we have an amazing opportunity to show everyone we've got what it takes to be successful."
Visit the official site of the Tornados for more information.