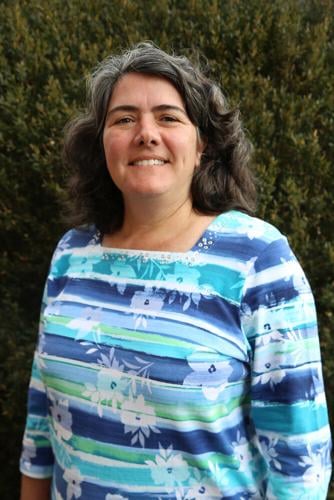 Dr. Jennifer Frick-Ruppert, who had been serving in an Interim role since May, was appointed as Vice President of Academic Affairs and Dean of the Faculty of Brevard College. Her promotion to the permanent role was announced Thursday, October 6th, by President Bradley J Andrews as part of his Inauguration activities. "Jennifer is uniquely qualified to lead Brevard College academics. Her integrity, intelligence, compassion, and leadership make her a most trusted and respected colleague and friend. I know I speak for most everyone at the college when I say that I cannot imagine a person better suited for this role, at this time in Brevard College's history," said Dr. Andrews.
Dr. Frick-Ruppert has served on the faculty of Brevard College since 1997. Initially hired as an adjunct instructor, she has risen through all the academic ranks, including serving as Division Chair of the Science and Mathematics Division from 2013-2022. She holds the endowed Dalton Professorship of Biology and Environmental Science since her promotion to full professor in 2011.
Although perhaps best known as an exceptional teacher, who won the Brevard College Exemplary Teaching Award in 2004, the Faculty Member of the Year by the Student Athlete Advisory Committee in 2017, the SGA/ODK Faculty Member of the Year in 2003, and the Johnie Jones Sabbatical Award for Teaching Excellence in 2013, she has also received recognition for her writing. She was a finalist for the Phillip Reed Memorial Award for Outstanding Writing on the Southern Environment for her book Mountain Nature: A Seasonal Natural History in 2010. She has published two other books for popular audiences, Waterways: Sailing the Southeastern Coast in 2014 and The Legend of Skyco: Spirit Quest in 2017. Her publications for professional audiences, most recently authored with Brevard College students, included articles in scientific journals on the diets of coyotes, plant phenology, nutritional values of native fruits, and the Blue Ghost Firefly. In the early 2000's, she developed websites on natural history for South Carolina Educational Television, and she wrote a regular column called Appalachian Almanac for The Transylvania Times newspaper that occasionally also appeared in the Asheville Citizen Times. Her doctoral and post-doctoral work resulted in several scientific papers on the developmental biology of various marine invertebrate animals.
In addition to serving as Division Chair of Science and Mathematics, Dr. Frick-Ruppert has also served in many significant roles for the college. Some of these roles included service as a liaison with the John Gardner Institute on their Gateways to Completion project, co-chair of the 5-year review by the College's SACS-COC accreditation agency, chair of the feasibility study for the new Master's program in Health and Human Performance, chair of the Curriculum Development and Assessment Committee, chair of the Institutional Review Board, chair of Title IX hearing panels, a member of the Student Orientation and Registration team, and founding director of the Brevard College Honors program. Her training has been extensive, including participation in the prestigious Council of Independent Colleges Senior Leadership Academy and regular academic leadership training sessions with Leadership First organization.
While Brevard College focuses mainly on strength of teaching rather than grant funded research, Dr. Frick-Ruppert participated in several major grants, including serving as a co-principal investigator along with Dr. Michael Castelaz for a grant from National Science Foundation and as the lead writer for a grant from the Golden LEAF Foundation. During her tenure as the Executive Director of the Appalachian Center for Environmental Education and the Pisgah Forest Institute, she also wrote and received numerous additional grant awards, for a total of nearly 1.5 million dollars.
Dr. Frick-Ruppert is a well-known speaker and naturalist in the region. She has been the Keynote Speaker for the Roan Mountain Naturalist Rally, the Mount Rogers Naturalist Rally, and the Wilderness Society Board of Directors. She gives talks on a variety of subjects, from plants to animals and the interactions between them, for groups including the North Carolina Native Plant Society, the North Carolina Botanical Garden, the North Carolina Arboretum, the Western NC Chapter of the Sierra Club, The Transylvania County Library Foundation, Friends of DuPont Forest, Sherwood Forest Native Plant Committee, Connestee Falls Development, Friends of the Blue Ridge Parkway, the French Broad Gardeners Club, and the Toxaway Falls Garden Club. She served on the board of the Cradle of Forestry in America Interpretive Association, was the regional director for the South Carolina Association of Naturalists, and is currently the President and Naturalist for Richland Trust board of directors.
When asked about some of her roles that are less well known or unexpected, she pointed to her undergraduate, graduate, and post-doctoral work. As an undergrad, she worked as a research assistant and agriculture technician for the Department of Plant Pathology and Physiology, both on the Clemson University campus and at their Pee Dee Research and Education Station. She graduated from Clemson University with a degree in Biochemistry, Cum Laude with Honors in 1989, the centennial year for Clemson University. As a result, she has her name engraved on a sidewalk on the Clemson campus along with the other graduates from that year. Her father was also a graduate of Clemson University and has his name engraved on a sidewalk, a tradition during the 1950's and 60's when graduating classes were smaller. While earning her doctoral degree in Zoology at Clemson, she continued to work as an Agriculture Technician for Clemson University and as Director of the Electron Microscope Facility at Western Carolina University. During her postdoctoral years, she worked as a Laboratory Teaching Assistant at Friday Harbor Labs in Washington State and was awarded a Postdoctoral Fellowship at the Smithsonian Institution Marine Station in Fort Pierce, Florida. She credits her success not only to her parents, who were both teachers (her mother taught middle and high school science; her father taught high school agriculture before becoming the state coordinator), but also to her high school teachers, especially in English, Band, and Biology. She graduated as the class valedictorian from West Florence High School, was editor of the high school yearbook, and was first clarinet and leader of her high school marching band. She also credits the strong support from her husband of 31 years and fellow scientist Dr. Edward Ruppert, and their child Fritz Ruppert, currently a junior at UNC-Chapel Hill.
"One of the joys of teaching at a small, liberal arts institution is the connection across disciplines that is not just accepted, but encouraged. I've remained at Brevard College all these years because I have enjoyed the many interactions with faculty colleagues in the sciences, humanities, and arts, and was encouraged to accept many different roles and responsibilities within the faculty. Never was I bored! I look forward to my new role as Vice President of Academic Affairs and Dean of Faculty not only because I represent the faculty as their Dean, but because I value the integration between academic affairs, campus life, athletics, and administration. We all work together to produce well-rounded and successful graduates of Brevard College."