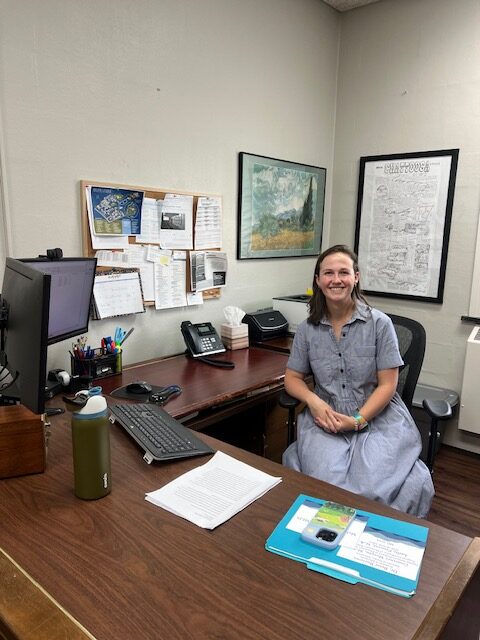 Greetings, Brevard College Alumni and Friends!
 
My name is Abi Fuesler '19 and I am the Executive Assistant to the Vice President for Academic
Affairs, Dr. Jennifer Frick-Ruppert. In this role, I support all things Academic, like processing
contracts for new full-time and adjunct faculty, editing the course catalog, and planning special
events like the Omicron Delta Kappa and Alpha Chi induction ceremony. As the college
prepares itself to welcome faculty, staff, and students back to campus, you can find me assisting
in the organization of "New Faculty Orientation" and our Convocation ceremony, which both
occur every August.
 
It was an honor when Jennifer asked me to fulfill this role back in January. I was already at
Brevard College, working on the Teaching and Learning Team, which strives to support faculty
as they implement experiential education in the classroom. In that position, I was delighted to be
working with the very same professors whose classes I had found so insightful when I was a
student here, and I loved to "peek behind the curtain" and learn about their pedagogical
practices.
 
One of my highlights from my time in this role was supporting a travel course called "Sacred
Music and Ritual in Sacred Spaces," which involved a 5-day field trip to Atlanta during Fall
Break, during which the students, two professors, and I visited different religious spaces, like a
Baptist church, a synagogue, a Buddhist monastery, a mosque, a Hindu temple, and a Jesuit
monastery. Travel courses like this benefit from Brevard's small class size, allowing the 20
students enrolled in the course to deeply engage in the material in a space they might not
normally find themselves, with individuate attention from Professors Sharad Creasman and
Vance Reese.
 
This year, we are proud to welcome ten new faculty to Brevard College. In addition to filling the
typical retirements, we have added three new undergraduate majors in Chemistry, Computer
Science, and Communication. Plus, we have hired a coordinator for our Health & Human
Performance graduate program, as well as a new Associate Vice President for Online Learning
as we develop a new online MBA program. As you can imagine, the growth is very exciting!
During New Faculty Orientation, this incoming cohort will get to know their new college
campus, develop a relationship with their faculty mentor, deepen their understanding of our
mission and dedication to experiential education, and even go on a hike in Dupont State Forest
with our Vice President of Academic Affairs, who is an expert on local biodiversity.
 
As an alumna of Brevard College, I have loved getting to support our academic mission in this
capacity. I am proud to contribute from this vantage point to a community that I love so much,
and I daresay I have learned as much working for the college as I learned while attending school
here.