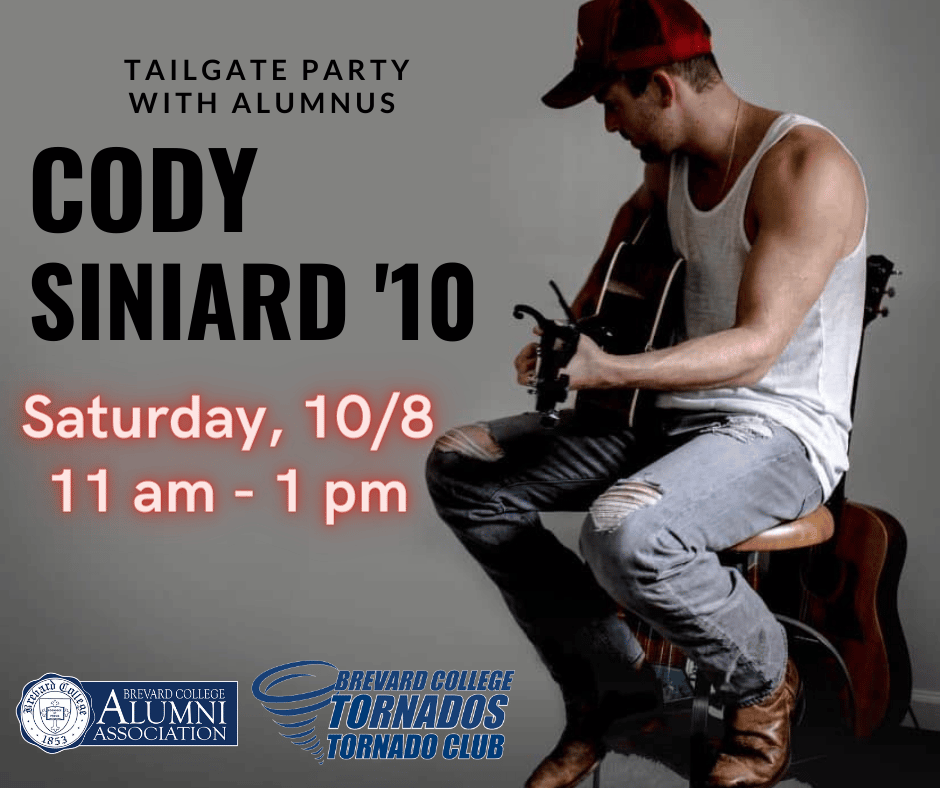 Singer/songwriter Cody Siniard, a 2010 alumnus of Brevard College, will perform a pre-game concert at the Ives-Lemel Family Field tailgate parking lot, 11 a.m. – 1 p.m. on Saturday, October 8 as part of the Homecoming 2022 festivities on the campus of Brevard College.  The first-of-its-kind concert is made possible through a sponsorship by Brevard College's Tornado Club.
"We are so excited to have Cody back on campus to perform for alumni, students, faculty, and all the great supporters of the Tornados prior to our Homecoming football game," said Brevard College Director of Athletics Myranda Nash. "Thank you to the Tornado Club for making the first-ever, pre-game tailgate concert on the campus of Brevard College a reality."
Siniard, a country music singer/songwriter based in Western North Carolina, graduated from Brevard College in 2010 with degrees in Business Management and Elementary Education. With a performance at a showcase event for the college's Homecoming 2022 festivities, Siniard this weekend will return to Brevard College for the tailgate concert prior to the BC vs. Methodist Football game.
"Performing this show on Saturday means the world to me," said Siniard. "I'm looking forward to seeing some familiar faces and also to see the growth on campus. It will be surreal playing a few of the same tunes, especially now with a band behind me, that I was just beginning to learn in the South Village at Brevard College 12 years ago. I'm genuinely honored."
While at BC, Siniard was also a student-athlete on the Tornados men's basketball team which ultimately led to his career as a musician.
"The invite was special," continued Siniard. "BC is where I picked up the guitar after a career-ending injury I suffered during the basketball preseason. Basketball was my life and it was suddenly taken from me in my senior year. I was devastated and needed something to keep my mind off of being hurt, so I found the cheapest guitar I could find and the rest is history."
Born and raised on a farm in nearby Penrose, North Carolina, Siniard's music reflects his upbringing growing up in a small town.
"As an artist, I try to keep it real," said Siniard when asked to describe his style. "What you hear in my music is what I have lived or witnessed throughout my life. Music is the most powerful form of communication in the world and I don't take that lightly. When people ask me to tell them about myself or my life, I always respond by saying 'Come to a Show' – you'll then know by the time I finish my first set."
To learn more about Siniard, follow "Cody Siniard" on Facebook as well as @codysiniard on Instagram and Twitter.
The concert will take place Saturday on a stage located in the tailgate parking lot, located adjacent to Ives-Lemel Family Field. The concert, sponsored by the Brevard College Tornado Club, is scheduled for 11 a.m. to 1 p.m. Kickoff for the Brevard vs. Methodist homecoming football game is set for for 2 p.m.
To follow the latest news and updates surrounding Brevard College Athletics, follow the Tornados on Twitter and Instagram @bctornados, subscribe to 'Brevard College Tornados' on YouTube, follow 'Brevard College Tornados' on SoundCloud, and 'Brevard College Athletics' on Facebook. In addition, follow 'brevardcollege' on Flickr for photos from Brevard College events.