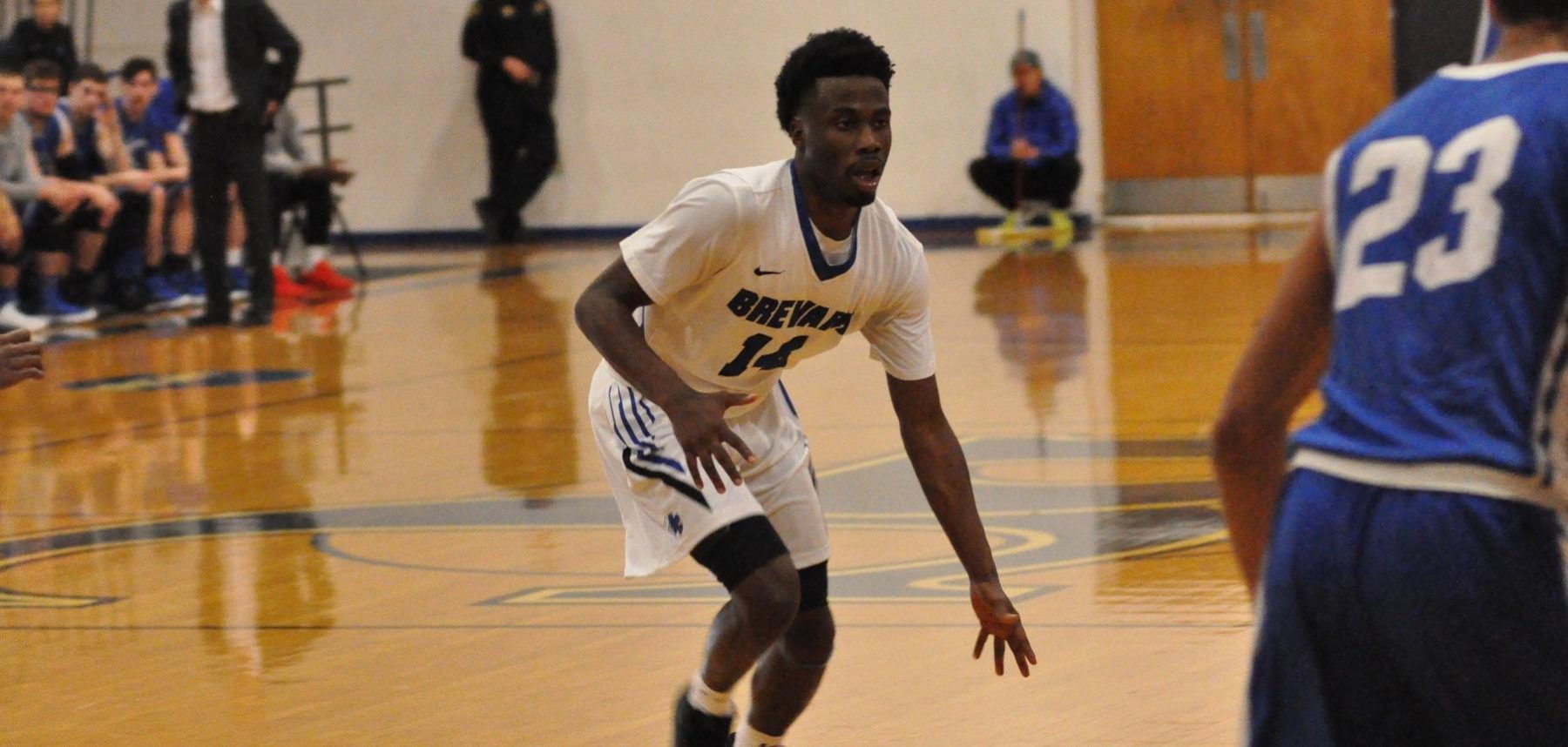 BREVARD, N.C. – JaMarquis Johnson poured in a game-high 22 points while grabbing 10 rebounds, and teammate Levi Lamb finished with 13 points and 10 caroms as the Brevard men's basketball team earned an 87-78 victory over visiting Berea at Boshamer Gym on Wednesday evening.
Johnson, one of four players to top double figures for the Tornados in the contest, finished 6-of-13 from the floor and 7-of-9 at the free throw line. He also climbed the glass for 10 rebounds, all on the defensive end.
Levi Lamb capped off his first double-double of the season by knocking down 4-of-8 from the floor and 3-of-4 from beyond the arc. Lamb, also active on the glass, pulled down 10 rebounds (eight defensive) and handed out three assists.
Shelby Parris also made an impact on the Brevard (2-7) offense, hitting 5-of-6 from both the floor and the free throw line, to go along with five rebounds, one block, and one steal. The tandem of Stevie Williams and Qadhafi Turner, who added 13 and 11 points, respectively, rounded out double-digit scorers for the Tornados finished 30-of-58 (51.7%) from the floor and 15-of-20 (75%) at the free throw line.
Williams also provided the team with a game-high six rebounds and three steals as Brevard tallied 11 points off turnovers.
Working with a 12-point leading entering the second half, Brevard used a 3-pointer by Johnson inside the opening minute to move in front 47-32. The Mountaineers (3-7) answered with a 10-0 run, highlighted by four points from Deandre Lightfoot, trimming the margin to five with 16:40 remaining.
Five straight points from Parris got the Tornados' offense back on track as Brevard eventually took a 13-point lead on a trey from Johnson at the 14:15 mark. Berea pieced together another run, this time highlighted by a 3-pointer from Torell Carter, as it moved to within four in under two minutes of action.
Parris again stepped up in the clutch for Brevard, knocking down a jumper and a free three, in an old-fashioned three-point play, providing a 72-60 lead with 7:15 remaining. The Tornado lead eventually ballooned to 16, following a long distance 3-pointer by Turner, but Berea made one final push behind a series of points by Dyonta Brown and Terique Miller to make for the nine-point difference.
The duo of Levi Lamb and Williams, responsible for 11 points each, got the Brevard offense kicked into high gear in the opening frame as the Tornados hit 16-of-27 (59.3%) from the floor and 7-of-15 (46.7%) from beyond the arc.
Levi Lamb scored eight of Brevard's first 17 points of the half, knocking down two 3-pointers in the process, as the Tornados assumed a six-point advantage at the 14:35 mark. Williams and Demari Hopper followed with a pair of layups and Brevard grabbed a 22-11 advantage with 12 minutes remaining.
A pair of free throws by Travis Roe briefly pulled Berea within nine, but a trio of 3-pointers from Jakob Bergen, Williams and Turner highlighted a 13-2 run for the Tornados that stretched the lead to 35-15 at the 8:44 mark.
Berea bounced back with six unanswered, including a trey off the hand of Brown, but Brevard got its offense back on track with a jumper by Williams and free throws by Johnson. The Tornados added a 3-pointer from Levi Lamb and a layup by Turner down the stretch to take a 12-point lead into the intermission.
The Tornados now head to Ferrum for a clash with the Panthers on Saturday, Jan. 6, that is scheduled to start at 4 p.m.