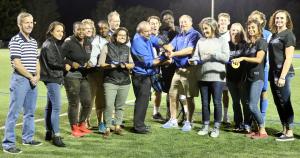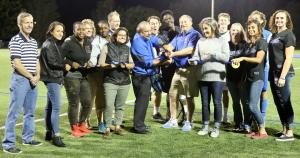 Turf's up for Brevard College lacrosse, soccer and softball teams. The College's Athletic Department is pleased to announce the official debut of its brand-new Shaw Sports Turf athletic field with a ribbon-cutting ceremony on Saturday, Oct. 8, at 7 p.m.
"It's been a tremendous challenge to maintain our current athletic fields with the amount of rainfall we receive in this area," said Athletic Director Juan Mascaro, in May, after the Board of Trustees voted unanimously to approve the artificial playing field. "The new facility is going to alleviate all of these issues, become a centerpiece for our campus, and give us a field that we can all be proud of."
The field utilizes Shaw Sports Turf's advanced monofilament fiber, PowerBlade, which combines the softness and appearance of natural grass with the performance of modern synthetic turf. Medallion Athletics provided the Momentum 41 system for the project.
Construction began in July and was completed in September in time for the first soccer games of the season. The facility was built on land that was occupied by the former soccer field. However, the new field will host men's and women's lacrosse and softball in addition to men's and women's soccer matches.
For softball, the uniquely shaped field will see first and third bases and the pitcher's circle located on the soccer touchline opposite the bleachers. The home plate area will protrude from the soccer field, with batters facing William C. and Nancy B. Stanback Hall recently constructed across King's Creek, giving the field a triangular hitch in its overall design.
The project includes the installation of lights, which help athletic teams avoid scheduling issues and gives Brevard the opportunity to host on-campus night games in outdoor sports for the first time in its history.
"When the lights on the soccer field turned on Saturday, I could see them from the lobby of the theatre performance, and it was so neat," said Brevard College student Alex Webster. "It's really inspiring to me as a senior to see the amount of growth that's happened since I arrived."
Financing for the project came from a mixture of private donations and savings from field maintenance and repair.
"A true home-field advantage has been hard for some of our sports teams to come by because of the weather," Mascaro said. "This will be one of the best artificial surfaces in the region and will greatly enhance the student-athlete experience, giving them more tools than ever before to be successful."