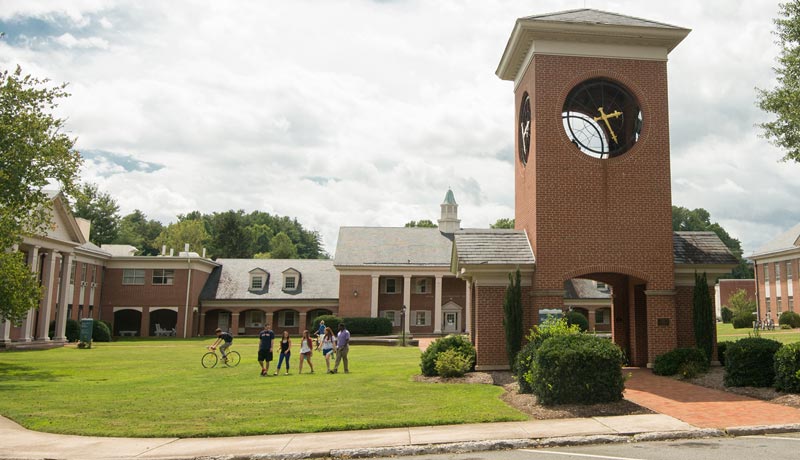 Brevard College's Campus Life, in partnership with the Institute for Women in Leadership program, will host a screening of "Girl Rising," a feature film from Academy Award−nominated director Richard E. Robbins, Tuesday, Oct. 27, at7 p.m. in Dunham Hall's Ingram Auditorium.
There will be an informational gathering at 6:30 p.m. for students and community members to talk with local non-profits working on women's issues. A Q&A discussion will follow the film. The event is free and open to the public.
"The film gives a visual of what girls go through all over the world," said Gabrielle Mellendorf, director of community and volunteer services and co-chair of IWIL. "The documentary is a collection of nine stories ranging from topics of education to sexual assault. It's important for audiences to see that girls all over the world are going through these different hardships and overcoming them."
IWIL participants chose to show the film in conjunction with the sexual assault awareness campaign in order to bring campus and community awareness around the film's themes. The campaign, which is being organized by Campus Life, utilizes fliers, speakers and social media postings to spark dialogue around sexual assault and Title IX.
The IWIL program at Brevard College provides a select group of female students leadership opportunities through community-service projects, field trips and roundtable discussions.
Too often, girls face barriers to education that boys do not, according to the Girl Rising website. The site lists early marriage, gender-based violence, child labor and lack of female role models as just a few.
Girl Rising is a global campaign that changes attitudes and catalyzes investments in girls' education and girls' empowerment around the world with the powerful message, "Investing in girls can transform societies − communities thrive, economies grow, countries stabilize."
Since the U.S. launch with a preview of the film at the Sundance Film Festival in 2013, "Girl Rising" has created broad awareness and inspired localized, community-led impact throughout the world. What began as a film praised by the New York Times as "one of the hottest cause docs in years" is now a globally recognized movement for girls' education.
Local organizations that will be on hand prior to the screening include the Brevard branch of the American Association for University Women, which promotes education and equity for women and girls; The Center for Women, which provides services for women facing unplanned pregnancy; and SAFE, Inc. of Transylvania County – a nonprofit whose mission is eliminating domestic and sexual violence through prevention, advocacy, education and healing.