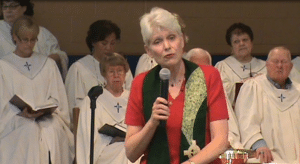 Choral music echoed from the rafters of Good Shepherd's sanctuary on Saturday as more than 100 church members came to worship and sing songs of social justice and empowerment during the 871st Gathering of the Presbytery of Baltimore.
The worship service, entitled "Singing for a Change," was led by Mary "Mel" Louise Bringle, a celebrated hymn writer and professor of religious studies at Brevard College (Brevard, NC) who chaired the committee to create "Glory to God," the Presbyterian Church 16USA's new hymnal.
A choir from Good Shepherd sang hymnal favorites such as There is a Balm in Gilead and What a Fellowship, What a Joy Divine. They sang soon-to-become favorites, too, such as the Korean inspired Dream On, Dream On and songs sung in remembrance of the Apartheid struggle such as Listen, God is Calling, Freedom is Coming and We are Marching in the Light of God.
For those who have "dreamed dreams of living in harmony and at peace with one another,  songs have helped to feed their dreams and sustain their hope through times of trouble," Dr. Bringle told the gathering. She explained that many freedom songs are deeply rooted in biblical imagery and Christian hope; songs such as: Wade in the Water, We Shall not be Moved, Will the Circle be Unbroken, Ain't Gonna Let Nobody Turn Me Around and This little Light of Mine.
"Freedom song play a vital role in our struggle,"said Dr, Bringle, quoting civil rights leader Dr. Martin Luther King Jr. "They give people new courage and a sense of unity particularly in our most trying times."
The choral music was interspersed with video clips of freedom marches and and excerpts from a book of reflections written by presbytery members about the civil unrest in Baltimore last year.  The book, preliminarily entitled From Hope to Wholeness: A Presbyterian Response to he Unrest In Baltimore in April 2015, will be published and available for purchase this summer.
PHOTO: Dr. Mary "Mel" Louise Bringle explains gospel music's vital role in the struggle for social justice in this country and around the world.