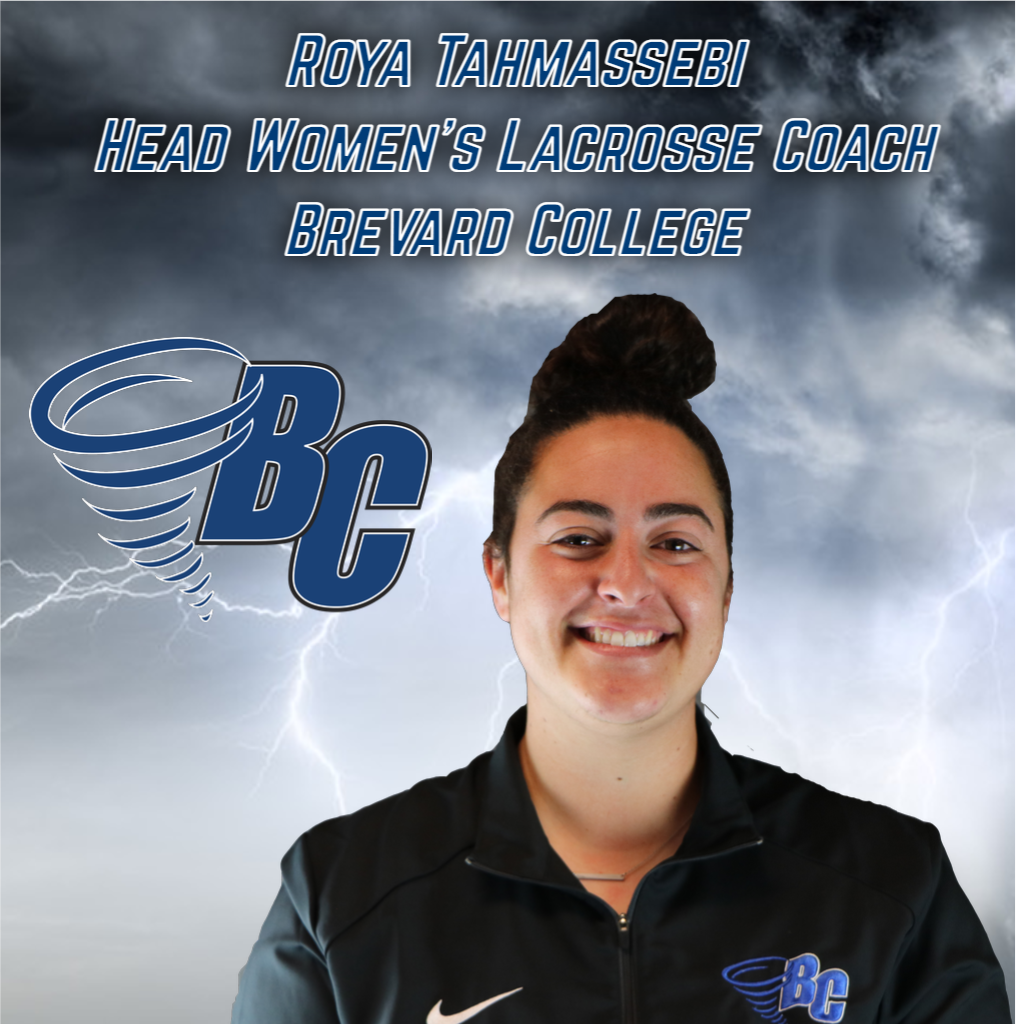 Roya Tahmassebi has been named Head Women's Lacrosse Coach at Brevard College, announced Director of Athletics Myranda Nash.  Tahmassebi succeeds Kristin Rosato who coached the Tornados for eight seasons, capped off by the most successful season in program history in 2023.  Rosato will remain with Brevard College Athletics in her role as Assistant Athletic Director/Senior Woman Administrator.
"These past two seasons, Coach Tahmassebi has displayed strong leadership skills and worked with Coach Rosato to produce outstanding results for the women's lacrosse program here at Brevard College," said Nash. "Roya is the ideal successor for Kristin who has been tremendous in her eight years as Head Coach in building the program into what it is today."
Tahmassebi is elevated to the head coaching position, effective June 1, after two years at Brevard College and serving as Assistant Coach/Offensive Coordinator/Recruiting Coordinator this past season. In addition, she served in a role as Sports Information Assistant for the Department of Athletics in 2022-23.
"I am so excited and honored to be in this new position and to lead Brevard College Women's Lacrosse," said Tahmassebi. "I love Brevard, thus to be able to step into this new role is an incredible opportunity for me. A huge thank you to Myranda Nash, Kristin Rosato and the rest of Nado Nation for being so supportive of me."
Rosato, who arrived at Brevard as an assistant coach in 2014, concluded her tenure as Head Coach for the Tornados with a record-breaking season that included the program's first trip to the USA South Conference Championship Tournament. In her role as Assistant AD/SWA, she will continue to oversee internal operations, promotions, fundraising and SAAC amongst other duties for Brevard College Athletics as a role.
"I am so grateful for the opportunity to lead this program over the last eight years," said Rosato. "Thank you to all of the current players and alumni for their commitment to this program and our culture of service. This year showed that the program is in good hands and the future is bright. Coach Roya is well deserving of this opportunity and I look forward to supporting her and the program next year."
Rosato and Tahmassebi led the Tornados to their most prolific season in program history in 2023. Brevard won the most single-season games in program history with 11 wins and the most USA South Conference victories with five.
With Tahmassebi as Offensive Coordinator, Brevard shattered program records in team goals, assists, and points in a season along with a multitude of individual and single-game records. Senior Parker Moore set the single-game goal record (11) while setting single-season records for goals (71) and points (94). Senior Autumn Kraemer and freshman Xan Hill set new program single-game records with 12 points each in separate contests, while sophomore Emily Denaga broke her own single-season draw control program record with 152. Additionally, freshman Paige Kneubuhler set a single-season record for caused turnovers with 42.
Two Brevard student-athletes – Kraemer and Moore – were honored this past season with IWLCA National Player of the Week awards, also a first in program history. A grand total of eight weekly conference awards across six different Tornados were garnered as well in 2023.
Tahmassebi arrived at Brevard in the summer of 2021 as Assistant Coach for the Tornados. Prior to Brevard, Tahmassebi spent the 2020-21 season as Assistant Women's Lacrosse Coach at CSU Pueblo. In that role, she managed a 28-player roster, executed an innovative fundraising plan, recruited prospective student-athletes, and created scouting reports, among other duties.
In addition to her experience at CSU Pueblo, she served as a coach at the Xcelerate Nike Oregon Girls Lacrosse Camp at Oregon State University in 2018 and 2019. Over the years at the camp, Tahmassebi helped develop hundreds of youth lacrosse players.
A 2020 graduate of Pacific University in Forest Grove, Oregon, Tahmassebi was a first-team All-Northwest Conference Women's Lacrosse performer in 2018 and a second-team All-Conference selection in 2019. As a player in 2019, she led the Boxers with 29 goals to go along with three assists. In her collegiate career, she totaled 71 goals for Pacific.
A team captain in the 2018-19 and 2019-20 seasons, she also served as the Vice President of the Northwest Conference Student Athlete Advisory Committee (SAAC) in 2019-20.
Tahmassebi graduated cum laude with a Bachelor of Arts degree in Anthropology in 2020 from Pacific University.
To follow the latest news and updates surrounding Brevard College Athletics, follow the Tornados on Twitter/Instagram @BCTornados, subscribe to 'Brevard College Tornados' on YouTube and SoundCloud, and follow 'Brevard College Tornado Athletics' on Facebook. In addition, follow 'brevardcollege' on Flickr for photos from BC events.