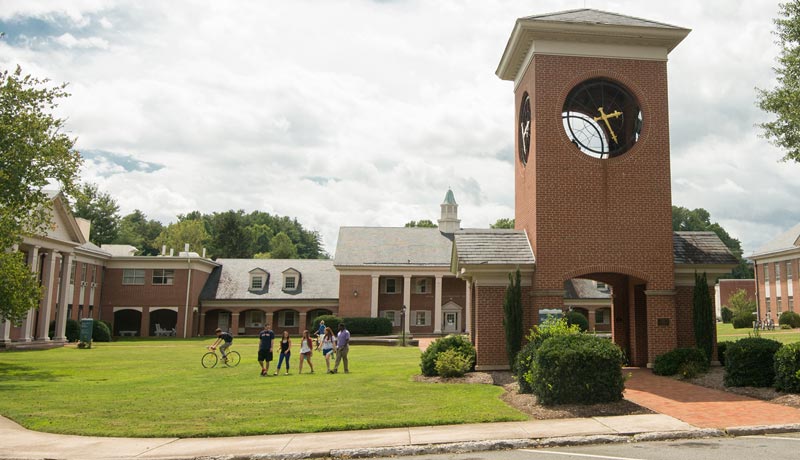 Alex Webster, '17
Contemporary professional chamber music duo Bent Frequency will perform at Brevard College's Porter Center for Performing Arts on Monday, Sept. 28, at 7:30 p.m. The duo will showcase their talents with a piece by experimental music pioneer Laurie Anderson, as well as a range of pieces composed specifically for their group. Admission to the concert is free and open to the public.
"I'm very excited for our students to hear this cutting edge music and talk with the performers about the process of collaborating with composers," said Kathryn Gresham, associate professor of music.
The Bent Frequency duo is composed of Stuart W. Gerber, percussionist, and Jan Berry Baker, saxophonist. They have performed across the eastern United States in venues ranging from traditional concert halls to art museums such as the Atlanta Contemporary Art Center to subway stations. Barker teaches saxophone at Georgia State University in Atlanta, Georgia, where she is an assistant professor of music. Gerber is the percussion coordinator at GSU and an associate professor of music.
They credit their interest in the avant-garde to John Cage's "chance" compositions, which leave some part of the compositional process to chance. Cage was one of the most influential composers of the 20th century, and the work he did in non-standard use of instruments and notation is seen in the group's performance.
Bent Frequency has worked with great composers, including Pierre Boulez, Gyorgy Ligeti, and Morton Feldman. The group also works with several composers in their home base of Atlanta – Alvin Singleton, Nickitas Demos, Chris Arrell, and Steve Everett – to create new works.
The duo's programs also include innovative ways of re-contextualizing classic works of the 20th century, such as multi-media approaches and music combined with visual art.
Brevard students will have a rare opportunity to interact with the duo when they lead a private master class before the concert. Brevard music students Chris Center, saxophone, and Gavin Glover, percussion, have been invited to participate in the class. The class, also open to other interested music students, will include a discussion on composition and collaboration.