The Paul Porter Center for Performing Arts is Brevard College's state-of-the-art musical and theatrical performance space. Music and theatre students perform and practice in the 700-seat, acoustically extraordinary Scott Concert Hall. All students are welcome and encouraged to visit the Scott Concert Hall for musical and theatrical productions, special campus-wide events, celebrations, and galas. The Porter Center's large stage can easily accommodate a full symphony, and is just as often used for student solos, rehearsals, and senior recitals.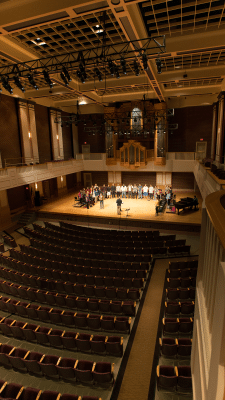 Porter Center Resources
The Kirkpatrick-Coleman Pipe Organ is an imposing $1.2 million instrument designed by master organ-builder Daniel Jaeckel. It features three manual divisions, 69 ranks, and 3,539 pipes.
The Scott Concert Hall provides seating for 700 (500 on the main floor, 200 in the balcony), incredible acoustics, and a large stage.
The Black Box Theatre is a more intimate theatrical space inside the Porter Center. This is the premier venue for student theatre productions, allowing the audience an extreme close-up of the performance.
The Porter Foundation Challenge Grant
Paul Porter, a long-time Trustee of Brevard College, and the Porter Foundation and family have long been supporters of Brevard College and the arts. The relationship with the college was further cemented with the announcement of a $250,000 challenge grant to ensure that Western North Carolina's premiere performing arts center is maintained in pristine condition for generations to come. The challenge grant requires the college to match an equivalent of $250,000 to create a $500,000 endowment.  The Porter Center Foundation will match every gift given to the Brevard College campaign up to the $500,000 goal! 
Thank you to the alumni and friends who have already given to the challenge.
Please call Patrick Wagner, Vice President of Alumni Affairs and Development at (828) 641-0322. You can learn more about the Paul & Margaret Porter Foundation by clicking here.
Uses and Performances
Serves as a performance and academic space for Brevard College students from the Music and Theatre Departments. It is also a campus-wide meeting space and a venue for galas, celebrations, and campus events.
Hosts an impressive line-up of local and national groups and artists including the Brevard Philharmonic, Brevard Community Band, Transylvania Choral Society, chamber music performances, the Artist Series, and more.
Brevard senior music and theatre students showcase their talents on the Scott Concert Hall stage. Recent senior performances have included vocal, choral, trumpet, and student-written one-act plays. 
3,539
PIPES ON THE KIRKPATRICK-COLEMAN ORGANPIPES ON THE KIRKPATRICK-COLEMAN ORGAN
700
SEATS IN THE SCOTT CONCERT HALL
11:1
Faculty to Student Ratio