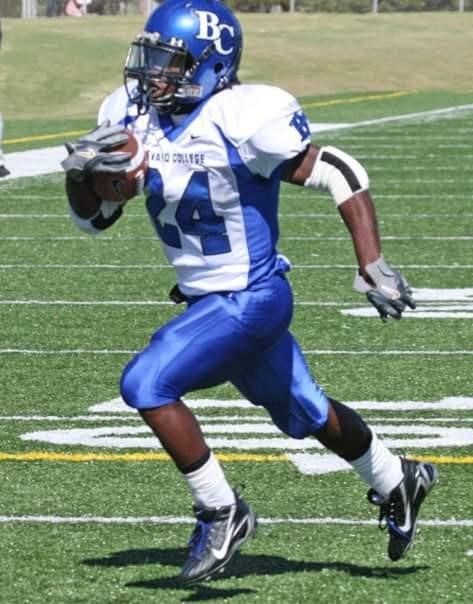 Tyrone Arrington, better known as T.A.— or as his teammates called him, T-Bone— graduated from Brevard College in December 2009 as a psychology major. During his time at BC, he left quite an impact.
At first when Tyrone came to campus, he was recruited for football as a running back and return kicker. At that time Brevard College was just starting its football program. The barn theatre had been changed into the new locker room, the far end of the grass area by the track was mowed into a practice field, and luckily for BC, the local high school shared the same name and school colors for the college team to play on their field.
When Tyrone came to campus, he knew what he wanted to study. He was "always so intrigued about the human mind and how it works." He always had questions like "Why do we do the things we do? Why do we have certain behaviors? How does our culture and environment impact us?" As a driven and inquisitive person, Tyrone fell naturally into the field of study for psychology. He also knew that in coming to Brevard College, he would have the opportunity to lay the foundation for the program it is today by being a part of the first football team.
Professor Steve Martin in the psychology department was a big part of Tyrone's story and was always there when he needed advice, both academically and personally. Tyrone wasn't only involved with football and psychology. He also loved theatre. He took courses and auditioned for different productions. He recalls that it was "always fun to leave football practice early so I could make it to rehearsal on time. Of course the players and coaches joked about it, but it was all good and fun. During my performances, they always showed up in big numbers. I guess they still didn't believe their teammate was also a stage performer."
Being at a liberal arts school helped Tyrone try new classes. He found that world religion and theatre helped him understand himself and other people, just like psychology and sociology did.
"Those classes stick with me to this day because I developed the tools needed to be a well-rounded individual in today's society. Brevard encouraged me to be myself and helped me find my intellectual self-confidence. Once I had that, I knew success was sure to follow."
"Professor Hamlet was another person who helped shape the way I am. I remember being in class one-day joking around and having fun when he asked to speak with me outside. Professor Hamlet told me he couldn't understand how someone who was putting in minimal effort, still managed to get good grades. Then he looked me in the eyes and said, 'I could only imagine the force you would be in this world if you threw your whole self at something.' From then on, I went after everything with 1000% effort. That conversation helped build the grind and grit that lives on the inside of me. I wanted and want to be a force!"
Since Tyrone graduated in 2009, he has had success in multiple careers, most notably working for the United States Navy, where he currently serves as a Catapult Officer. For those of us who may be unfamiliar with that occupation, he explains it by saying "think of the movie Top Gun with Tom Cruise. Right before they launch the planes from the big ship, there is a guy in the yellow jacket that gives pilots the thumbs up, signaling they are good for takeoff. That's me." Before he was a Catapult Officer, he was a Flight Instructor for the Navy, teaching and grooming the next generation of aviators.
Tyrone and Professor Steve Martin have kept in contact through the years, and when he decided to become a pilot and pursue a career in the Navy, Dr. Martin wrote a letter of recommendation to the selection board. Tyrone recalls, "he has always been my biggest cheerleader and I am forever grateful for that."
Tyrone is currently in the process of transitioning away from active duty and has recently landed a job with Delta Air Lines as a First Officer (pilot). Outside of work, he lives with his wife and three daughters. He continues to look for ways to give back to his community. For the past 3 years, he has volunteered with the Chappie James Flight Academy in Pensacola, Florida. Their aim is to inspire underserved kids in the community through STEM and aviation.
After recently making it back to Brevard College for a visit and throughout his time back on campus, he reminisced over many great memories. "Jumping in the creek to cool off after a long football practice on a hot day, late-night pancake breaks during exams, going skiing, foam parties, talent shows, the list could go on forever! But most importantly, the people. The culture. I built friendships that are still strong today."
For incoming students, especially seniors, Tyrone would like to leave you with this: "Never be afraid to be yourself. I encourage you to be you because this world needs people like you. It doesn't matter where you are from or what you have gone through, this world needs you. Your perspective, your ideas, your uniqueness. So bring that to the table each day. Walking around campus, you are a part of something that will be really huge one day. This place is growing, there are a lot of changes…get involved with something that can be really fun and exciting for the next generation of college students to come. If you are not involved in the extra stuff (talent shows, clubs, etc.) become involved because you will remember all of this looking back, even the small things in the courtyard. Make it memorable."
When is the last time you were on campus? If you are interested in planning a visit to campus, we would love to have you. Reach out to the Alumni House at alumni@brevard.edu or at (828) 641-0100. We can't wait to catch up and hear about all that you have accomplished since graduating from BC.