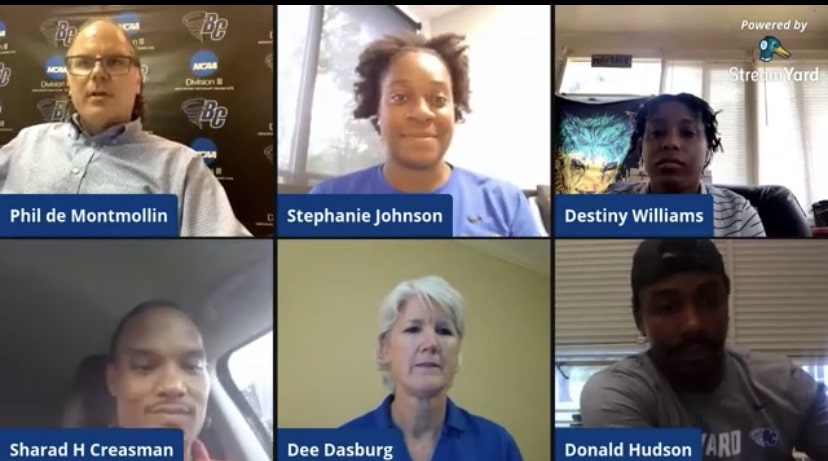 BREVARD, N.C. – The Brevard College Department of Athletics hosted an online panel discussion – A Discussion on Peace, Justice and Healing – as a candid dialogue to confront issues of social injustice, discrimination and inequality. The special edition of the talk show Tornado Talk aired Monday, June 8 on the Brevard College Athletics Facebook Live and YouTube channels.
Five leaders from the Brevard College community served as panelists for the program. Women's Basketball student-athlete Destiny Williams, Campus Minister Sharad Creasman, Associate Dean of Students/Coordinator for Counseling Dee Dasburg, Head Women's Basketball Coach Donald Hudson and Assistant Athletic Director/Senior Woman Administrator Stephanie Johnson all participated in the discussion which was moderated by BC Sports Information Director Phil de Montmollin.
The panel served as a follow-up to an event held on the Brevard College campus one week ago where the campus community joined BC President David Joyce and Campus Minister Creasman in a Peace, Justice and Healing Gathering to "stand in solidarity with those who have had to endure injustices".
Topics explored during the Discussion on Peace, Justice and Healing panel discussion included the recent protests, the Black Lives Matter movement, the role of college athletics, the impact of Colin Kaepernick, and action items to move toward an end of racial inequality and social injustice. Each panelist also provided personal stories of examples where they have witnessed or been directly impacted by discrimination, racial inequality or social injustice.
To view a video replay of the program, visit the Brevard College Tornados Athletics Facebook or Brevard College Tornados Athletics YouTube pages.
To listen to an audio podcast of the program, visit the Brevard College Tornados SoundCloud page.