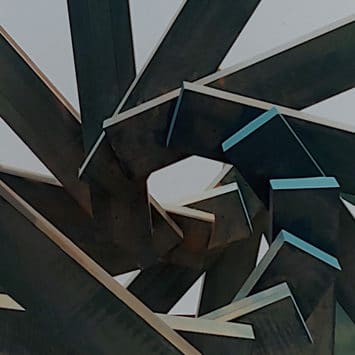 The Brevard College Juried Student Art Show will be held on February 28 – March 27, 2020, in the college's Spiers Gallery. An opening reception will be held Friday, February 28th, from 5:30 p.m. to 7 p.m. at the gallery, which is located in Sims Art Center on the campus of Brevard College. Awards will be announced at 6:00 pm.
Working in a variety of two-and-three dimensional media this exhibition showcases student talent in the art department and throughout Brevard College. This show is open to all Brevard College students and will be juried by visiting juror, Mark Flowers.
Mark E. Flowers earned his BFA in Studio Arts from The University of South Carolina in 1977 and his MFA in Painting from Western Michigan University in1979. He has exhibited his work throughout the United States and in Europe, and his work can be found in 26 public and over 300 private collections. Throughout his career, he has won numerous awards for his art in both regional and national competitions. Most recently he was awarded a residency at Golden Artists Colors Foundation in New Berlin, NY.
He has taught art at the secondary and college levels for more than 41 years, having chaired two fine arts departments and one painting department. Flowers and his wife Kristy Higby, who is also an artist, live in a hand-made log cabin just north of Asheville, NC where they work together in their mountain top studio, Mountain Tea Studios. Awards will be given for Best of Show, President's Choice, Division Chairs Choice, Brevard College Alumni Association Award, Student Choice, 1st– 3rd, as well as six Honorable Mentions. 
Gallery hours for the show are 8 a.m. until 5 p.m. weekdays when the College is in session,
Spiers Gallery is a contemporary 1,500 square foot gallery located within the Sims Art Center on the Brevard College campus. Exhibitions in Spiers Gallery are ongoing throughout the year and include shows by Brevard College students and faculty members as well as visiting artists from Western North Carolina and around the country.
For more information about this exhibition, contact Diane Pomphrey at 828-884-8188.
*Photo included is of 2019 Best of Show winner, a sculpture titled "Circle of Life" by Kristina Cloud.
To learn more about Brevard College visit us at brevard.edu.
Brevard College is consistently recognized as one of the best liberal arts colleges. The College's focus on experiential learning, small class sizes, and location in the mountains of Western North Carolina near Asheville make Brevard a top choice college for students around the world.