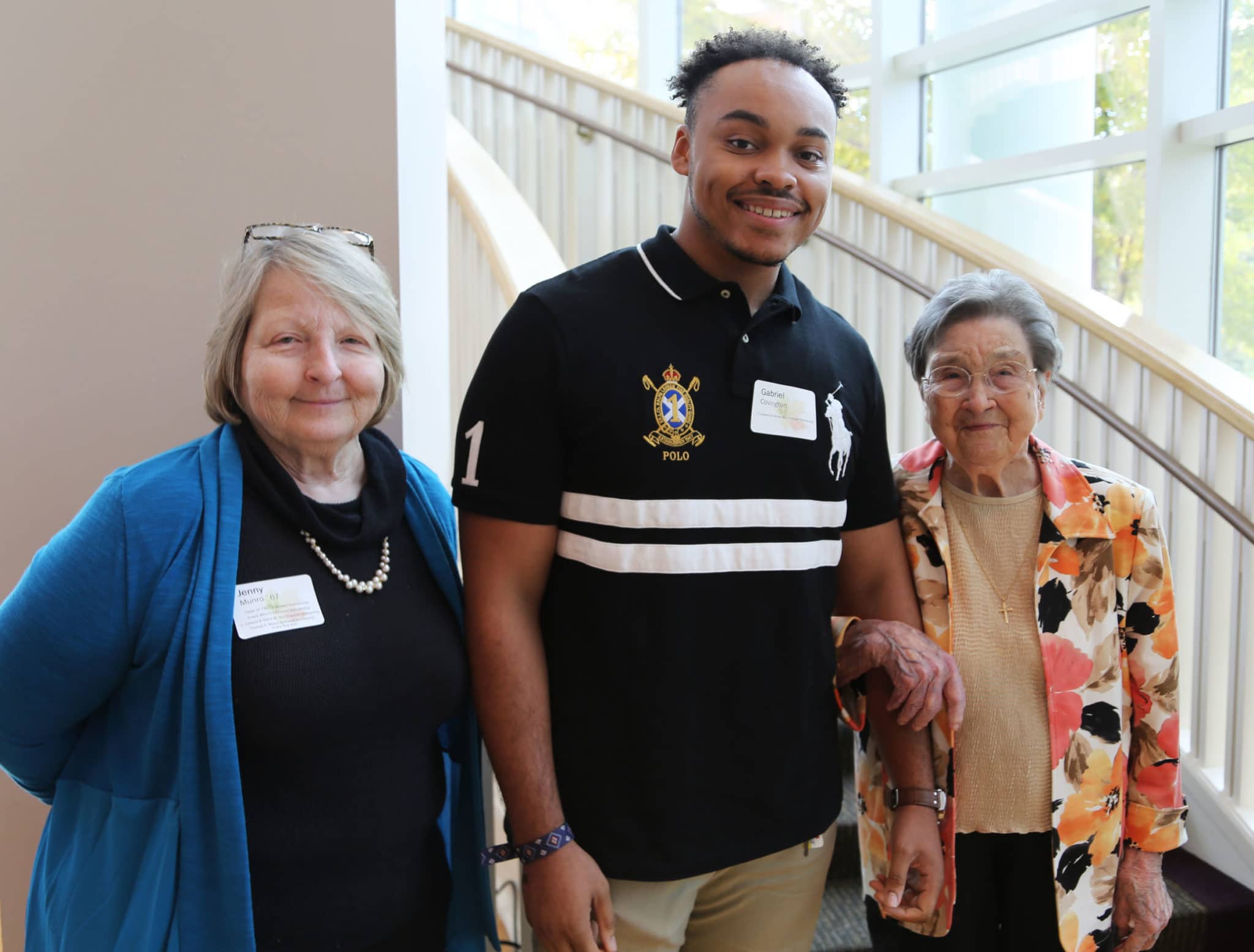 Grace Munro Roy recently honored her daughter, Jenny Munro, by establishing an endowed scholarship in her name at Brevard College. The Jenny Munro Endowed Scholarship will provide support to a deserving Brevard College student studying English with a concentration in journalism or creative writing. 
Both Grace Munro Roy and Jenny Munro have a long and loving history with Brevard College. 
Mrs. Roy served as faculty in business education and cumulatively worked at Brevard College for 36 years while raising her family. Following her retirement, she reconnected with Ed Roy, a retired Professor, and employee of Brevard College. Mr. Roy served Brevard College for 40 years in a number of diverse roles including Professor of Religion, Chair of the Humanities Division, Chaplain, College Marshall, and as a member of the five-person team who operated the college in 1968-1969 after the death of President Emmet K. McLarty, Jr. They married in 1994 and remained a beloved couple on campus and in town until Mr. Roy's death in 2008. 
Together, Mr. and Mrs. Roy have endowed five scholarships and one leadership award. The Jenny Munro Endowed Scholarship will be Ms. Roy's sixth endowed scholarship at Brevard College. 
"My children are just so special to me," said Mrs. Roy. "Jenny does so many things for me. I knew I had to do something special for her. Scholarships mean so much to me, so I thought it would be a perfect gift."
Jenny Munro spent much of her childhood on Brevard's campus and went on to graduate from Brevard College in 1967. She continued her studies in journalism at the University of North Carolina at Chapel Hill and received a graduate degree in journalism from the University of Missouri. Ms. Munro had a long career in journalism in Georgia and South Carolina. She joined the Alumni Association Board of Advisors and eventually became President of the board. As a result of this role, Ms. Munro served as the alumni representative on the Brevard College Board of Trustees and was also instrumental in establishing and funding the Class of 1967 Endowed Scholarship. 
"I have been pleased to continue my connection to Brevard College through the Alumni Association," said Ms. Munro. "Brevard College is my home. I spent a lot of my youth connected to the college, long before I was a student. It helped me mature and set me on my path to my career. I served as editor of the Clarion at Brevard and later became a professional journalist."
Ms. Munro's long and intimate connection to the Brevard College fostered an appreciation for the college and its role in impacting the lives of students. She exemplifies servant leadership and stands as a true example of what it means to be a Brevard College alumna.
"When my mother told me that she was endowing a scholarship in my name, I was amazed and humbled," Ms. Munro said. "She taught me over the years how to give back to people and institutions who helped me. Now she is doing more of that in my name through this scholarship. I hope whoever is helped by this scholarship will learn as much as I did at Brevard and will love the college after they graduate and go on to other pursuits."
Mrs. Roy commemorates her daughter's service to Brevard College and continues a family legacy of giving by establishing the Jenny Munro Endowed Scholarship. Ms. Munro's scholarship ensures that future generations will continue to "learn in order to serve." 
Brevard College is consistently recognized as one of the best liberal arts colleges. The College's focus on experiential learning, small class sizes, and location in the mountains of Western North Carolina near Asheville make Brevard a top choice college for students around the world.