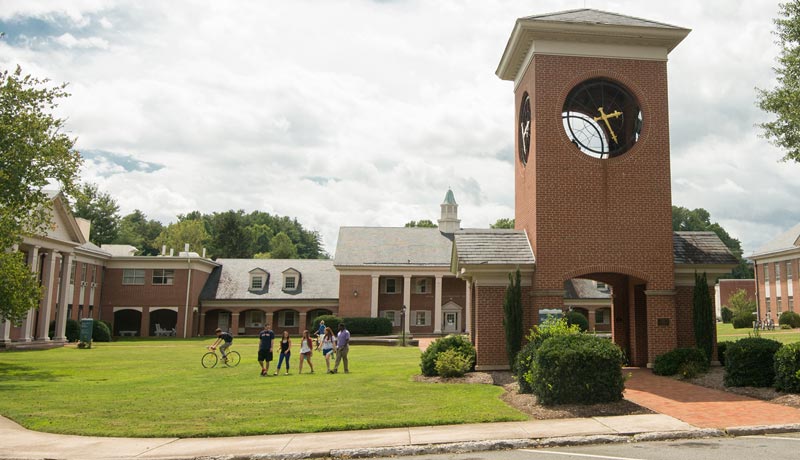 Sophomore setter Erin Barr has been recognized again for her tremendous work on the volleyball court, this time with a national award from HERO Sports.
The Hamptonville, North Carolina native, who had previously been named AstroTurf SACSpecialist of the Week, earned a HERO of the Week award after tallying a career-high 51 assists with 11 digs in a four set victory over Coker on Sept. 18. Barr ran away with the final vote, receiving nearly 37 percent of the 282 votes cast. She was one of nine nominees for the award that included Division II volleyball players from around the nation.
To go with her HERO of the Week-worthy match, Barr continued her standout performances in a four-set loss to No. 23 Wingate the following day. She had a match-high 35 assists and recorded her fourth double-double in the last five matches with 11 digs. Barr also added a block and a kill, giving her four terminations on the week, while finishing with 86 assists, 10.75 assists per set, and 22 digs in the two matches that earned her recognition from the conference office.
Barr now has 1,274 assists in her Brevard career, placing her third in the record books since the Tornados attained full NCAAmembership in 2008. She is on pace to finish the season with nearly 1,900 career assists, positioning her within easy striking distance of Bethany Stevenson's NCAA-era record of 2,085. She is currently Brevard's career leader with 8.73 assists per set, and her 9.02 assists per set in 2015 are second in the school's single-season rankings.
Barr's award marks the second time that a Brevard student-athlete has been recognized by HERO Sports. Former men's basketball standout Darius Moose was named D2 Stud of the Week last December following a 32-point performance in a win at Lenoir-Rhyne when the website was known as BennettRank.
Barr and the Tornados host a pair of conference matches at Boshamer Gymnasium on Homecoming weekend, welcoming Mars Hill to Brevard on Friday at 7:00 p.m. before a noon tilt with Tusculum on Saturday.
Visit the offical site of the Brevard College Tornados for more information.