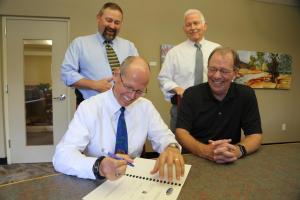 Brevard College recently announced an innovative collaboration with the Transylvania County Sheriff's Department and the City of Brevard Police Department that will both strengthen the Criminal Justice program at the College and provide greater opportunity for the local law enforcement community to pursue a degree to graduation."It is so satisfying when Brevard College can facilitate a way to help local law enforcement personnel pursue a degree, strengthen the criminal justice program by their presence in the classroom, and have a positive impact in our community at large for years to come," he said while signing the scholarship agreement.
Photo  Dr. Tim Powers (first row, left), coordinator of the Brevard College criminal justice major, signs a new annual scholarship open to Transylvania County law enforcement officers pursuing a four-year degree at the College. The scholarship was born out of a collaboration with the Transylvania County Sheriff's Department and the City of Brevard Police Department. Also pictured are President David Joyce (first row, right), Sheriff David Mahoney (back row, left) and Police Chief Phil Harris (back row, right). Photo by Christie Cauble.
Brevard College President David Joyce brought together all of the parties to launch the new annual scholarship.
Dr. Tim Powers, who oversees the development of the criminal justice major, initiated the new scholarship in coordination with Sheriff David Mahoney and Police Chief Phil Harris. Funds provided by the scholarship will enable actively employed local law enforcement personnel to graduate more easily without interrupting their employment.
Combined with Brevard College's policy of half-tuition for students from the local community, this scholarship will also ease the financial burden of completing a degree.
Sheriff Mahoney is enrolled as a non-traditional student in Brevard College's criminal justice major, completing a degree he began at NC State years ago. He said he was impressed by the combination of hands-on experience and policy development offered through the program.
"I'm excited to be a part of this collaboration on different levels," Mahoney said. "(To provide) experiential learning, and as a student… I love seeing educated men and women join our ranks."
Police Chief Phil Harris agreed, pointing out that the scholarship bridges the gap for those who wish to further their educations but don't have the financial ability.
"Education has helped me in my career, and I've seen other police employees gain opportunities when they increase their education," he said. "Because of what that opportunity meant for me, I've looked for ways to provide that for my employees."
The new scholarship is initially funded through community partnerships, directed by Powers, to research substance abuse rates in Transylvania County and develop policies to lower underage drinking.
The experiential nature of the criminal justice program is one of the reasons behind its rapid growth as a major at Brevard College.
Powers joined the faculty in 2015 and, drawing on his strong background in law enforcement for over 33 years, he has created a hands-on component to the degree program.
As the new scholarship continues to grow and additional funds are available, criminal justice students beyond local law enforcement personnel will also be eligible. This will be an important part of the development of the program, according to Powers.
"This brings law enforcement officers into the classroom and allows interaction between our students and actual officers. Our students gain first-hand knowledge from working law enforcement officers and the officers gain an education as well as interaction with people they serve," Powers said. "Along the way, we hope to build a better working relationship between all parties and help our officers gain the education many have been yearning for but were unable to attain until now."