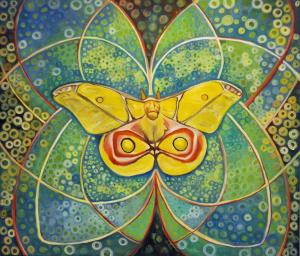 The Brevard College Art Department presents senior Katy Grace MacEachern's solo painting exhibition, "All Matters of Spirit," Nov. 11 through Dec. 9 in the Spiers Art Gallery. The show kicks off with an opening reception Friday, Nov. 11, at 5:30 p.m. MacEachern will present a gallery talk about her work and her process beginning at 6:00 p.m. The event is free and open to the public. Following the opening, the exhibit can be viewed 8 a.m. to 3 p.m. Monday through Friday.
Each major requires an internship, senior project, or equivalent demonstration of knowledge gained in the student's field through the their time at Brevard College. For art students, this is an exhibition of their work.
"The BC Senior Art Exhibition is a self-directed capstone course in which all graduating art majors are required to prepare a unified body of works for exhibition," said Art Department Coordinator Kyle Lusk. "Work presented at this exhibition represents a thorough exploration of related ideas, creative processes and media in the students' chosen concentration area."
The Spiers Gallery is a contemporary 1,500-square-foot gallery located within the Sims Art Building on the Brevard College campus. Exhibitions in Spiers Gallery are ongoing throughout the year and include shows by Brevard College students and faculty members as well as visiting artists from Western North Carolina and around the country.