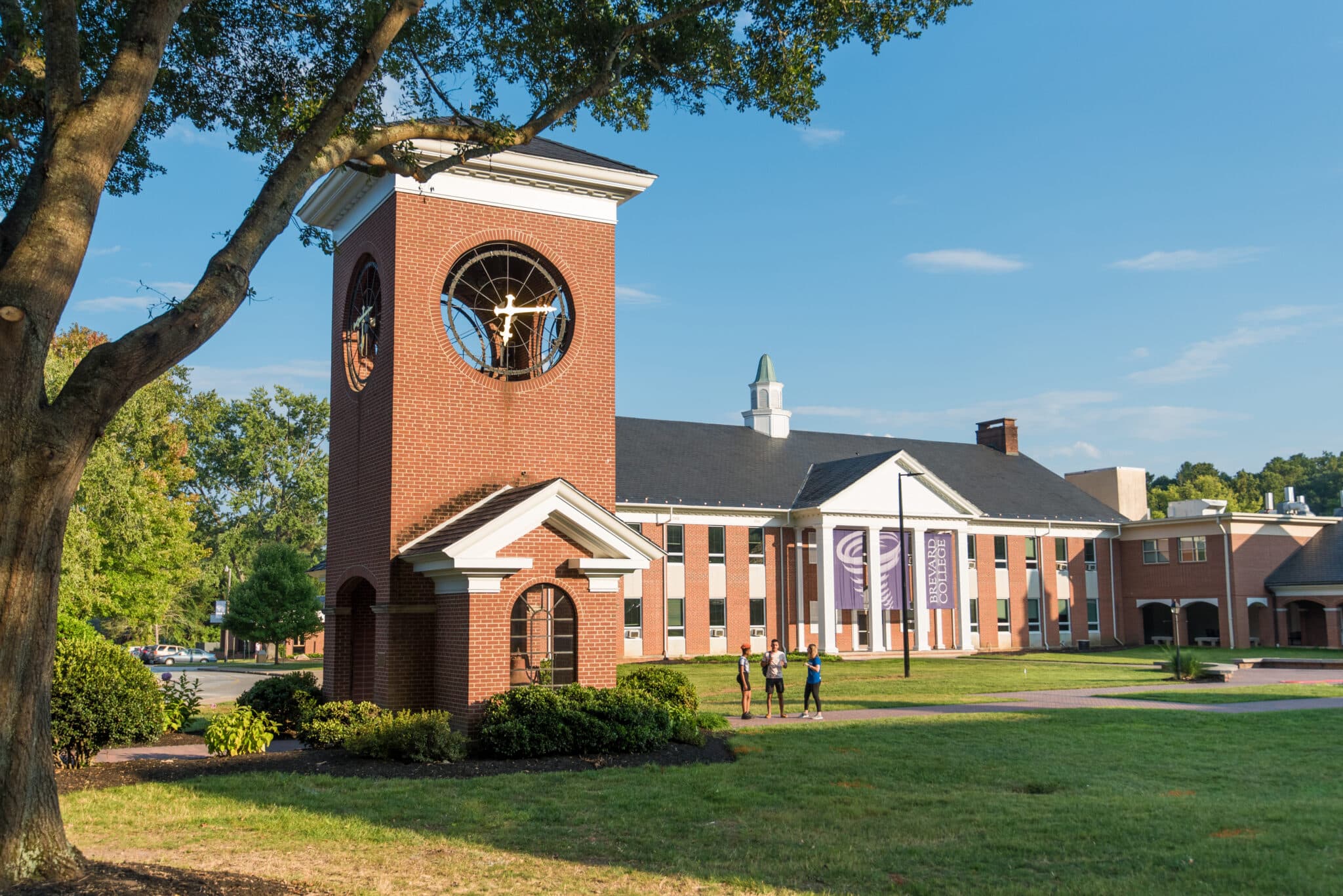 Brevard College has announced its Dean's List and Honor Roll for the Spring semester of the 2022-2023 academic year.
To qualify for the Dean's List, students must be enrolled in at least 12 semester hours and have a grade point average of 3.5 or higher. Students who qualify for the Honor Roll must be enrolled in at least 12 semester hours and have a GPA of 3.0 to 3.49.
Dean's List:
Aniston Marie Abshire
Hannah Nicole Achilles
Eduardo Passos Alvala
Luis Manuel Alvarez
Trenten Lee Anderson
Caleb Graham Baker
Gabriel Balducci Duarte
Chloe Madison Banner
Rocco Mattia Barbon
Channing Elizabeth Barker
Sara Catherine Barnes
Ann Marie Horner Bates
Ashlyn Ann Baumann
Gabriel Albert Bernhard
Bryce Gabriel Bernitt
Grace Mackenzie Black
Alexis Nicole Blanchard
Eli C Bloom
Christopher Arnold Board
Bryant Joseph Bole
Francesco Bonometti
Mary McDowell Boss
Nicole Elizabeth Bradbury
Hailey Elizabeth Brien
Gabriel A Britton
Devon Rene Brodmyer
Meredith Beard Brown
John David Brown
Brandon Christian Bruggman
Bethany Lynn Bryan
Chandler Davis Bryson
Andrew Nolan Bullard
Brett Thomas Burchett
Blake Jeffrey Burchett
Regan Lynn Burnett
Gabriel Seth Burris
Chantal Edith Camenzind
Giuseppe Capello Real
Jadon Blaze Carnes
Elijah Baylee Carr
Zane Todd Caudle
Iulia Cerguta
Seth Michael Chepes
Callum Benjamin Child
Carmen Chirino Hulsund
Logan Mason Clark
Nicholas Hunter Clark
Owen Mathew Clark
Ethan Wyatt Coleman
Isaiah Klottey Collison
Savannah Marie Colliver
Cameron Patrick Cook
Weston Thomas Coop
Lee Douglas Cosby
Maggie Brianna Cox
Paris Idris Crawford
James Parker Crews
Tyler J Cummings
DeShawn Vincent Curtis
Nathan Santana De Lima
Grace Elizabeth Dempsey
Emily Judith Denaga
Mia Rose Diaz
Sergio Diaz Gonzalez
James Luke Dodson
Hayden Paul Domingo
Scott Kennedy Douglas
Kylee Lin Draper
Abigail Nicole Duncan
Tom Pierre Dussauge
Madelyne Elizabeth Edwards
Madalynn Cassie Elliott
Benjamin Franklin Ellis
Katherine Elise Ellison
Anna Elisabeth Ervin
Matthew Thomas Evans
Elijah Dillon Everhart
Michael Allen Fader
Andrew Michael Fahringer
Joao Vitor Fehr
William Jackson Finney
Philip Hilton Ford
Campbell Robert Fortner
Mary Margaret Frail
Dylan Boyce Freeman
Riley Thomas Freeman
Bunny David Frost
Jacob Riley Funderburgh
Jessica Brooke Garland
Daniel Robert George
Emma Grace Gooch
Slayton Byars Graham
Lucas Reed Granata
Michaela Roseanna Gray
Emme Ruth Griffith
Izzy Herrera Hagen
Sarah Nicole Hajkowski
Lena Morgan Hatter
Taleah Khiara Hayes
Elizabeth Andrews Hedgepath
Autumn Marie Hegner
Madison Deanne Henson
Hannah Rose Hersh
Damon Matthew Hewitt
Noah Sterling Hinton
Cooper James Hogan
Alison Michelle Holland
Gabrielle Celeste Hooper
Devin Matthew Horton
Shania Olivia Houser
Eli Zhang Hughes
Christian Cheyenne Humphries
Eamonn Patrick Hunter
Tayla Len Hutchings
Cassidy Leigh Hutto
Beth Elizabeth Hyatt
Jackson James Inglis
Jordan Tyler Ingram
Jarrett Carl Isaac
Emma Richelle Jacobs
Alexa D Jennings
Hayden Stanley Jennings
Casey Durham Jones
Amelie Suzanne Jones
Logan Michael Jones
Otis Kahar
Jake Kassel
Brooke Elizabeth Kaye
Catherine Davant Keenan
Hayley E Kenney
Cameron Patrick Kilcoyne
Paige Mackenzie Kneubuhler
Kat Anne Kramer
Tamara Faith Kuykendall
Sara Christine Laboe
Ryan Seth Lagadi
Reagan Ashley Lane
Michal Noa Lasco
Kelly Li M. Lawson
Ivelysse Suzanne Leighton
Joshua Michael Lepp
Mary Margaret Lewis
Ann-Renae Paige Lewis
Charles Noah Lewis
Rinn Lipman
Autumn Chandler Lollis
Anna Russell Long
Mackenzie Lynn Lozano
Gabriella Lucille Floyd Lujon
Julia Brittain Lusk
Kiara May Lylyk
Gabrielle Elizabeth Lynch
Zane Sanders Lyon
Nina Machnowski
Lexi Jade MacLauchlin
Cameron Thomas Mader
Lauren Renee Mann
Noah Christian Martin
Anthony Joseph Martino, Jr.
Jonas Allen McCanless
Shannon Kerry McCarthy
Gavin Grant McCoy
Kyle Jacob McDonald
Kara Marie Mestas
Haylea Layne Miller
Kayleigh Elizabeth Miller
Colson Alan Miller
Tyler Patrick Miranda
Martin Moguel Aguilar
Alydia Yvette Monahan
Parker Elizabeth Moore
Pietro Pimenta Moratelli
Daniel James Morgan
Luke Alexander Morton
Caelyn Shea Murphy
Devonte Taquan Murray
Isabell Naomi Musser
Catherine Blair Nance
Igor Mateus Nogueira da Silva
Caden Martin O'Brien
Dominic Joseph O'Brien
Cale Sterling Oehler
Sophia Kimiko Ogawa
Aguilar Aparecido Oliveira
Zackary Scott Orr
Brenden Rhys Palmer
Makenna Kate Parkins
Ishmeal Travon Parsons
Annette Michelle Peacock
Evan Saul Perrey
Mary Waite Perry
Roxie Anastasia Petryshak
Chandler Seth Phillips
Rachel Elaine Piazzola
Jahquih Bernard Pledger
Cassie Nicole Plemmons
Owen Lewis Plucar
Kiara L Porcelli
Sara Gray Poss
Shyvonne Kathryn Potter
Chyna Ja'vae Pouncey
Kaitlyn Paige Pressley
Kenneth Glenn Pridmore, Jr.
Hailey Catherine Prohaska
Cole Frederick Punchard
Karley Madison Queen
Nicholas M Queen
Sydney Jane Raber
Luka Ramos Lescano
Christian Alexander Ramsey
Joshua Alan Rankin
Nicole Resendiz Trejo
Grace Elizabeth Reynolds
Thomas Francis Riches, Jr.
Christian Alexander Riley
Kiera Dayne Robinson
Seth O'Ryan Gage Robinson
Serena Pearle Rodgers-Luckey
Cesar Anthony Rodriguez
Nisa Fernanda Rosales
Mashayla Autumn Rose
Reece Torres Rubio
Adam Jacob Rushing
Sarahi Salazar Espinoza
Amber Nicole Saunders
Logan James Sawyer
Miles William Schafer
Kenz A Schinsky
Martin Laundy Schroeder
Annsley Elizabeth Schwab
Elissabeth Grace Segers
Emma Lilian Shepard
Eliza Jane Shepherd
Daniel Jeremiah Shook
Vitor Silva Da Costa Braga
Carter Hughes Simmons
Alfredo Sixtos-Rodriguez
Caroline Ann Smallwood
Ryan Michael Smith
Matthew Ian Smith
Gage Phillip Stang
Rex Marie Stephens
EmmaGrace Fuyuci Stevenson
Jami Rene' Stewart
Jacob Thomas Stowe
Starling Allison Sturm
Cindy Stephanie Suarez-Alarcon
Garrett Sutherland
Victoria Rose Sylvester
Hugo Jackson Taylor
Jessica Sierra Tenjhay
Kymberlie Nicole Thacker
Signe Anne Thorsen
Lindsey Renee Tolle
Sophia Jayne Trantham
Rachael Elizabeth Trifoli
Jaxson Alexandria Tumicki
Holden Michael Turner
Journey Nichelle Tyler
Franklin Hallock Vasquez
Leviathan Matthew Vassey
Keydy Lizeth Vergara
Nicole Leanne Volk
Matthew Chemeng Vue
Abigail Maeve Waldrop
Ian Baker Waldrop
Trystan Kohl Wallace
Elizabeth Nicole Weathers
Calli Marguerite Wells
Simeon James Whatley
Emma Christine White
Savannah Dawn Wilkins
Julianna Mae Willoughby
Alexis Nicole Witt
Kevin Peter Wright
Baylor Chase Wyatt
Lamont Anthony Young, Jr.
Anna Elizebeth Young
Joy Morad Helmy Mak Yousef
Honor Roll:
Nicholas Mason Acus
Freddie Lee Aiken III
Zachery Keith Allison
Savannah Marie Anderson
Emma Claire Barnes
Jerome Louis Bass
Ethan Scott Beamish
Johannes Til Beikirch
Estevan Oliveira Berto
Paul Bienefeld
Christopher Alexander Binns
Andrew Lee Bishop
Elizabeth Carroll Blalock
Grace Elizabeth Blanton
Nathan Thomas Bond
Holly Grace Boothe
Quintrell Decarlo Bowman
Naliyah Yasmine Boyce
Daniel Austin Brew
Cedric Charles Brooks
Tae'ondra Ashanti Brown
Aaron Lee Butts
Zion Tyler Cain
Carlos Daniel Campos De Oliveira
Ryland Hardesty Chaney
Peyton Jesse Chappell
Nicholas Chase Charania
Branyone Craig Coleman
Kaitlyn Rose Connerley
Atticus Taylor Constance Cooper
Ashton Mason Crooks
Diego Lyshawn Cuffee-Disla
Antonio Nikolas Damalos
Benjamin Douglas Davis
Ryan Filizzola Schmidt Devay
Richard Maxwell Shogry Dorman
Luis Guilherme Andrade Dos Santos
Daniel Chistian De Abreu Dos Santos
Gregory Fitzgerald Drummond
Jasmyn Nicole Dunn
Rosa Alicia Eberhardt
Jael Rennee Ehman
Gunnar Ray Ensign
Carson Julian Evans
David Logan Ewing
Melody Raeanne Ferguson
Haley Marie Flippin
Jacob Andrew Frizzell
Adan Gallardo-Ortiz
Jameel Malik George
Richard James Hamlett Gilson
Anna Lynne Goode
Dakota Jarrell Grimsley
Peter Francis Grossheim
Olivia Danyale Guillermo
Baylee R Hallas
Jakob Alexander Hamilton
Tyler Glenn Harrison
Dalton Cohen Hawley
Evelyn Virginia Higdon
Kentrayle Demario Holloway
Patricia Marie Holmberg
Ashley Brinell Hoxit
Melanie Hope Hoyle
Rachel Nicole Hughes
Abigail Clark Hutcheson
Olivia Marie Hyde
Tiffin Della-Marie Jacobs
Mykah William Johnson
Jared Lee Jones
Kameron Wayne Jones
Brennen N Kaforey
Allison Louise Kogoy
Kaitlyn Marie Light
Brody Wyatt Lindsey
Mason Andrew Lyon
Nathan Mahoney
Abigail Reece Mayer
Finnegan Francis McCormack
Timiah Alazae McGhee
Adan Alexander Miller
Kameron Naikia Moore
Alyse Brook Moore
Toby Benjamin Naylor
Cody David Norris
Katelynn Abigayle Olive
Agustin Onetto Ithurbide
Benjamin Davis Peeler
Braedyn Christopher Perez
Jada Raishon Petty-Wilkins
Elizabeth Ponce
Tiernan Sean Ponder
Joseph Ryan Powell
Logan Brooke Priddy
Emmalie Paige Reese
Daniel Raposo Martins Ribeiro
Taylor Nicole Richardson
Amelia Cathryn Rider
Bry'Shun Ny'Sire Roebuck
Etta-Leigh Liliquoy Rose
Hadden Alexander Schnell
Catherine Ann Schroeder
William Russell Scoggins III
David Immanuel Sealy
Lexi Nicole Shepard
Riley Mary Nicole Sinclair
Imani Janay Singleton
Liam Patrick Smithson
Hannah Faith Sonnenberg
Valarie Elizabeth Sorrell
Jack Spencer Spotz
Blake Adam Stewart
Nathaniel Walker Stone
Makayla Michelle Street
Facundo Daniel Sunhary Garcia
Andrew Steele Tarleton
David J'Lon Taylor
Zachary William Taylor
Mackenzie Brown Tonks
Xavier Tyriek Westbrook
Emma Elizabeth Wester
Sylvester Adolphus White III
Carson Matthew Whitehead
Camren Lee-Ann Whitfield
Maverick Shane Whitley
Benjamin Michael Wilhelm
Ashton Michael Williams
Ryan Taylor Willis
Bowden Tate Witcher
Autumn Samantha Wright
Jodi Marie Wyse
Quincy Keshawn Yancey Carter
Patrick Leng Yang
Mitchell Kweku Yoder
Matthew Eduardo Zuniga
Mikayla Elise Zvekan
Brevard College is known as one of the South's top colleges and offers a range of programs on a beautiful residential campus. Curriculum at Brevard combines small-classroom instruction with creative internships and immersion experiences, provides a strong core in the liberal arts and offers great strength in fine arts, as well as in interdisciplinary programs that educate for leadership and service and draw on the natural resources of the College's mountain setting.