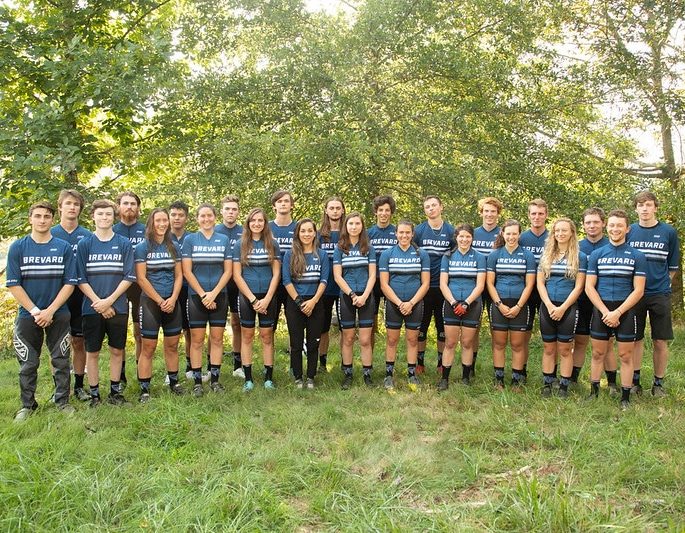 The 10-time National Champion Brevard College Cycling team will compete at the 2019 USA Cycling Collegiate Mountain Bike National Championships this weekend on the slopes of Snow Summit at Big Bear Lake, California. The Tornados will be seeking their 11th overall team national championship and seventh Mountain Bike national championship at this weekend's event, which is expected to feature over 60 collegiate teams from throughout the country.
Under the guidance of Head Coach Brad Perley and Assistant Coach Cypress Gorry, a total of 12 Brevard College student-athletes will make the trip to California for the national championships. Hannah Arensman, Hannah Dickson, Michaela Gray, Rachel Pageau, Nicole Rusden, Emma Schwab and Aliza Tobias will represent Brevard in the women's competitions. On the men's side, Carson Beckett, Tyler Clark, Ryan Johnson, Tyler Miranda and Tyler Orschel will compete for the Tornados.
It will mark the final Collegiate Mountain Bike National Championship for seniors Arensman and Beckett who are concluding their illustrious collegiate careers this season. Arensman and Beckett were both part of national championship teams as freshmen at Brevard College in the 2016-17 season (Mountain Bike and Cyclocross).
"As one of the only seniors on the team, I have had the chance to experience quite a few nationals," said Beckett. "I think we have one of the strongest teams that we have ever had. I am ready for it to come around like it did our freshman year and for it come full circle with another overall title."
The 2018 national championships are a culmination of a highly successful Fall Mountain Biking season for this year's Tornados. Beckett opened the season winning six-of-six Cross Country and Short Track collegiate events. Beckett, Clark, and Orschel produced a total of four podium sweeps this Fall while Pageau, Schwab, and Tobias each won for the first time in a Brevard College uniform.
The Fall season began with the Tornados collecting eight podium finishes and two race victories (Beckett in Cross Country and Short Track) at the Ramblin Race Weekend hosted by Georgia Tech in Ellijay, Georgia.
After an abbreviated event in Tennessee, Brevard returned to action with a dominant showing at the MTB Rock and Roll Showdown in Cleveland, Georgia. At that race weekend, BC compiled a total of six race wins an 11 individual podium finishes. Beckett, Orschel and Clark swept the podium in both Men's A Cross Country and Men's A Short Track with Beckett victorious again in both events. Tobias won her first collegiate race with a first-place result in Women's B Short Track.
Next up was a trip to Banner Elk, North Carolina for the High Country Collegiate MTB Challenge hosted by Lees-McRae College. The successful mountain biking race weekend was highlighted by two more race wins by Beckett to go along with a win in the Team Relay by the quartet of Clark, Beckett, Arensman and Schwab.
The Fall regular season concluded with Brevard racers winning eight of the 12 events that the Tornados competed in at the King University MTB Race in Bristol, Virginia. Clark, Orschel and Beckett combined for another podium sweep with Clark taking the top spot this time in Men's A Cross Country. Meanwhile, Schwab won her first collegiate race with a victory in Women's A Cross Country to go along with Pageau's first race win as a Tornado in Women's A Downhill.
In addition to the collegiate events, Orschel and Pageau each represented their home nation of Canada at the 2019 UCI Mountain Bike World Championships, held August 30-31 in Mont-Sainte-Anne, Quebec.
The 2019 USA Cycling Mountain Bike National Championships begin Friday at Snow Summit in Big Bear Lake, California with the Male Varsity Cross Country race starting at 10:30 a.m. ET/7:30 a.m. PT. The Female Varsity Cross Country race goes off at 1:30 p.m. ET/10:30 a.m. PT on Friday followed by Dual Slalom Qualifying.
Saturday's action begins with Male and Female Downhill seeding runs beginning at 12:45 p.m. ET/9:45 a.m. PT. Male Varsity Short Track starts at 4 p.m. ET/1 p.m. PT, followed by Female Varsity Short Track at 5:30 p.m. ET/2:30 p.m. PT. The Dual Slalom finals at 6:30 p.m. ET/3:30 p.m. PT conclude Saturday's schedule.
The final day of the championships is set for Sunday as the Men's and Women's Downhill Finals begin the action. The Varsity Team Relay will take place at 5 p.m. ET/2 p.m. PT followed by the final podium ceremonies.
Brevard College is consistently recognized as one of the best liberal arts colleges. The College's focus on experiential learning, small class sizes, and location the mountains of Western North Carolina near Asheville makes Brevard a top choice college for students around the world.