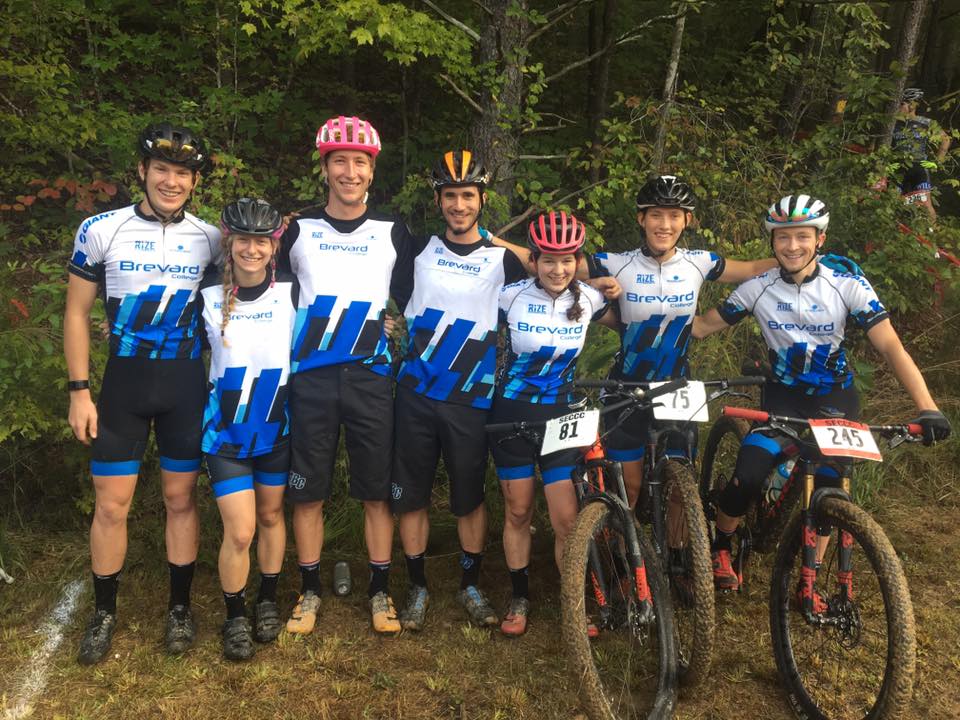 The Brevard College Cycling program produced a dominant performance highlighted by a total of ten first-place finishes and 17 total podium finishes at the Mad Dog MTB Race hosted by Union College in Barbourville, Kentucky. The Mad Dog race began with the Cross Country portion of the competition and concluded with a Brevard College sweep of the men's and women's downhill events.
Hannah Arensman, Carson Beckett and Lucas Gomez each won two individual races to lead the flurry of first-place finishes for the Tornados. Tyler Clark, Nicole Rusden and Nathan St. Clair also won individual races to go along with a win by Brevard "Team 1" of Tyler Clark, Hannah Dickson, Beckett and Arensman in the team relay event. St. Clair earned three more podiums in addition to his two wins.
Sam Munson, Tyler Orschel and Nicole Rusden also registered podiums as did Brevard's "Team 2" (Scott McGill, Rusden, Zack Lowden, Arensman) in the team relay.
First Place Finishes at Mad Dog MTB
Hannah Arensman – 2 (Women's A Cross Country, Women's A Short Track)
Carson Beckett – 2 (Men's A Cross Country, Men's A Short Track)
Lucas Gomez – 2 (Men's C Cross Country, Men's C Short Track)
Tyler Clark – 1 (Men's B Dual Slalom)
Nicole Rusden – 1 (Women's A Downhill)
Nathan St. Clair – 1 (Men's A Downhill)
Team Relay – 1 (Brevard Team "1": Tyler Clark, Hannah Dickson, Carson Beckett, Hannah Arensman)
Total: 10
Podium Finishes at Mad Dog MTB
Nathan St. Clair – 4 (1st Men's A Downhill, 2nd Men's A Dual Slalom, 2nd Men's B Short Track, 3rd Men's B Cross Country)
Hannah Arensman – 2 (1st Women's A Cross Country, 1st Women's A Short Track)
Carson Beckett – 2 (1st Men's A Cross Country, 1st Men's A Short Track)
Tyler Clark – 2 (1st Men's B Dual Slalom, 2nd Men's A Cross Country)
Lucas Gomez – 2 (1st Men's C Cross Country, 1st Men's C Short Track)
Sam Munson – 1 (3rd Women's B Cross Country)
Tyler Orschel – 1  (2nd Men's A Short Track)
Nicole Rusden – 1 (1st Women's A Downhill)
Team Relay – 2 (1st Tyler Clark, Hannah Dickson, Carson Beckett, Hannah Arensman; 3rd Scott McGill, Nicole Rusden, Zack Lowden, Hannah Arensman)
Total: 17