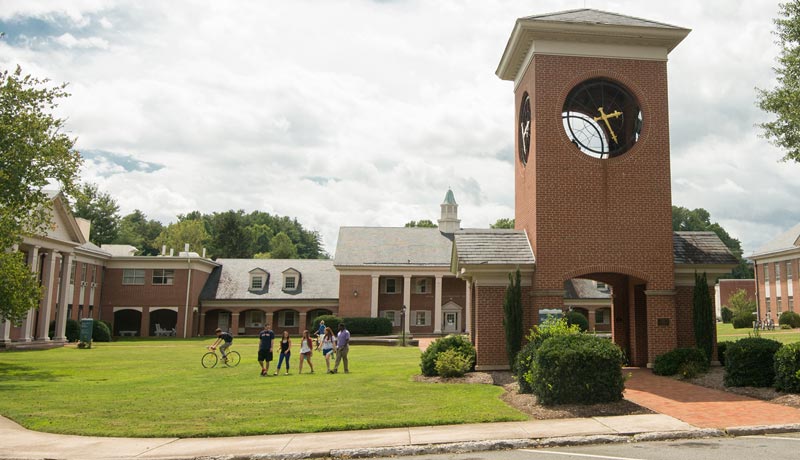 Douglas Timothy (Tim) Gordon Murray, Sr. passed away on November 25, 2014 after a brief illness. Tim's family and friends have established The Tim Murray Annual Scholarship in Art at Brevard College in his honor.
"When Tim passed," says Susan Cothern, Vice President for Philanthropic Development at Brevard College, "his family and I could think of no memorial more fitting than to create an Art Scholarship in Tim's name. Tim was the quintessential teacher in being both interested and interesting. He loved to learn and he loved to always teach what he knew."
Tim retired from Brevard College in 2003 where he served as the head of the Brevard College Art Department for 40 years. After years of teaching, he earned the esteemed title of Brevard College Professor Emeritus.  During his retirement, Tim continued to be an active supporter of the College and its programs, as well as a very active member in the local Brevard community.
Originally from Reading, England, Tim came to Brevard as a young man to teach art at Brevard Junior College in the early 1960's. Jo Pumphrey, Professor of Art at Brevard College, shared as she reflected: "Bill Byers and I worked together with Tim for over twenty years in the Art Department. When you work that closely with someone, it is much like living with them, and we spent a lot of time together every day. We all had a vision for the Art Department and worked hard to build and maintain a solid program. We shared great fondness and affection for each other that surpassed any day to day challenges. Tim was a gifted artist, a gentle soul and a good man. We are deeply grieved that he is gone."
Tim loved teaching, hated paperwork, and cared deeply about his students. Throughout his life, Tim continued to learn new skills and devise new methods for all types of sculpture, particularly wood and metal forms. He taught these methods throughout the country and eagerly shared any new and innovative ideas. Over the years, Tim won countless awards and acknowledgments for his art work. Tim was the epitome of a Renaissance man with interest and knowledge in many fields.
A lover of the arts, sports, and the outdoors, this creative professor found Brevard to be the perfect place. Tim could be spotted everyday as he ran the hills and forests of Transylvania County. It is anyone's guess as to the number of miles he logged on the Brevard College campus! Tim's running partner was his son Gordon and together they entered, and often won, countless races.
Tim loved his runs, his art, his garden and his community, but the center of his universe was his family – his wife Mary, their son Gordon and daughter-in-law Julie, and their twin granddaughters, Caitlyn and Lauren. Nothing made him happier than to be surrounded by his family and friends. Whenever any conversation turned to mortality, Tim would always add, "Just live until you die." He ran until just a few short weeks before his death, exemplifying his own advice.
The Tim Murray Annual Scholarship in Art is being established to provide financial support to a deserving student who is attending Brevard College and majoring in Art. Contributions can be sent to the Office of Philanthropic Development, Brevard College, One Brevard College Drive, Brevard, NC 28712.