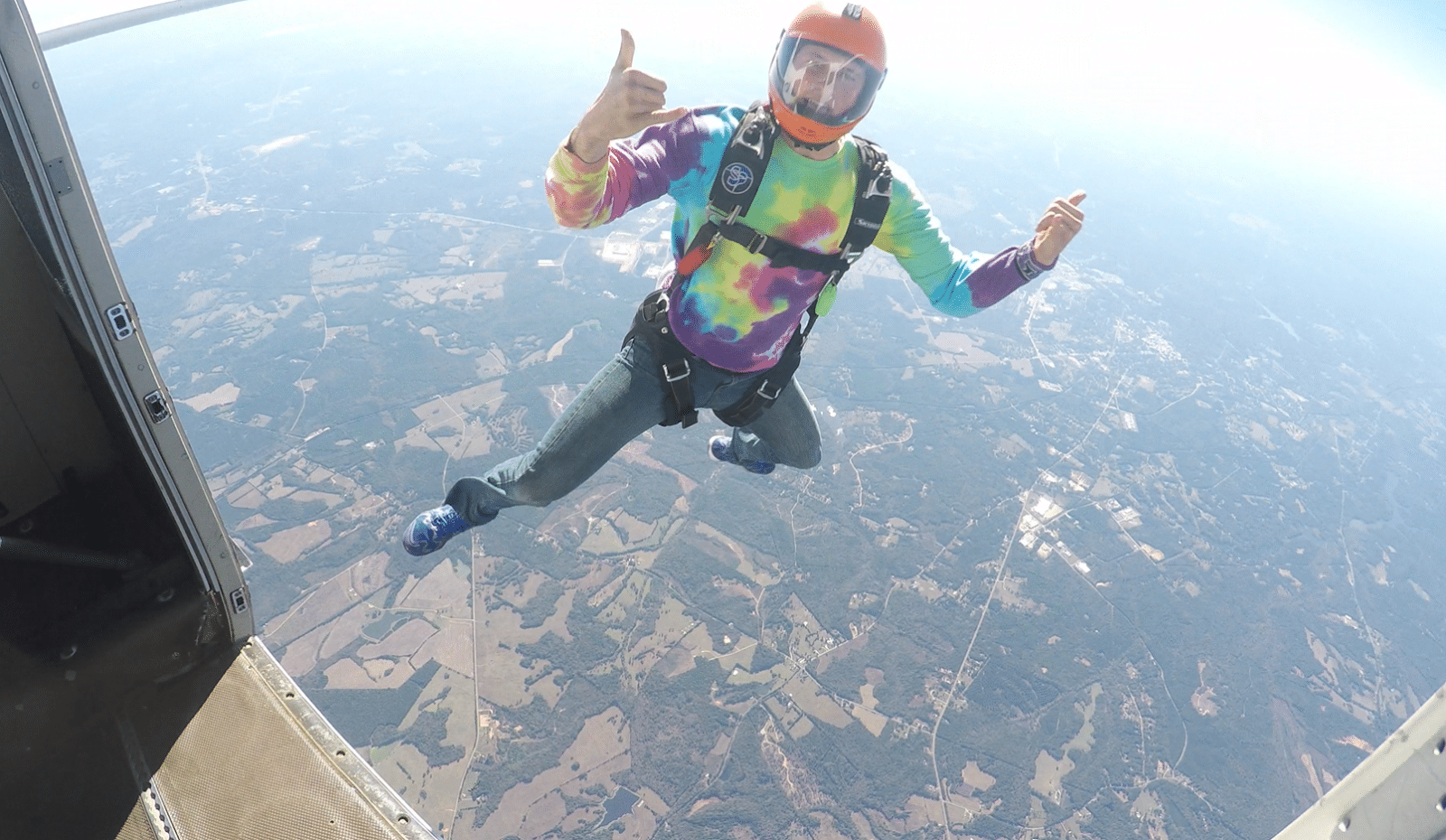 Junior Eli Hyatt talks skydiving, mountain biking, and climbing at Brevard.
BY ALEX PERRI '17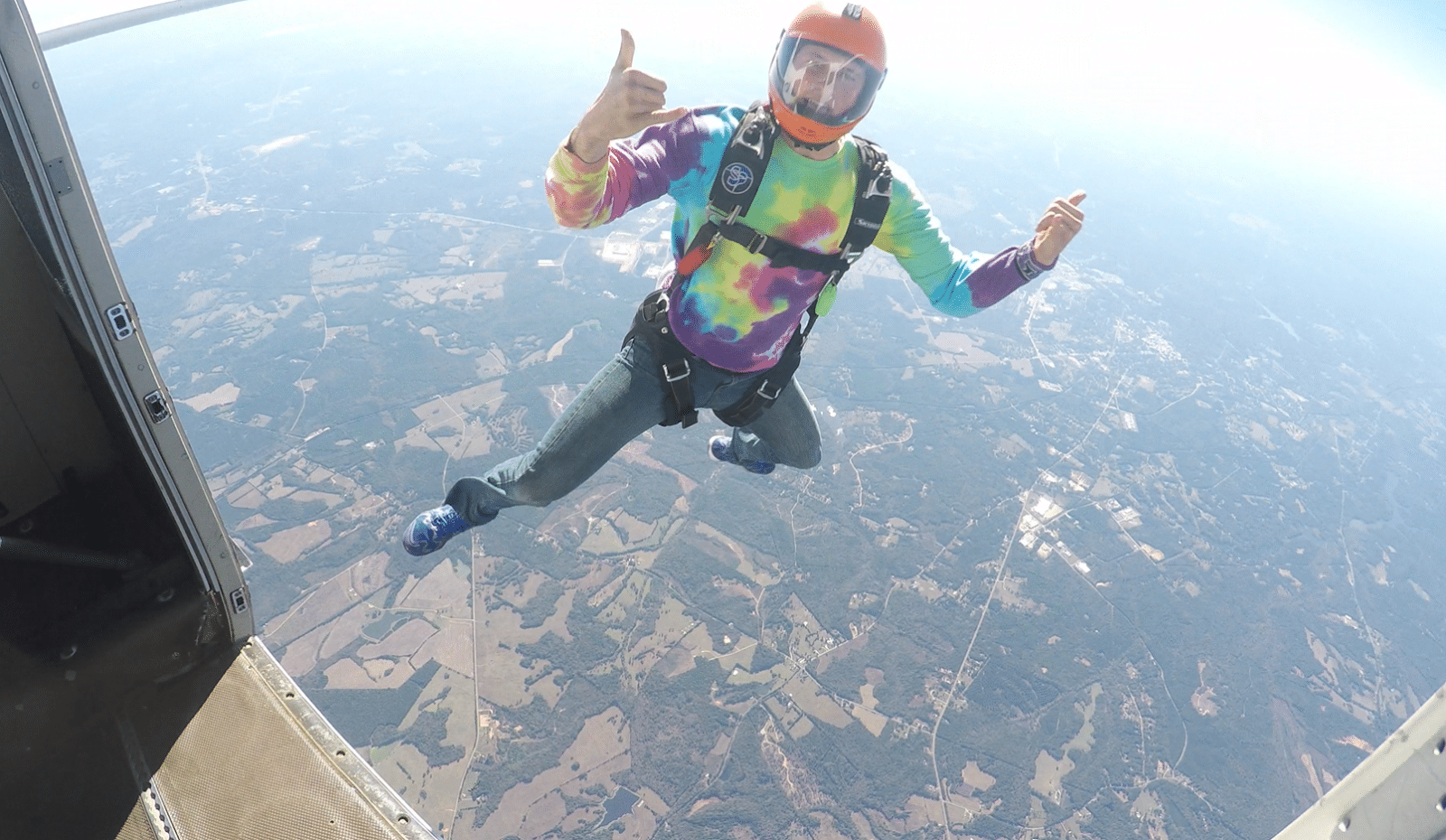 "Adrenaline junkie" is how most would describe Brevard College junior Eli Hyatt, although his mother, he says, would probably opt for the adjective, "crazy."
Hyatt remembers the first time he felt a calling toward extreme sports when he was 10 years old riding along in the car with his mother.
"Looking up at the sky, I saw a parachute, and I immediately told my mom I was going to skydive one day. She responded with 'Absolutely not Eli,'" Hyatt says.
The junior integrated studies major (combining business and wilderness leadership and experiential education) has become more involved in skydiving, mountain biking, and bouldering since he arrived at Brevard College. He is a member of both the cycling and climbing teams, and he says that Brevard was the perfect place for him to explore more of his passions.
"I knew I wanted a small college somewhere in the mountains…Pisgah was a huge factor for me," Hyatt says. "I knew I'd enjoy the huge playground of woods, full of trails and good views just a few miles from school."
After coming to Brevard, Hyatt was finally able to pursue that pull he says he always felt to extreme sports.
In his freshman year of college, Hyatt made his first skydive. As of Sunday, Feb. 26, 2017, he had made 134 skydives with plans to start flying a wingsuit once he reaches 200 dives.
Not only has he jumped into the skydiving community since becoming a college student, but Hyatt joined both the cycling and climbing teams after meeting a few similarly inclined adrenaline junkies who encouraged him to become a part of teams that competed in the sports he loved.
"I have been riding bicycles since I was young, and while growing up, I had a friend who encouraged me to race a few times," Hyatt sais. "When I showed up at Brevard, a few cyclists encouraged me to race with the team. I tried that, and have thoroughly been enjoying the experience traveling and racing with my friends for the past two mountain biking seasons."
In addition to riding bikes and jumping out of planes, Hyatt is also a member of the climbing team and likes to boulder outside of the gym.
"I love the challenge a tall boulder gives me," Hyatt says.
He also plans to gain the skills necessary for big wall climbs.
"Two- to 3,000-foot rock walls and sleeping on the wall definitely intrigue me," he adds.
It seems Hyatt is as accomplished as he is ambitious at pursuing extreme sports and challenging himself to take things to the next level in each of his disciplines. He left the basketball team at Brevard his freshman year to devote himself to improvement in these new outdoor endeavors.
The key to his success? Precision.
"That is what I enjoyed most about basketball – making that bounce pass perfectly between two defenders to my teammate for an easy lay-up," Hyatt says. "Now in rock climbing, it's the precision of having your hip just a little further to the left that helps you stay on the wall. On the trail, it's picking the cleanest line so you can go as fast as possible. In the sky, it's flying your body in the position necessary to accomplish your goal for that jump."
Drive and motivation are only a partial factor in his passions for these activities. For Hyatt, the community aspect of the sports has been equally important.
"I've made some awesome relationships with my peers here at Brevard College through cycling and climbing," Hyatt says. "Sharing a lot of laughs, watching trees zip past, and enjoying adrenaline rushes with friends is very rewarding and special for me."