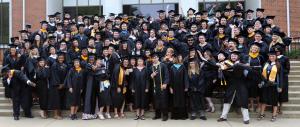 Mother Nature held off her thundershowers just in time for 125 eager and fresh-faced college students to claim their award for four years of hard work: A Brevard College diploma.
"The most significant recognition we bestow today is the Brevard College diploma itself -for it signifies a level of education that the vast majority of people in this world, and even in this country, will never have the opportunity to reach," said Brevard President David Joyce in his welcome to the graduates.
By 10 a.m ., the Betty Neale Academic Quadrangle was filled with the sounds of brass horns piping "Pomp and Circumstance" while a sea of black regalia greeted beaming parents awaiting the college's 163rd Commencement Ceremony.
With 1,500 chairs filled, graduates' family and friends made their own seats in the grass and perched on the steps of nearby buildings.
"We come here this morning to salute the outstanding achievements of the graduating Class of 2016, a class that has clearly made its mark on our college in so many important ways," Joyce said.
This year's graduating class took the college's motto – "Learn in order to Serve" – to heart and provided the community with over 13,000 hours of community service in their four-year span.
"To put into different terms, these volunteers saved the county and surrounding areas over $99,000!" Joyce told the crowd.
Transylvania and nearby counties can claim 27 of these newly minted graduates, while the rest traveled from 16 states and five foreign countries (Canada, Ireland, Japan, Mexico, New Zealand) to make Brevard their home.
During their tenure at Brevard, these students published a children's book, led a History club that won Club of the Year, spearheaded a campaign to bring sustainably and locally sourced food to the cafeteria, organized a festival honoring Earth Day, put on documentaries addressing girls' education and gender identity, snagged second place in a regional Rock Climbingcompetition and entertained packed houses on the black box and Porter Center stages.
One female volleyball player became Brevard's only NCAA-era player with 1,000 kills and 1,000 digs in a career, while one male athlete etched his name all over Brevard's NCAA-era record book in basketball with 252 assists and 170 steals – the most by a player in a career at Brevard College.
The direct, hands-on experiences and focused reflection these graduates received has led to jobs in the police force, at the local hospital, and two positions with Teach for America.
Brevard College has 730 students and employs 49 full-time faculty and 106 full-time staff.
While most colleges invite a prominent guest speaker to graduation ceremonies, BC stays true to its mission to engage its students in the process and encourage personal growth by choosing two outstanding seniors to speak at commencement.
Jamie Hrobak, a right-handed softball pitcher from Mill Spring, N.C ., and a candidate for teacher licensure, told her peers to have courage in pursuing their dreams.
"Brevard College has provided each of us with numerous opportunities for continued growth and personal development," she said. "For those who have demonstrated the courage to use these opportunities to challenge themselves and move outside of their comfort zone, there has been much reward. For those who have not, it's never too late."
Hrobak's speech was followed by an address by Stepheny Hine, a history major and Institute for Women in Leadership graduate from Chapel Hill, N.C.– and one of the two students chosen by Teach for America.
Hine's fervor was palpable as she told her peers they must make themselves uncomfortable in order to grow. And, she said, if BChas taught them anything, it is that change begins from within.
"We are now privileged enough not only to have a college education but to have a liberal arts college education," Hine said. "However, it is what we do with such an education that is important."
Hine, who completed her coursework in three years with a cumulative GPA of 3.918, was this year's recipient of the coveted C. Edward and Brona N. Roy Good Citizenship Award, presented to the graduate who exhibits moral character, citizenship, leadership and a positive influence on campus.
During her time at Brevard, Hine volunteered with local nonprofits Bread of Life and Sharing House, mentored sixth-grade girls atBrevard Middle School, fundraised for suicide prevention and was an organizer for the college's Sexual Assault Awareness campaign. She logged more than 500 hours of service to BC and the Brevard community.
"Through her leadership and passion, she has become what Brevard College hopes for all students, a citizen of the world who has the willingness to use her voice and stand for what she is passionate about," said Scott Sheffield, dean of faculty.
Brevard local Natalya Vestal Gryson received the 2016 Presidential Award for Scholarship, given annually to the graduating senior with the highest academic rank. Gryson finished her coursework with a cumulative GPA of 3.968.
Three graduates were recognized with the Presidential Award for Distinction, awarded to graduates who show outstanding leadership, service and academic achievement: Savannah Calvert, a psychology major from Gilbert, S.C .; Emily Crowley, an environmental studies major from Greer, S.C .; and Nicholas Jowsey, an integrated studies major from Auckland, New Zealand.
After the awards came a poignant moment when Sheffield presented an honorary diploma to the family of former student Richard Leill, who passed away on July 8, just after completing his junior year at Brevard.
Leill was a member of the men's tennis team pursuing a degree in integrated studies with concentrations in communications and political science and a minor in psychology.
"We have placed an empty chair among the graduates with a cap and gown to honor Richie as forever a part of the Brevard College family," Sheffield said.
And then one by one, 125 seniors crossed the stage and the first of many rites of passage in their lives.
Student Government President Steve Olson's parents traveled from Chicago, Ill ., to be present for their son's big day.
Olson, an environmental studies major, took part in the college's source-to-sea river expedition, Voice of the Rivers, and a summer geology study in Iceland.
"Brevard's emphasis on experiential education has allowed him once-in-a-lifetime opportunities to explore the natural world beyond the classroom," Steve's mother, Karen Olson, said. "We are very grateful for the positive impact that Brevard College has had on his personal growth and outlook for his future. We always joke that Brevard is his 'happy place.'"
Caren Ellisor and her husband, James, drove from Concord, N.C ., to watch their daughter Jamie, a teacher licensure graduate who recently took a position working at BC in the admissions department, walk across the stage.
Ellisor said her daughter was determined to attend a small college because she wanted to develop relationships rather than "just be a number."
She has thrived at Brevard due to the size of the campus, Ellisor said.
Brevard College Honors The Class Of 2016 Brevard College held its 2016 Commencement Exercise Saturday. This year's class numbered 125. (Courtesy photos by Christy Cauble)
"The many relationships Jamie has made over the past four years have helped shape Jamie into the amazing young woman she is today," she said. "She is self-confident and accepting of people and situations."
No longer "Guarded Well by Mountains," as the traditionalBrevard College hymn goes, the graduates were released out into the world to embrace new lives and new adventures.
Joyce offered his traditional charge to the Class of 2016, noting that he shares a special connection with these graduates, as they were the first to complete four years under his leadership:
"And now, members of the Class of 2016, it is time for you to head off to the new careers and the new lives you will be fashioning for yourselves," Joyce said. "We trust that you leave here a better version of yourself because of your time at Brevard College."