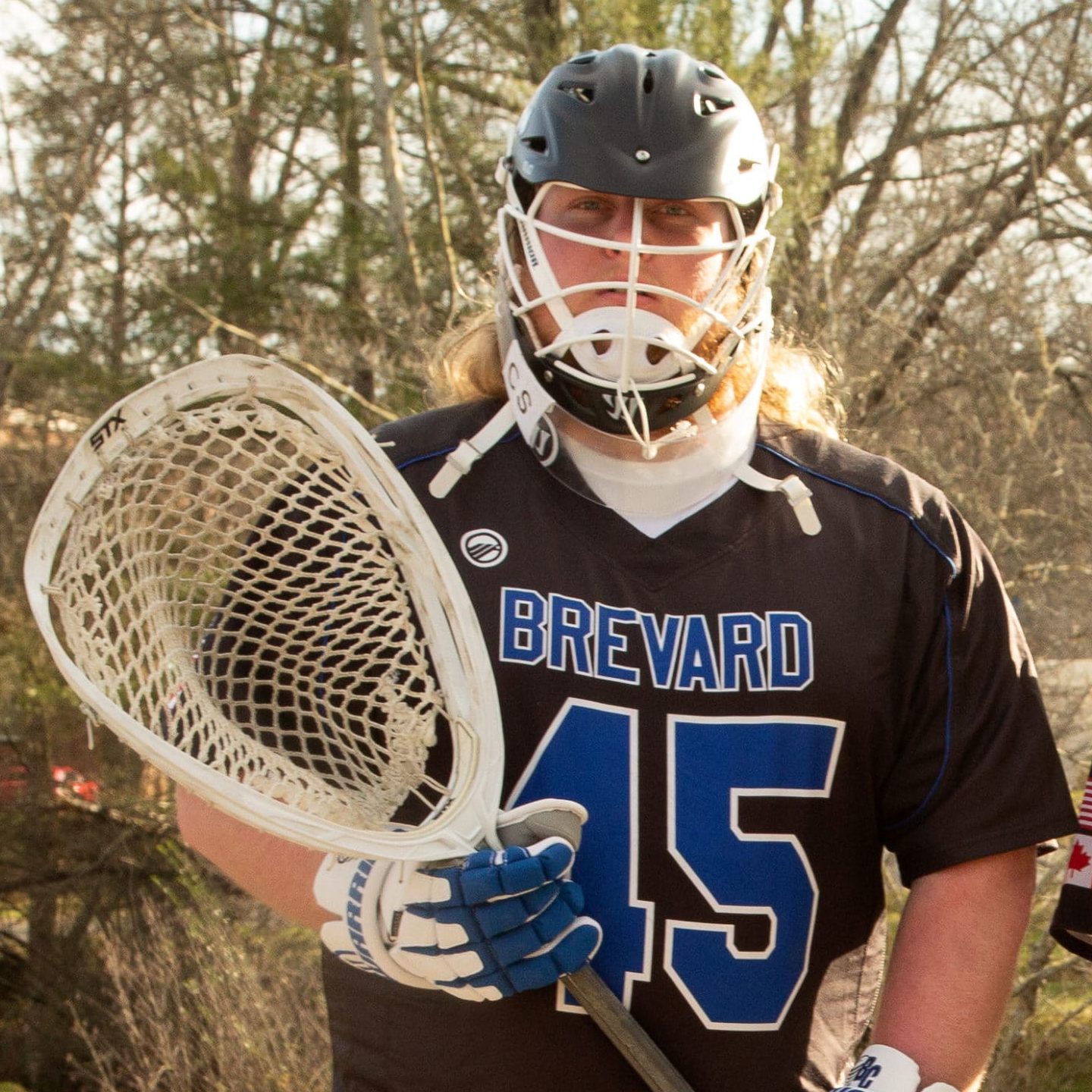 Brevard College Men's Lacrosse Senior Day, senior goalkeeper Peyton Mooney will be wearing the uniform number 45 for the final time as a Tornado. Throughout his entire college lacrosse career, Mooney has worn no. 45 with a very special purpose in mind.
Mooney came to Brevard College from the Hill Academy, a highly successful, sports-intensive high school in Vaughn, Ontario with one of the preeminent lacrosse programs in North America.
In 2008, just the second season for the Hill Academy, a 10th grader named Jamieson Kulhmann was carried off the field following an on-field collision in a club lacrosse game in Newmarket, Ontario. After two days in the hospital, Kulhmann passed away, devastating his surrounding community. Kulhmann wore the number 45.
Mooney and his Hill Academy teammates made a pact that they would all wear Jamieson's number if it was available in college. The number 45 has been worn at Cornell University, Johns Hopkins University, the University of Denver, and Brevard College, to name just a few.
"Wearing number 45 represents respect, effort, and humility. Jamieson had a significant impact on the Hill lacrosse program," Hill Academy Coach Brodie Merrill told Inside Lacrosse in 2013.
Mooney arrived at Brevard College in the Fall of 2015. Upon his arrival, then-Head Coach Michael Markland knew the back story of the number 45 and had the jersey reserved for the freshman goalkeeper. As a tribute to Kulhmann and to keep in the tradition of so many former Hill Academy players, Mooney has worn the jersey in all 34 of his career games played at Brevard College.
"Wearing the no. 45 has kept Jamieson's legacy alive and it has been an honor for me to continue his legacy at Brevard College," said Mooney. "So many of us have been able to keep his legacy going as a sign of respect for all he did as one of the first guys to get started at the Hill. For me personally, it has been an opportunity to keep his legacy going while also reminding me to keep pushing, never knowing if it might be the last game I'll ever play."
In addition to remembering Kulhmann, Mooney also keeps the honors former teammate, Cody Shepperd who passed away in 2017. Mooney and Shepperd grew up together in Fergus, Ontario playing lacrosse. As a tribute, the Tornado goalkeeper wears the letters "CS" on his throat guard in honor of his longtime friend.
"Before every game, I take a moment to look up to the sky and ask both Cody and Jamieson for help," said Mooney. "Many times, I will look up and say to myself 'all right boys, I need your help today'."
Mooney is set to graduate from Brevard College with a B.A. in Wilderness Leadership & Experiential Education and a Minor in History. The graduating senior plans to pursue a career in the outdoor industry while also remaining active in the sport of Lacrosse as either a player or coach.
Under the direction of Head Coach Jim Fritz, Mooney and nine other Brevard College seniors will play their final game in a Tornado uniform when Brevard hosts Huntingdon at 2 p.m. Saturday, April 20 at Ives-Lemel Family Field. Mooney's parents Scott and Tracey Mooney are making the trip from Canada and will escort their son for the Senior Day Ceremony scheduled for halftime of the Brevard-Huntingdon game.

Brevard College is consistently recognized as one of the best liberal arts colleges. The College's focus on experiential learning, small class sizes, and location the mountains of Western North Carolina near Asheville makes Brevard a top choice college for students around the world.