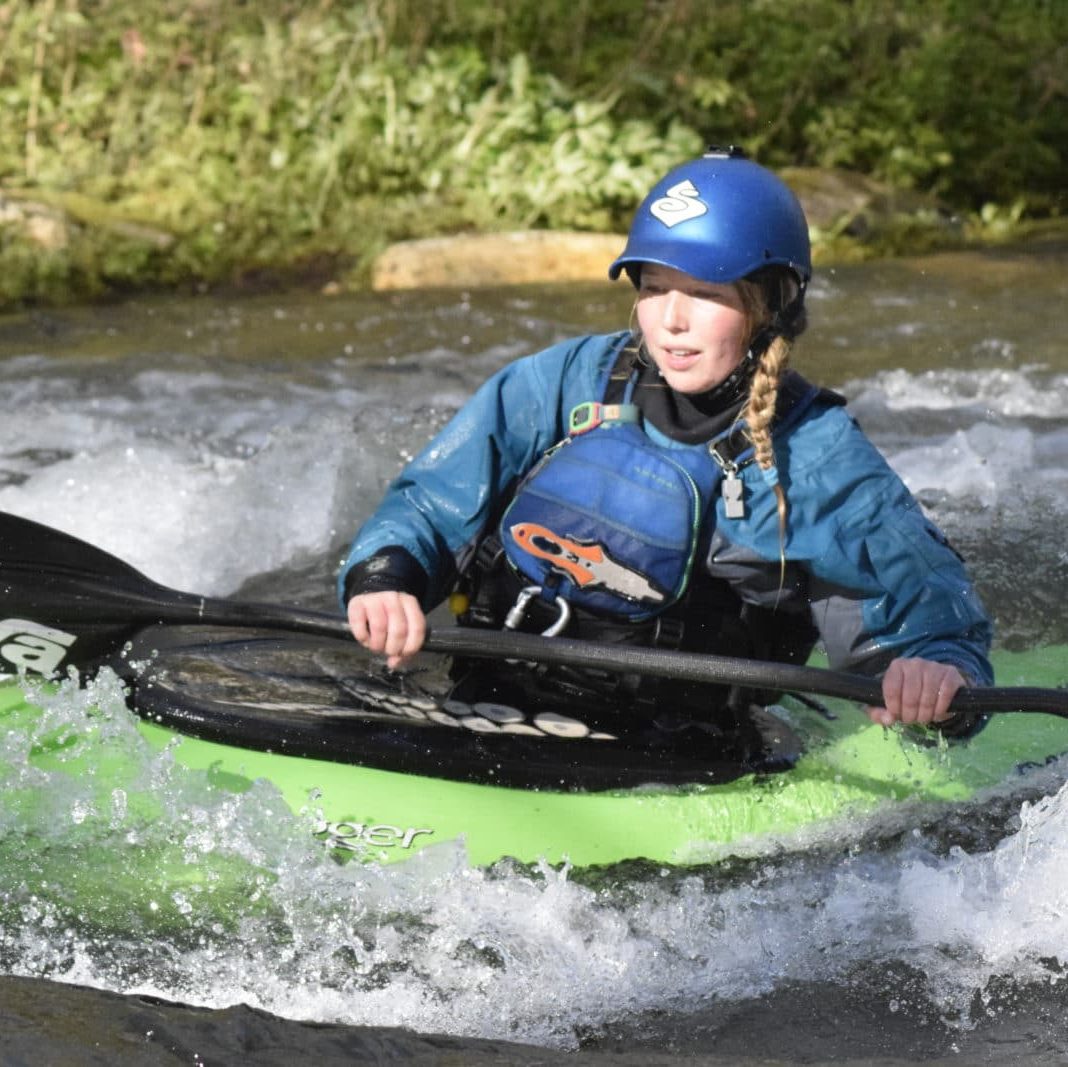 Brevard College senior, Jessica Wiegandt from Daleville, VA, made a short film that speaks to the hearts of her fellow students, faculty, and staff. The film, "Back in Session," was recently shown as part of Banff Film Festival as it traveled through Brevard on its international tour.
The Banff Film Festival tour features award-winning outdoor adventure films in over 550 locations and 40 countries. Presented by the Wilderness Leadership and Experiential Education department, the Banff Film Festival brings outdoor enthusiasts to Brevard College's Porter Center for a three-night event every spring. The proceeds from the festival benefit the Brevard College Outing Club and the Cycling Team.
Wiegandt has been creating short films about her outdoor adventures since high school in Daleville. As a sophomore at Brevard College, Wiegandt was approached by her professor Clyde Carter, and Communications Director, Christie Cauble to make a short film about Brevard College with the intent of having a student film featured during the festival tour.
"I knew that the film would take a lot of time and energy so I used it as inspiration to frame my senior project," Wiegandt said.
With the idea of presenting at Banff in mind, Wiegandt set out to create a film that would tell the story of being a Brevard College student.
"My goal," Wiegandt wrote in her article published by Blue Ridge Outdoors, "was to capture the community of students at Brevard College and their unique relationship and proximity to wilderness. The project allowed me to work with the Outing Club at the college as well as students who have spent countless hours exploring the woods of Pisgah, DuPont, and the surrounding Western North Carolina area."
Wiegandt will graduate from Brevard College on May 4th with degrees in Wilderness Leadership and Experiential Education (WLEE) and English. The quality of "Back in Session" has earned her awards for Outstanding WLEE Major, Outstanding English Major, and Outstanding Academic Program Presentation for the 2019 graduating class.
"Everybody who has seen the film says it perfectly describes Brevard College and the passion the students have for this area," said Shannon Summit, a fellow 2019 graduate. Indeed, the film was well-received by the Brevard College community and festival attendees from the city of Brevard and surrounding areas.
The short film plays through in just under five minutes. It features Brevard College students and alumni, music by ODESZA and Demouche, and the adventure-filled mountain landscape that surrounds Brevard College. Wiegandt describes her fellow students as "passionate about nature and motivated to find the next big adventure."
Her own sense of adventure is obvious in the intrepid footage, skillful editing, and sheer work hours she devoted to creating her senior capstone project. Over the course of two years, Wiegandt documented more than one hundred and fifteen hours on the film.
"For as long as I've known Jessica, she's always been out there doing something, trying to capture the feeling of a moment while being part of it herself," said Summit.
Wiegandt plans to attend American University (AU) in the fall to begin a masters degree in Film and Media Production.
"The School of Communication at AU is incredibly well-networked and the staff and faculty go to great lengths to connect students with alumni who can help us be successful," Wiegandt said. "After graduate school, I hope to work for a company that creates content for environmentally-focused information, such as documentaries, short films, or short blogs and articles."
As Wiegandt's time at Brevard College comes to an end, she reflects back on her experiences.
"I have learned a lot about myself and how to interact with others as a WLEE major. I have developed my technical outdoor skills and gained the teaching experience needed to be an effective educator. I applied the knowledge I learned through the WLEE Department to the making of "Back in Session."
Jessica Wiegandt's short film "Back in Session," as well as some of her other films can be viewed at vimeo.com/jesswiegandt or on Instagram at @jesswiegandt.

Brevard College is consistently recognized as one of the best liberal arts colleges. The College's focus on experiential learning, small class sizes, and location the mountains of Western North Carolina near Asheville makes Brevard a top choice college for students around the world.