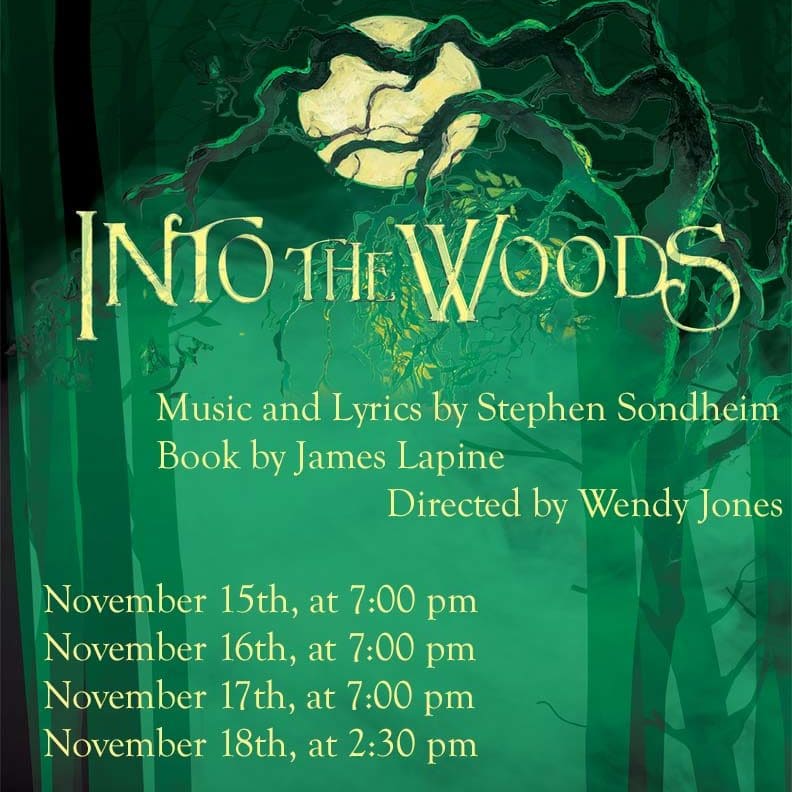 On Thursday, Nov. 15, at 7:00 p.m., Brevard College Theatre will open their second production of the 2018-2019 season with Into the Woods by composer Stephen Sondheim. The show will run in the Dunham Music Building in Ingram Auditorium. Additional performances will be Nov. 16 and 17 at 7:00 p.m., as well as a matinee on Nov. 18 at 2:30 p.m. Adult tickets are $15 and student tickets are $5. Tickets are available for purchase online at etix.com and at the box office an hour before each performance.
Into the Woods is directed by Guest Director and Voice Instructor, Wendy Jones, and features a cast of twenty-one BC students. From the director: "Into the Woods is a mash up of several of Grimm's fairy tales and through the intertwining of the stories of Cinderella, Little Red Riding Hood, Jack and the Beanstalk and others, Sondheim explores the themes of community, parenting, and the impact of receiving one's heart's desire. Containing moments of outrageous silliness and moments of deeply moving human drama, this is Sondheim at his best. With the dark and sometimes disturbing stories of the brothers Grimm as the foundation for this work, audiences should not expect a Disney re-telling but a unique and inspiring musical that will have them laughing, crying, and ultimately, considering the meaning of 'Happily Ever After'."
"Into the Woods is a brilliant musical by Stephen Sondheim and James Lapine, that I first saw upon its release in 1987."says Jones. "It is a piece that touched me so deeply and profoundly that I find it difficult to find words to describe what audiences will see when they have the opportunity to experience this production."
The cast of Into the Woods includes, Anthony Zuñiga, Katelyn DiDio, Derrick Hill, Lisa Arrona, K'nique Eichelberger, Tally Sugg, Sydney Windham, Claudia Dahlman, Michal Phillips, Kristian Michels, Cody Ingram, Sarah Haga, Mabry Taylor, Natalee Highman, Emma Harris, Rubianne Ely, Kathleen Post, Daniel Ethridge, Kendel James, Faith Alexander, and Hope Jackson.
Production support includes Assistant Professor Vance Reese as Musical Director, Assistant Professor Andrea Boccanfuso as the lighting designer, senior Lance Perl as the sound designer, Assistant Professor Justin Mosher as the technical director, senior Hallie Moore as the wigs and makeup designer, and seniors Sarah Haga and Ki'Ara Jordan serve as the publicity team for the musical. Senior Teila Vochatzer is the production stage manager and scenic designer. Other members of the production team include the students of Brevard College Theatre.
Brevard College is committed to an experiential liberal arts education that encourages personal growth and inspires artistic, intellectual, and social action.