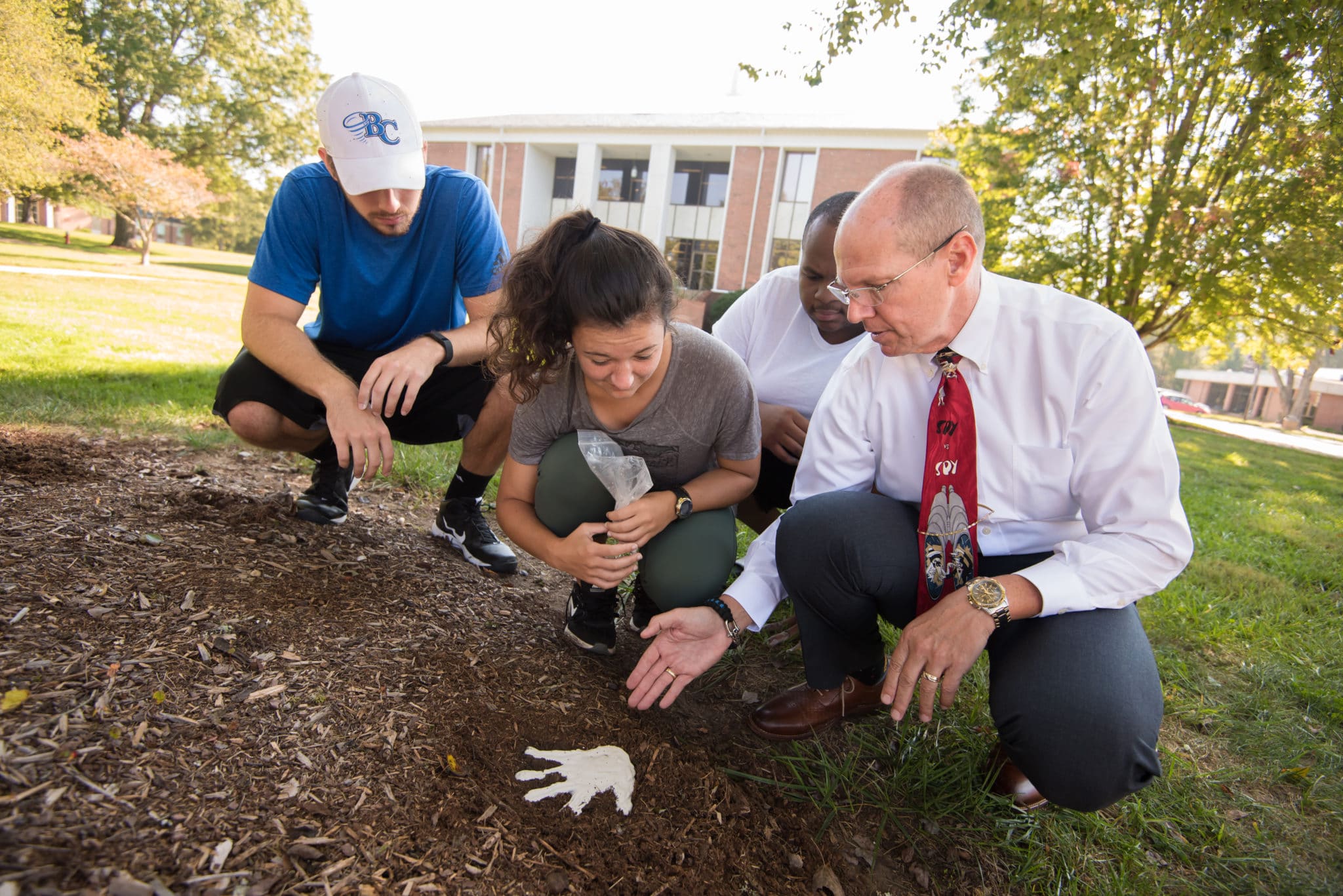 By Alex Perri
Since 2014, Brevard College's Criminal Justice program has grown significantly, and it is largely due to one professor's mission to make Criminal Justice students as prepared as possible to enter the workforce after graduation.
Just over two years ago, Tim Powers took over the Criminal Justice major at Brevard, and since then he has completely transformed it. You've probably seen him around. Powers can be spotted on campus sporting his bold tie collection, and you'll likely see him on the sidelines at most athletic events.
"This past weekend I went over to women's soccer to watch them play, and then over to volleyball to watch them play, and then I went to football so I could watch them play as well. And then I went home and died," said Powers, half joking.
Tim Powers makes it a point to go to every sporting event he can possibly go to. "It's the least I can do," he says. "They're proud of what they do, and I'm proud of what they do. They know if I'm not there [at the games.]" His tireless commitment to student athletes is only one of many ways Powers practices what he preaches when it comes to community involvement. From the start of his time at Brevard, Powers has made a consistent effort to reach out to everyone he can think of to tell them about the great things his students are doing. From local law enforcement agencies to community members, to sports teams, and his fellow colleagues at Brevard College, he will talk to anyone and everyone about what his students are accomplishing.
It was after speaking briefly on the local WSQL radio station that Powers became connected with C.A.R.E. Coalition, and formed a partnership combining efforts to stem underage drinking in the county.
"We team up with everybody under the sun," said Powers. On campus, Criminal Justice students have teamed up with students and professors from other majors. In a crime scene analysis class, Criminal Justice students worked with Entomology students to study insects found at the burial sites of dead chickens to learn about how insect life can tell the story of body decomposition. In Public Service Announcement class, Criminal Justice students teamed up with Theatre students to produce PSA videos for local law enforcement officers to broadcast to their constituents. (Read student Shannon Summit's article about this new class here!)
"Criminal Justice is probably the easiest program to make experiential," said Powers. "There isn't anything we touch or do where you won't get your hands dirty."
On any given day, his students can be found throughout campus and in the community participating in hands-on, real-world lessons. Powers believes that it is the best and only way to prepare Criminal Justice students for their future careers. One of the biggest changes made to the program since Powers began running it is including law enforcement officer certification as a part of the program. Now, when students graduate, they are either certified law enforcement officers through the police academy, or they are prepared for their first day of law school. This is all a consequence of having excellent faculty running the Criminal Justice Program.
"Every one of us has been on the job. So although we use a book, we don't teach from the book. We teach from our experience and use the book to supplement that." Among his faculty are a sitting judge, two local police chiefs, a working magistrate, and a local filmmaker. Powers says he is getting law enforcement agencies from across the state to recruit talent from the Brevard College Criminal Justice pool.
One of Powers' students, senior Criminal Justice major Sadeia Karvonen has watched the program grow since Powers took over the major in her sophomore year.
"Thanks to Dr. Powers, I actually have a career path to follow. He tries so hard to help his students prepare for the world outside of college and because of him, my best friend [fellow senior Criminal Justice major, Carmen Garza] has a guaranteed job and I have a set goal and a possible job in Forensics at the same location as Carmen. The fact that we can find a job straight out of college is amazing because it's usually difficult to find a job so soon. Dr. Powers changed the game and I could not be more grateful to have him as a professor and a friend," said Sadeia.
Students like Sadeia across the Criminal Justice program are lining up jobs after graduation thanks to the connections they made during their classes at Brevard.
"Our students are getting something that no other college provides," said Powers, and judging by the program's recent growth, his tireless approach is making a profound difference for students.