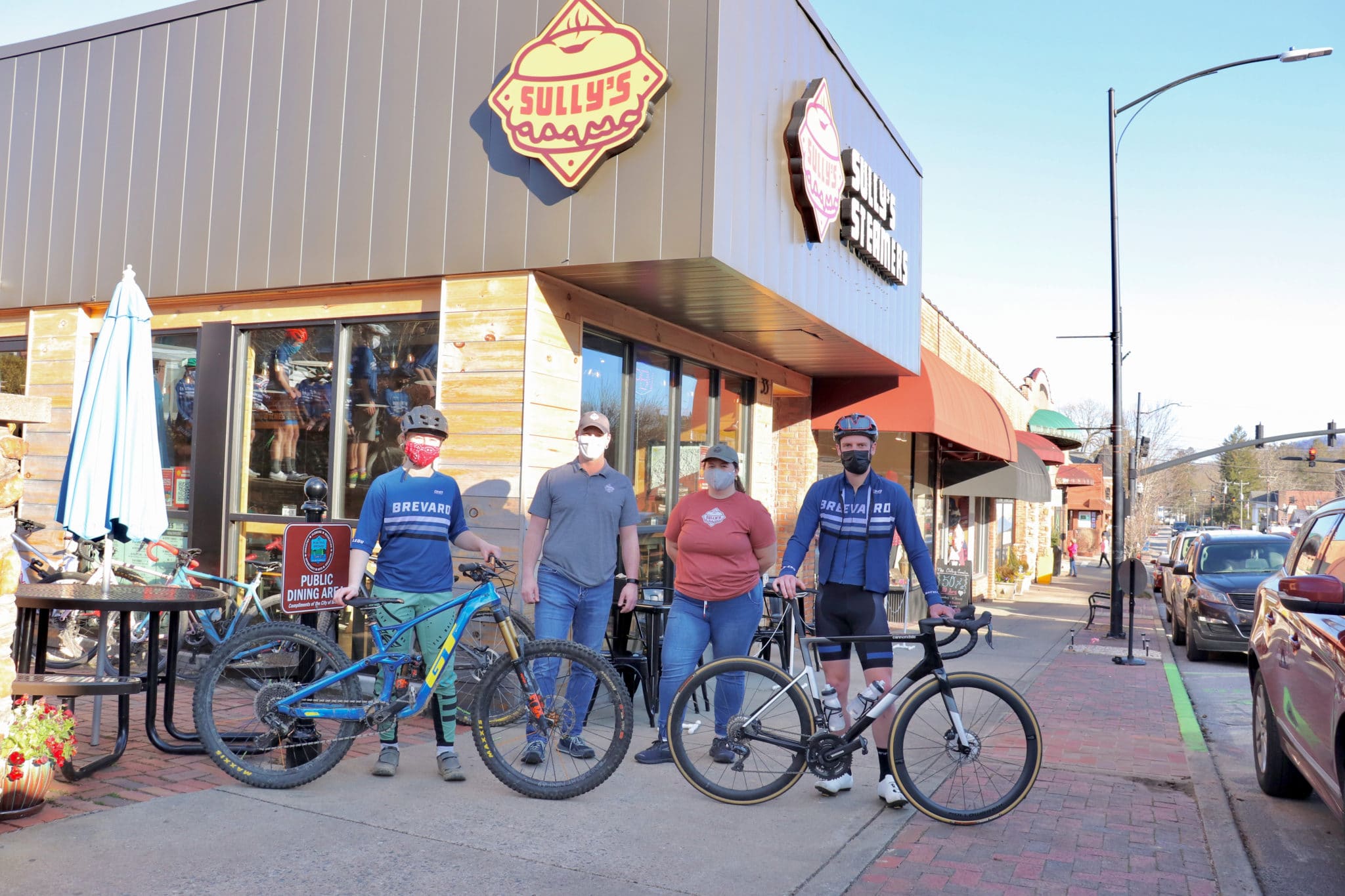 The ten-time national champion Brevard College Cycling program and Sully's Steamers have entered a partnership whereby the local Brevard, North Carolina steamed bagel sandwich shop becomes the newest premier sponsor for the Tornados cycling team.
The partnership between BC Cycling and Sully's Steamers, effective immediately, was kicked off with a recent team meal at the store's location in downtown Brevard.
"The Brevard College Cycling program is extremely excited about this partnership with Sully's Steamers," said Head Cycling Coach Brad Perley. "Sully's shares our passion for supporting and providing opportunities to these student-athletes while working to unite the community. The food at Sully's is top notch, and in turn our team will truly be 'Powered by Sully's Steamers'."
The partnership includes Sully's Steamers logo placement on the BC Cycling jerseys in the Fall of 2021, brand logos inside the newly opened Wahoo Fitness Training Center, and a logo on the exterior windows of the training center. Moreover, there will also be collaboration between the BC Cycling team and Sully's Steamers on social media campaigns.
"We are so happy to be partnering with the highly successful Brevard College Cycling team," said Jerry Davis, Owner and Operator of Sully's Steamers in Brevard. "We are thrilled to be able to provide these incredible student-athletes with nutritious food and increased exposure."
In addition to a financial contribution, Sully's Steamers will provide pre-race and race trip meals to fuel the Brevard College Cycling student-athletes. The Sully's Steamers sandwiches will offer a tasty, nutritious staple for the diets of the BC cyclists.
"The sandwiches at Sully's are packed with protein and plenty of good carbs for the cyclists," noted Davis. "These athletes are burning so many calories on their bicycles. We are excited to help them fuel up before and after their rides."
Sully's Steamers is located at 33 East Main Street in Brevard, North Carolina with locations also in Greenville, South Carolina and Clemson, South Carolina.