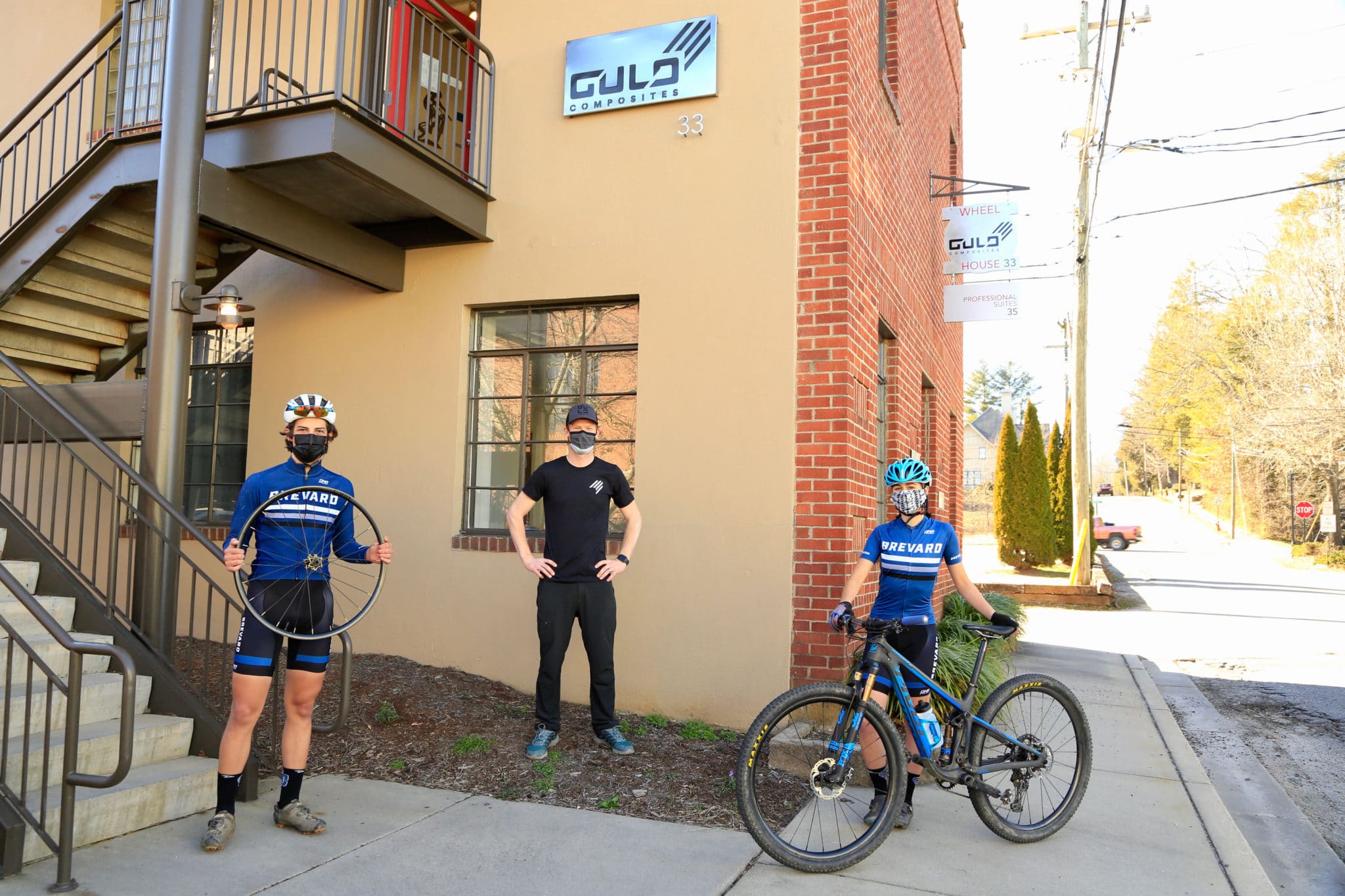 To kick off the partnership, student-athletes from the BC Cycling team were able to recently tour the Brevard based wheelhouse and learn from the Gulo Composites President/CEO as well as the company's brand manager and wheel builders.
"We are definitely excited to partner with Brevard College," said Gulo Composites Brand Manager and recently retired professional cycling superstar John Murphy. "Brevard College is a huge collegiate powerhouse in the cycling world and when we were revealing our 2021 plans it was a no-brainer to partner with the Tornados. The team provides such a positive atmosphere and their involvement in the community is tremendous – we see so much potential to work together on projects in the future."
Effective immediately, the partnership includes signage and logo placement for Gulo Composites within the new Wahoo Training Center on the campus of Brevard College. The BC Cycling student-athletes will in turn benefit from the company's elite technology, manufacturing, marketing and branding as a resource in improving performance. Moreover, those Brevard College students interested in a career in the cycling business will have the opportunity to learn from an elite industry leader.
In addition, Gulo Composites plans to provide a presence at future cycling competitions hosted by Brevard College.
"We are very excited about this partnership with Gulo Composites," said Brevard College Head Cycling Coach Brad Perley. "In addition to offering top-notch, unique cycling wheels, the owner and employees are heavily invested in the local cycling community. They have been and will continue to be a fantastic resource for our student-athletes."
Located just 0.4 miles from the campus of Brevard College, Gulo Composites are not only neighbors in Brevard, North Carolina but also located in one of the world's top cycling hubs with the multitude of rides and trails at nearby Pisgah National Forest and DuPont State Park.
"We couldn't be located in a better testing ground for our products or a better area with the type of riders we want to associate with," said Murphy. "The trails, roads and gravel options we have here are exceptional here providing so many opportunities to the Brevard College team as well as all of us in the local cycling community,"
The Gulo composite spoke body is designed, engineered and manufactured all under one roof in Brevard, North Carolina, USA. Its triaxial braiding technologies allows Gulo's team of engineers to adjust braid orientation and introduce multiple types of fibers for a hybrid composite structure. After years of development with the composite spoke body itself, Gulo has created a structure with many times the impact resistance of any steel spoke on the market today, all the while maintaining featherweight status. The finished spoke assembly consists of aerospace grade aluminum alloys, adhesives, graphene, and composite resin systems, all of which have been engineered from the ground up with weight, strength, fatigue resistance, and UV protection in mind.
Gulo Composites has a full line of Road, Gravel, and Cyclocross wheel systems. Visit gulocomposites.com to learn more. Follow @gulocomposites on Instagram and Gulo Composites on Facebook.
The ten-time national champion Brevard College Cycling program features varsity programs in the disciplines of Mountain Bike, Cyclocross, Road, and Gravel Racing. For the latest news and updates surrounding Brevard College Cycling, follow @brevardcycling on Instagram and 'Brevard College Cycling' on Facebook.
To follow the latest news and updates surrounding Brevard College Athletics, follow the Tornados on Twitter and Instagram @bctornados, subscribe to 'Brevard College Tornados' on YouTube, follow 'Brevard College Tornados' on SoundCloud, and 'Brevard College Athletics' on Facebook. In addition, follow 'brevardcollege' on Flickr for photos from Brevard College events.
Photo Credit: Victoria Brayman