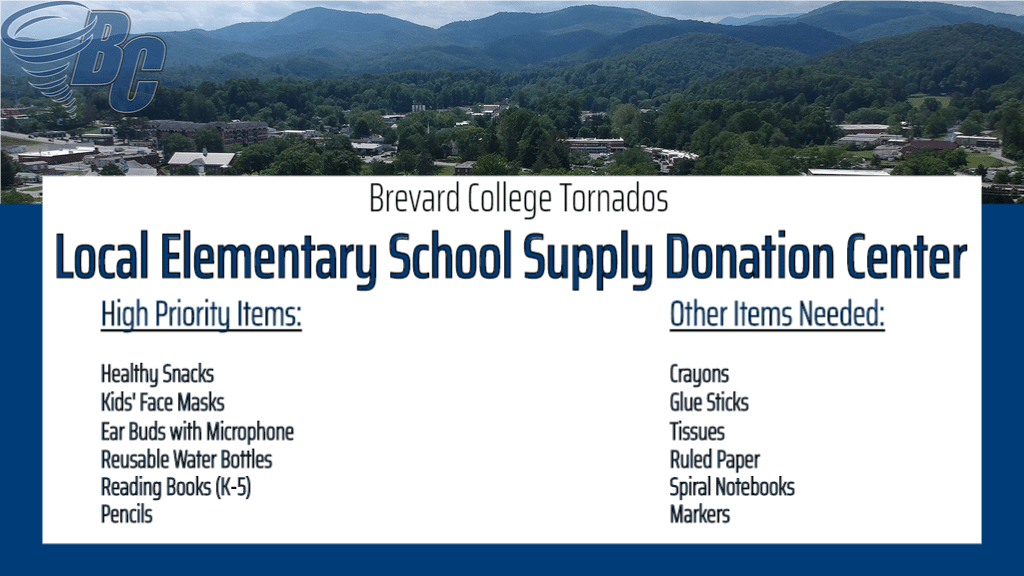 BREVARD, N.C. – The Brevard College Department of Athletics is facilitating the collection of school supplies for local elementary schools via a donation center located at the Boshamer Gymnasium on the BC campus. Five local schools – Brevard Elementary, Pisgah Forest Elementary, T.C. Henderson Elementary, Rosman Elementary and Brevard Academy – will be the beneficiaries of the school supply donation center.
The Brevard College Department of Athletics will be collecting items on weekdays from Monday, July 27 through Thursday, August 6 from 9 a.m. to 5 p.m. The local community is urged to drop off requested school supply items at tables set up in front of the Boshamer Gymnasium on the Brevard College campus. Upon drop off, an athletic department staff member will bring the donated items safely indoors to the collection area.
Following the collection, the donated items will be distributed directly to each of the five local elementary schools.
Healthy snacks, kid-sized facemasks, ear buds (with microphones), reusable water bottles, reading books (K-5) and pencils are high-priority items for the elementary schools. Crayons, glue sticks, tissues, ruled paper, spiral notebooks and markers are also requested as donations.
To follow the latest news and updates surrounding Brevard College Athletics, follow the Tornados on Twitter and Instagram @bctornados, subscribe to 'Brevard College Tornados' on YouTube, follow 'Brevard College Tornados' on SoundCloud, and like 'Brevard College Athletics' on Facebook. In addition, follow 'brevardcollege' on Flickr for photos from Brevard College events.
WHAT: Elementary School Supply Donation Center
WHERE: Boshamer Gymnasium, Brevard College campus
WHEN: Weekdays; Monday, July 27 – Thursday, August 6; 9 a.m. – 5 p.m.
BENEFITING: Brevard Elementary, Pisgah Forest Elementary, T.C. Henderson Elementary, Rosman Elementary and Brevard Academy
ITEMS NEEDED:
Healthy Snacks*
Kid-sized Facemasks*
Ear Buds (with microphones)*
Reusable Water Bottles*
Reading Books (K-5)*
Pencils*
Crayons
Glue Sticks
Tissues
Ruled Paper
Spiral Notebooks
Markers
*High Priority Items