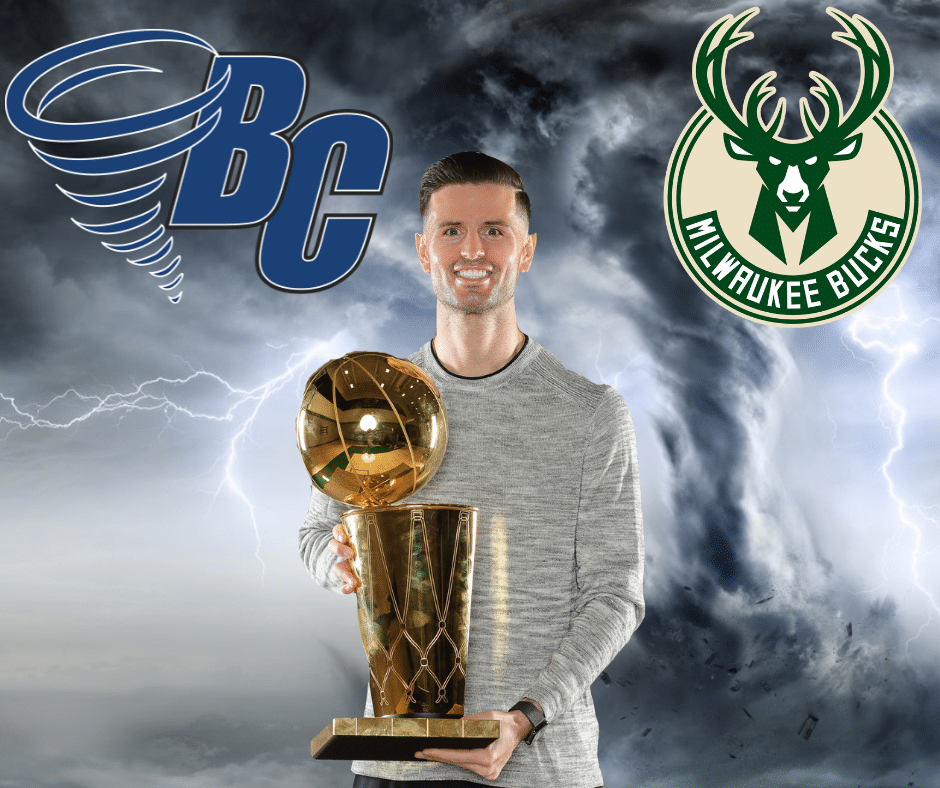 Brian Davison, a 2007 alumnus of Brevard College and currently the Vice President of Basketball Development & Affairs for the 2021 NBA World Champion Milwaukee Bucks, was recently presented the college's Distinguished Alumni Award for 2021.
Davison was named Vice President of the Milwaukee Bucks in May after spending 15 years in the athletic industry including 13 years at Nike and two years as an Assistant Coach at Brevard College. During his successful tenure at Nike, he helped build out the brand's robust athlete portfolio of several NBA stars including two-time NBA Most Valuable Player (2019 & 2020) and NBA Finals MVP (2021) Giannis Antetokounmpo.
His arrival to the Bucks was the start of a whirlwind journey as the team advanced into the NBA Playoffs and ultimately won its first NBA championship in 50 years with a Game 6 win in the NBA Finals over the Phoenix Suns. The moment of being part of a NBA World Championship team proved unforgettable for Davison who was on the court for the crowning of the NBA champs.
"When the final buzzer sounded and the confetti started to come down on the court, a rush of gratitude and emotions came over me," recalled Davison. "It was a moment and a night I will never forget."
A three-sport high school athlete in his hometown of Annapolis, Maryland, Davison played basketball at Brevard College where he was a standout shooting guard under then-Head Coach Mike Jones from 2003-07. While at Brevard, Davison also served as the Vice-President of SAAC (Student-Athlete Advisory Committee) and the Vice-President of the Business Club. After graduating with a Bachelor's in Sports Management & Marketing from Brevard College, Davison served as an Assistant Coach under Coach Jones for the 2007-08 season.
"I could not be happier for Brian," said Coach Jones, a Brevard College Athletics Hall of Famer. "He's worked extremely hard and is one of the most loyal people I know. He loves his family, what he does, and Brevard College."
Following his experience at Brevard, Davison then began his journey with Nike. He initially worked as the lead manager of a Nike retail store in Baltimore, Maryland and later in roles as a Brand Marketing Representative as an EKIN in Washington D.C., a Team Sports Territory Sales Manager in Houston, Texas, and a Global Footwear Product Line Manager focusing on Product Creation at Nike World Headquarters in Beaverton, Oregon. While working at Nike, Davison received his Master of Business Administration focusing on Sports Business from Saint Leo University.
From 2016 to April 2021, Davison was the Director for Nike Basketball's Sports Marketing Department in Chicago where he was responsible for signing NBA stars to the Nike brand as well as the management and activation of those partnerships. The opportunity at Nike led to the next chapter for Davison as a Vice President for the Milwaukee Bucks of the NBA.
As Davison reflects back and continues to excel in his career in the sports industry, he continually credits his experience at Brevard College for laying the groundwork for his future success.
"Throughout my entire professional career, the life lessons learned at Brevard College have stood the test of time," said Davison. "From playing in Boshamer Gymnasium, building lifelong friendships, and learning lessons in the classroom, it has all prepared me to take on bold dreams to accomplish in the business world. I am proud to be a Brevard College Tornado."
Further, Davison thanked many who have been a major part of his life and career development including his wife Ellen, his daughter Ana Maria, his parents Bill and Dianne, sister Jennifer and best friend Jeron Smith. Professionally, Davison thanked his former college coach Mike Jones. Nico Harrison, Tony Dorado and Jeff Tapkas from his experience at Nike and Bucks General Manager Jon Horst.
The Distinguished Alumni Award was presented along with the Athletics Hall of Fame during a special ceremony as part of Brevard College's 2021 Homecoming Weekend.
Davison provided a video message to the audience at Homecoming that included a valuable message for future Brevard College alumni.
"You can achieve any dream you want," said Davison. "You just have to set your goals, be organized, learn each and every day, listen and be good to people. If you do those things, you will be where you will want to be."
A video replay of the event, including Davison's message, is available at the Brevard College Tornados YouTube Channel.
-BC-
WEB STORY: From Tornado to NBA World Champion: Brian Davison '07 Named Distinguished Alumni Winner