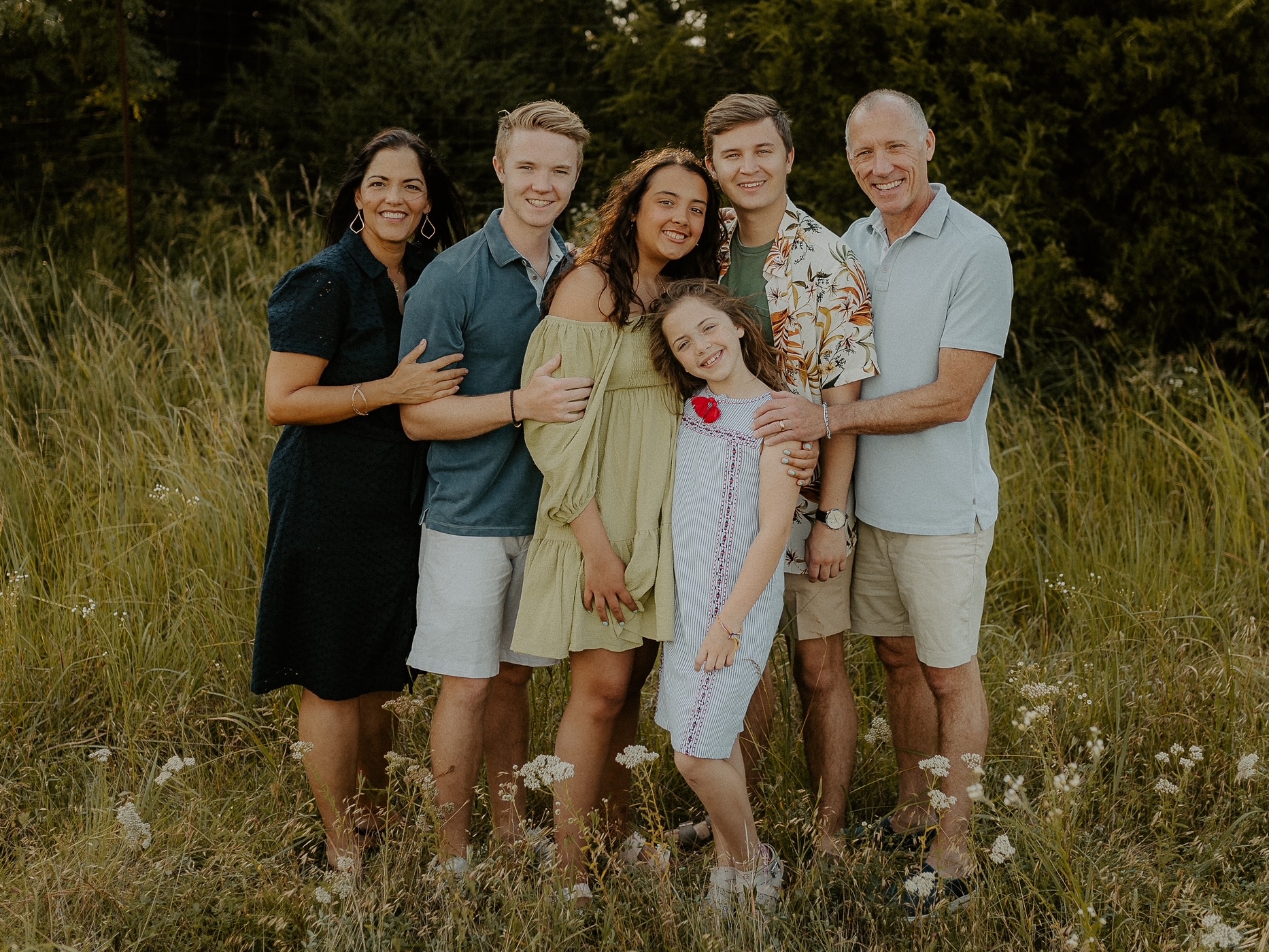 photo (left to right) – Trish, Tyler, Madeline, Gwendolyn, Graham and Brad
Brevard College welcomes the 14th President, Dr. Bradley J Andrews, wife Trish, and children Graham, Tyler, Madeline, and Gwendolyn. The Andrews family is engaged in community and physically active, with interests in multiple outdoor activities and athletics, including hiking and running. Their commitment to community and enthusiasm for the outdoors are a natural fit for Brevard College and the beautiful area of western North Carolina.
"My family and I are so pleased to be joining the Brevard College campus and the surrounding community. This is an exciting opportunity to discover and engage the beauty of this small liberal arts college in the mountains of North Carolina. We feel blessed to be joining such a thriving college community and are looking forward to meeting all of our new friends and neighbors."
Dr. Andrews has worked in Higher Education for 31 years and most recently served as president of Southwestern College in Winfield, Kansas since 2015. He follows the 13th President, the Reverend Dr. David C. Joyce who guided Brevard College through ten years of growth with strong fiscal health, improved student retention, and record enrollment.
"I'm honored and humbled to step into a position that was held by a friend and mentor of mine. Throughout his distinguished career, David has been recognized as one of the best college presidents in the country, and has transformed Brevard College into a top-ranked college in the southeast. I am energized by this opportunity to work with such a talented faculty and staff, Brevard is a special place," said Dr. Andrews.
Dr. Andrews, originally from Miami, Florida, earned a B.A. in English from the University of Missouri-Columbia, an M.S. in Education from Drake University, and a Ph.D. in Educational Leadership and Policy Analysis from the University of Wisconsin-Madison. Throughout his career in higher education, he has served at Drake University, the University of New Hampshire, Case Western Reserve University, Carthage College, and Southwestern College. Dr. Andrews has completed 12 marathons including the Chicago marathon and the Marine Corps marathon in Washington, DC.
Trish served 17 years in higher education leadership roles, including residence life, career services, and academic advising. She is active in her daughters' schools as a member of the local Philanthropic Education Organization chapter and in church, having served as a children's ministry coordinator. When she's not driving the kids to dance or attending college events, she enjoys walking, hiking, yoga, and running. She also loves to read and hopes to finish writing her first novel next year.
The Andrews family are a motivated group, focused on education, physical activity, and making a difference in their community. The Andrews children are no exception. Graham is a full-time graduate student at Carnegie Mellon University Heinz College of Information and Public Policy, graduating in May with a master's degree. During his junior year in college, he had a year-long internship in London at Inspiritia, a global thought leader in new energy and infrastructure sectors. In high school, he ran cross country and played saxophone in the Jazz Band. Graham enjoys running, hiking, reading, and golfing.
Tyler is a full-time undergraduate student at Miami University in Ohio majoring in Business and Marketing. In high school, he played football and ran track. In his spare time, Tyler enjoys golfing, hiking, travel, and spending time with friends.
Madeline is in 7th grade and enjoys dancing, playing the clarinet and guitar, and participating in summer theater and swim club. She has been an active member of the middle school youth group and is passionate about community service and diversity issues.
Gwendolyn is in 5th grade and loves animals, enjoys dancing, doing cartwheels, listening to music, playing the piano, and participating in summer theater and swim club.
President Andrews begins his tenure at Brevard College at the start of the new year. The campus is eager to welcome the Andrews family and the energy they will bring to a growing experiential learning community. With their mutual love of running, hiking, dancing, reading, writing, and music, the Andrews family will enjoy all Brevard has to offer in it's forests, trails, festivals, and arts community.