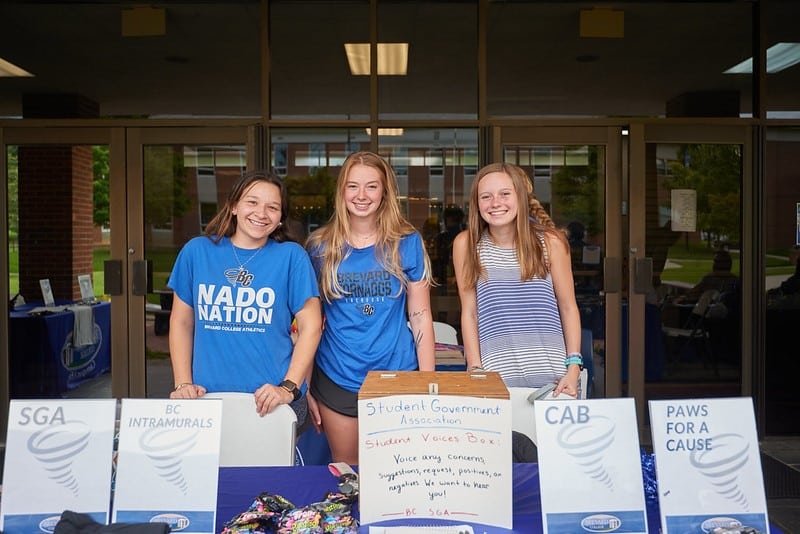 The long-awaited countdown to Homecoming 2022 has officially begun! Brevard College will welcome alumni and friends back to campus in early October to reminisce over shared bonds, unforgettable experiences, and the BC Spirit.
Homecoming Week is an excitement-filled gathering for alumni, friends, and current students on campus. This year, the celebration at Brevard College runs from Wednesday, October 5 through Sunday, October 9, 2022.
"Homecoming is so much fun! It's a great opportunity for folks to gather here in Brevard, enjoy the fall foliage and beautiful autumn weather, and celebrate enduring relationships with former classmates and friends," said Director of Alumni Affairs, Megan Shina '19. "We're looking forward to seeing alumni when they return to campus and we have special events planned that will provide a terrific opportunity for our graduates to reconnect with old friends they may not have seen in years."
The weekend kicks off on Friday, October 7, 2022 with the Inauguration Ceremony for President Bradley J Andrews, fourteenth president of the college, in the Scott Concert Hall of The Paul Porter Center for Performing Arts at 2 p.m. (pre-registration required). There will also be a ribbon cutting ceremony for the newly renovated Alumni House located on the corner of Alumni Drive and E. French Broad Street that afternoon at 4 p.m.
Following those events, a Juried Student Art Show will take place at the Spiers Gallery in Sims Art Center at 5:30 p.m. on Friday evening. To conclude the day, the college will host a Welcome Home Party at Oskar Blues Brewery beginning at 7 p.m.
Saturday, October 8 promises to be an action-packed extravaganza, as well. Starting at 9 a.m. the Baseball team will host BC's annual Golf Tournament at Connestee Falls Golf Club. Later that morning beginning at 9:30 a.m. there will be the annual Brevard College Awards Ceremony at Scott Concert Hall in The Paul Porter Center for Performing Arts. Each year, BC recognizes several special individuals who have brought distinction to themselves and their alma mater through their devotion to education, athletics, professionalism, and service. In addition to being honored for their personal and career achievements, these individuals are recognized for their support of the college and its mission.
The featured football game will pit our Tornados against the Methodist Monarchs on the Ives-Lemel Family Field at 2 p.m. on Saturday. Tornado Tailgating will precede the gridiron matchup at the Fieldhouse parking lot, in addition to a BC Family Picnic starting at noon in the Alumni Tent adjacent to the Ives-Lemel Family Field. The entertainment continues that afternoon with the inaugural Alumni Sand Volleyball Tournament at 4:30 p.m. located near the tennis courts in the Village quad. Festivities will wrap up that evening with a Tornado Party in the Brevard Lumberyard, featuring live music and food trucks.
Finally, on Sunday, Oct. 9 Campus Minister Sharad Creasman '06 will lead all three church services at Brevard First United Methodist beginning at 8:30 a.m., 9 a.m., and 10:55 a.m.